The following is the updated Military Doctrine of the Russian Federation released by the Kremlin on December 26, 2014.  The update has received significant media coverage for reportedly naming the North Atlantic Treaty Organization as one of its primary threats, despite the fact that the previous version of the doctrine signed in 2010 contained similar statements.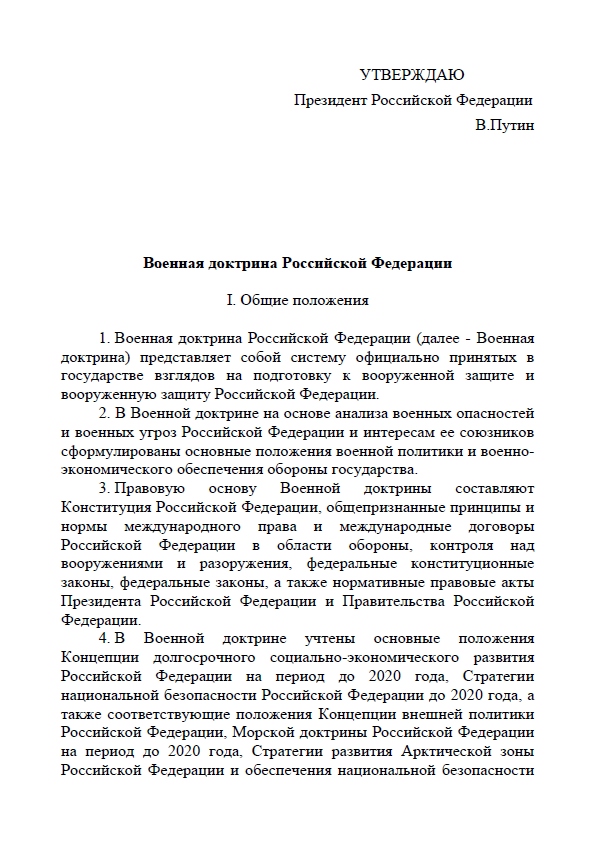 Военная доктрина Российской Федерации
29 pages
December 26, 2014

I. Общие положения

1. Военная доктрина Российской Федерации (далее – Военная доктрина) представляет собой систему официально принятых в государстве взглядов на подготовку к вооруженной защите и вооруженную защиту Российской Федерации.

2. В Военной доктрине на основе анализа военных опасностей и военных угроз Российской Федерации и интересам ее союзников сформулированы основные положения военной политики и военно-экономического обеспечения обороны государства.

3. Правовую основу Военной доктрины составляют Конституция Российской Федерации, общепризнанные принципы и нормы международного права и международные договоры Российской Федерации в области обороны, контроля над вооружениями и разоружения, федеральные конституционные законы, федеральные законы, а также нормативные правовые акты Президента Российской Федерации и Правительства Российской Федерации.

4. В Военной доктрине учтены основные положения Концепции долгосрочного социально-экономического развития Российской Федерации на период до 2020 года, Стратегии национальной безопасности Российской Федерации до 2020 года, а также соответствующие положения Концепции внешней политики Российской Федерации, Морской доктрины Российской Федерации на период до 2020 года, Стратегии развития Арктической зоны Российской Федерации и обеспечения национальной безопасности на период до 2020 года и других документов стратегического планирования.

5. В Военной доктрине отражена приверженность Российской Федерации к использованию для защиты национальных интересов страны и интересов ее союзников военных мер только после исчерпания возможностей применения политических, дипломатических, правовых, экономических, информационных и других инструментов ненасильственного характера.

6. Положения Военной доктрины конкретизируются в посланиях Президента Российской Федерации Федеральному Собранию Российской Федерации и могут корректироваться в рамках стратегического планирования в военной сфере (военного планирования).

7. Реализация Военной доктрины достигается путем централизации государственного управления в области обороны и безопасности и осуществляется в соответствии с федеральным законодательством, нормативными правовыми актами Президента Российской Федерации, Правительства Российской Федерации и федеральных органов исполнительной власти.

…

12. Основные внешние военные опасности:

а) наращивание силового потенциала Организации Североатлантического договора (НАТО) и наделение ее глобальными функциями, реализуемыми в нарушение норм международного права, приближение военной инфраструктуры стран – членов НАТО к границам Российской Федерации, в том числе путем дальнейшего расширения блока;

б) дестабилизация обстановки в отдельных государствах и регионах и подрыв глобальной и региональной стабильности;

в) развертывание (наращивание) воинских контингентов иностранных государств (групп государств) на территориях государств, сопредельных с Российской Федерацией и ее союзниками, а также в прилегающих акваториях, в том числе для политического и военного давления на Российскую Федерацию;

г) создание и развертывание систем стратегической противоракетной обороны, подрывающих глобальную стабильность и нарушающих сложившееся соотношение сил в ракетно-ядерной сфере, реализация концепции "глобального удара", намерение разместить оружие в космосе, а также развертывание стратегических неядерных систем высокоточного оружия;

д) территориальные претензии к Российской Федерации и ее союзникам, вмешательство в их внутренние дела;

е) распространение оружия массового поражения, ракет и ракетных технологий;

ж) нарушение отдельными государствами международных договоренностей, а также несоблюдение ранее заключенных международных договоров в области запрещения, ограничения и сокращения вооружений;

з) применение военной силы на территориях государств, сопредельных с Российской Федерацией и ее союзниками, в нарушение Устава Организации Объединенных Наций (ООН) и других норм международного права;

и) наличие (возникновение) очагов и эскалация вооруженных конфликтов на территориях государств, сопредельных с Российской Федерацией и ее союзниками;

к) растущая угроза глобального экстремизма (терроризма) и его новых проявлений в условиях недостаточно эффективного международного антитеррористического сотрудничества, реальная угроза проведения терактов с применением радиоактивных и токсичных химических веществ, расширение масштабов транснациональной организованной преступности, прежде всего незаконного оборота оружия и наркотиков;

л) наличие (возникновение) очагов межнациональной и межконфессиональной напряженности, деятельность международных вооруженных радикальных группировок, иностранных частных военных компаний в районах, прилегающих к государственной границе Российской Федерации и границам ее союзников, а также наличие территориальных противоречий, рост сепаратизма и экстремизма в отдельных регионах мира;

м) использование информационных и коммуникационных технологий в военно-политических целях для осуществления действий, противоречащих международному праву, направленных против суверенитета, политической независимости, территориальной целостности государств и представляющих угрозу международному миру, безопасности, глобальной и региональной стабильности;

н) установление в государствах, сопредельных с Российской Федерацией, режимов, в том числе в результате свержения легитимных органов государственной власти, политика которых угрожает интересам Российской Федерации;

о) подрывная деятельность специальных служб и организаций иностранных государств и их коалиций против Российской Федерации.
Share this: