The following is a draft order from the Russian Ministry of Communications, written in coordination with the FSB, that will require Russian internet service providers to monitor all internet traffic  and retain the information for 12 hours after the data is collected, including stored data, phone numbers, IP addresses, account names, social network activity and e-mail addresses.  The proposed rule changes have concerned Russian telecommunications providers who say that the requirements violate the Russian constitution.  This draft version of the order was released to the public in late October.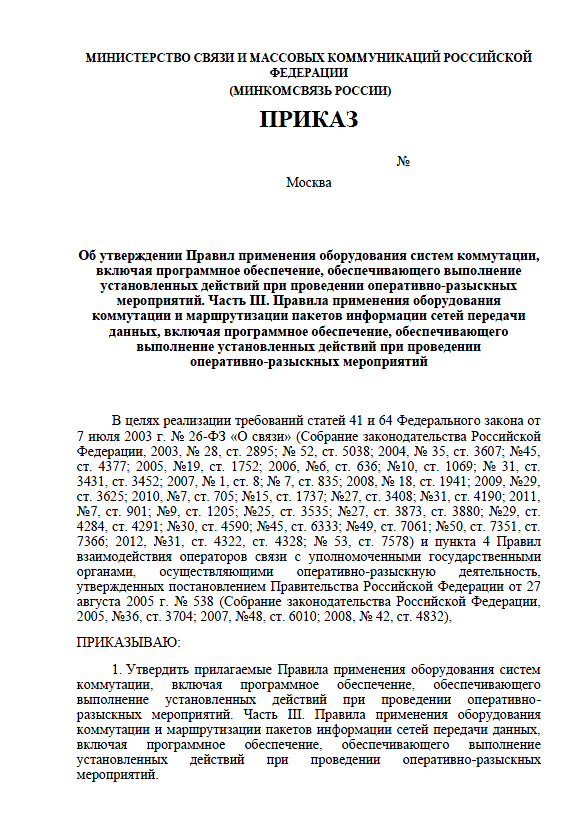 МИНИСТЕРСТВО СВЯЗИ И МАССОВЫХ КОММУНИКАЦИЙ РОССИЙСКОЙ ФЕДЕРАЦИИ

ПРИКАЗЫВАЮ:

1. Утвердить прилагаемые Правила применения оборудования систем коммутации, включая программное обеспечение, обеспечивающего выполнение установленных действий при проведении оперативно-разыскных мероприятий. Часть III. Правила применения оборудования коммутации и маршрутизации пакетов информации сетей передачи данных, включая программное обеспечение, обеспечивающего выполнение установленных действий при проведении оперативно-разыскных мероприятий.

2. Операторам связи до 1 июля 2014 г. привести в соответствие с требованиями Правил используемое, а также вводимое в эксплуатацию в сетях передачи данных оборудование коммутации и маршрутизации пакетов информации, включая программное обеспечение, обеспечивающее выполнение установленных действий при проведении оперативно-разыскных мероприятий.

3. Направить настоящий приказ на государственную регистрацию в Министерство юстиции Российской Федерации.

Министр Н.А. Никифоров

…

II. Требования к техническим средствам ОРМ

4. Технические средства ОРМ обеспечивают:

4.1. Подключение к сети передачи данных с использованием не менее одного из интерфейсов, перечень которых приведен в приложении № 1 к Правилам.

4.2. Подключение 16-ти пунктов управления техническими средствами ОРМ (далее – ПУ) для управления техническими средствами ОРМ с целью проведения оперативно-разыскных мероприятий с использованием интерфейса EtherNet IEEE 802.3 TX и назначением одного из ПУ головным.
Наличие иных интерфейсов для управления техническими средствами ОРМ не допускается.

4.3 Обеспечение взаимодействия с ПУ в соответствии с протоколом взаимодействия технических средств ОРМ с ПУ, который приведен в Приложении № 2 к Правилам.

4.4. Обработку всех пакетов данных, поступающих на интерфейсы подключения технических средств ОРМ к сети передачи данных, с целью записи в кольцевой буфер, отбора и передачи на ПУ информации, относящейся к контролируемым соединениям и (или) сообщениям электросвязи, в процессе установления соединений и (или) передачи сообщений электросвязи, в соответствии с заданными с ПУ следующими параметрами контроля:

а) постоянный IP-адрес (IPv.4; IPv.6);
б) IP-адреса, определяемые по маске;
в) имя учетной записи пользователя, используемое для идентификации пользователя услуг связи при доступе к сети передачи данных и телематическим услугам связи, в том числе с использованием служебных символов «*» и «?», где «*» – обозначает произвольную последовательность символов, а «?» – обозначает один произвольный символ;
г) электронный почтовый адрес для всех почтовых сервисов с применением протоколов SMTP, POP3, IMAP4, не использующих средства защиты информации, включая криптографические;
д) электронный почтовый адрес сервисов Web-mail указанных в приложении № 3 к Правилам, не использующих средства защиты информации, включая криптографические;
е) телефонный номер пользователя (вызываемого и/или вызывающего);
ж) идентификатор абонентской телефонной линии, используемый для идентификации пользователя услуг связи при доступе к сети передачи данных и телематическим услугам связи;
з) идентификатор вызываемого и вызывающего пользователя услуг связи по передаче данных для целей передачи голосовой информации;
и) международный идентификатор абонента сети подвижной связи (IMSI);
к) международный идентификатор мобильного оборудования (IMEI);
л) уникальный идентификатор оборудования сетей передачи данных (MAC-адрес);
м) идентификатор служб обмена сообщениями, указанных в приложении № 3 к Правилам;
н) мобильный идентификационный номер мобильной абонентской радиостанции (MIN).

4.5. Передачу на ПУ идентификатора пользователя, используемого для идентификации пользователя услуг связи при доступе к сети передачи данных и телематическим услугам связи для информации, отобранной согласно подпунктам «а», «б», «г», «д», «з», «м» пункта 4.4.

4.6. Отбор и передачу на ПУ информации не менее чем по 2000 значениям параметров контроля для всех подключенных ПУ.

4.7. Удаление всех параметров контроля и отобранной информации при сбоях технических средств ОРМ, при пропадании электропитания и перезапуске технических средств ОРМ с ПУ.

4.8. Передачу на ПУ результатов обработки сообщений протоколов аутентификации и протоколов установления соединений при предоставлении услуг связи по передаче данных для целей передачи голосовой информации, включая информацию о местоположении абонентских терминалов в случае ее наличия в указанных сообщениях.

4.9. Возможность хранения отобранной информации объемом не менее 2 Гбайт в энергозависимой памяти, предназначенной для выравнивания нагрузки в канале связи с ПУ.

4.10. Запись и остановку записи по команде с ПУ всех пакетов данных, поступающих на интерфейсы подключения к сети передачи данных, на внутреннее устройство записи в режиме кольцевого буфера размером, обеспечивающим хранение данных за период не менее 12-ти часов.

4.11. По команде с ПУ повторную обработку данных из кольцевого буфера в соответствии с пунктом 4.4. Скорость повторной обработки данных должна быть не менее скорости записи.

4.12. Обработку всех данных, поступающих на технические средства ОРМ от сети передачи данных, одновременно с повторной обработкой данных в соответствии с классом технических средств ОРМ, указанных в Таблице № 1.

…

Приложение № 3

к Правилам применения оборудования систем коммутации, включая программное обеспечение, обеспечивающего выполнение установленных действий при проведении оперативно-разыскных мероприятий. Часть III. Правила применения оборудования коммутации и маршрутизации пакетов информации сетей передачи данных, включая программное обеспечение, обеспечивающего выполнение установленных действий при проведении оперативно-разыскных мероприятий

Перечень телематических служб, для которых поддерживается отбор и передача на ПУ информации, относящейся к контролируемым соединениям и (или) сообщениям электросвязи в соответствии с заданными параметрами контроля

1. Почтовые сервисы Web-mail, включая:
mail.ru;
yandex.ru;
rambler.ru;
gmail.com;
yahoo.com.
apport.ru;
rupochta.ru
hotbox.ru;

2. Службы обмена мгновенными сообщениями, включая:
ICQ.
Share this: