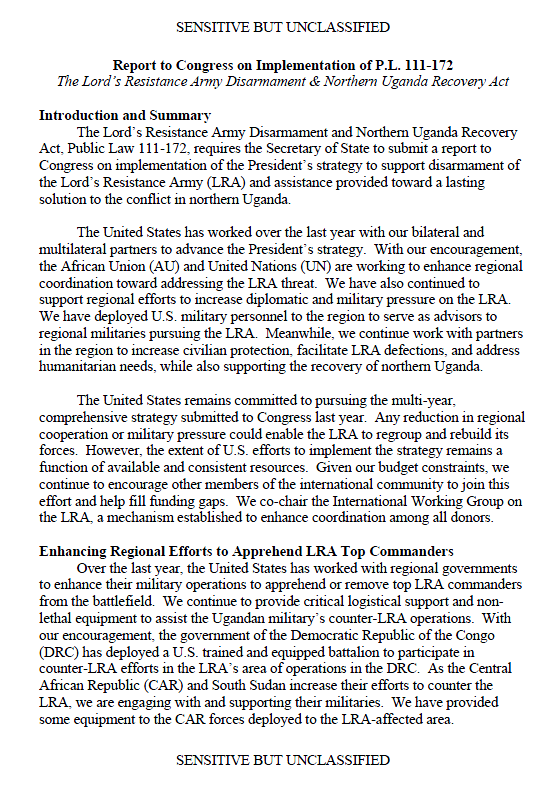 Report to Congress on Implementation of P.L. 111-172: The Lord's Resistance Army Disarmament & Northern Uganda Recovery Act
8 pages
Sensitive But Unclassified
November 23, 2011

The Lord's Resistance Army Disarmament and Northern Uganda Recovery Act, Public Law 111-172, requires the Secretary of State to submit a report to Congress on implementation of the President's strategy to support disarmament of the Lord's Resistance Army (LRA) and assistance provided toward a lasting solution to the conflict in northern Uganda.

The United States has worked over the last year with our bilateral and multilateral partners to advance the President's strategy. With our encouragement, the African Union (AU) and United Nations (UN) are working to enhance regional coordination toward addressing the LRA threat. We have also continued to support regional efforts to increase diplomatic and military pressure on the LRA. We have deployed U.S. military personnel to the region to serve as advisors to regional militaries pursuing the LRA. Meanwhile, we continue work with partners in the region to increase civilian protection, facilitate LRA defections, and address humanitarian needs, while also supporting the recovery of northern Uganda.

The United States remains committed to pursuing the multi-year, comprehensive strategy submitted to Congress last year. Any reduction in regional cooperation or military pressure could enable the LRA to regroup and rebuild its forces. However, the extent of U.S. efforts to implement the strategy remains a function of available and consistent resources. Given our budget constraints, we continue to encourage other members of the international community to join this effort and help fill funding gaps. We co-chair the International Working Group on the LRA, a mechanism established to enhance coordination among all donors.

Enhancing Regional Efforts to Apprehend LRA Top Commanders

Over the last year, the United States has worked with regional governments to enhance their military operations to apprehend or remove top LRA commanders from the battlefield. We continue to provide critical logistical support and nonlethal equipment to assist the Ugandan military's counter-LRA operations. With our encouragement, the government of the Democratic Republic of the Congo (DRC) has deployed a U.S. trained and equipped battalion to participate in counter-LRA efforts in the LRA's area of operations in the DRC. As the Central African Republic (CAR) and South Sudan increase their efforts to counter the LRA, we are engaging with and supporting their militaries. We have provided some equipment to the CAR forces deployed to the LRA-affected area.

Although regional militaries have reduced the LRA's numbers to an estimated 200 core fighters and an unknown number of accompanying children and abductees, the LRA will remain a serious regional threat as long as Joseph Kony and the LRA's top leaders remain in place. Over the last year, sustained military pressure has limited the LRA's opportunities to regroup and rearm. Abductees and low-level fighters have continued to escape and reintegrate into their communities. Nonetheless, the LRA is still terrorizing communities and undermining regional security across a broad swath of central Africa. According to the UN, there have been over 250 attacks attributed to the LRA this year alone.

In line with the President's strategy, we have reviewed how we can improve our support to the coalition of LRA-affected countries to increase the likelihood of successful operations to apprehend or remove LRA top commanders from the battlefield and bring them to justice. On October 14, the President reported to Congress that he had authorized a small number of U.S. forces to deploy to the LRA-affected region, in consultation with the regional governments, to act as advisors to the regional militaries that are pursuing the LRA. These advisors will enhance the capacity of regional militaries to coordinate and fuse intelligence with effective operational planning. The U.S. forces will not themselves engage directly against LRA forces unless necessary to defend themselves.

This is a short-term deployment with clear goals and objectives. We believe the U.S. advisors can address critical capabilities gaps to help the regional forces succeed. Additionally, our advisors are sensitive to civilian protection considerations and will work closely with our embassies to ensure they remain cognizant of local and regional political dynamics. The State Department has deployed a Civilian Response Corps officer to the region to work with the advisors in this regard. We will regularly review and assess whether the advisory effort is sufficiently enhancing the regional effort to justify continued deployment. Our embassies will also continue to consult with the regional governments and ensure their consent as we move forward. Continued deployment is conditional on regional governments' sustained commitment and cooperation to bring an eventual end to the LRA threat.

…

Supporting Post-Conflict Recovery and Reconciliation in Northern Uganda Finally, the United States remains committed to supporting efforts to promote comprehensive reconstruction, transitional justice, and reconciliation in northern Uganda, where the LRA carried out its brutal campaign for nearly two decades. In Fiscal Year 2011, USAID provided approximately $102 million in assistance to northern Uganda, including:

• $2 million to assist internally-displaced persons (IDPs) and returnees to secure durable return solutions;
• $2.1 million to enhance accountability and administrative competence of local governance institutions, including the civilian police and judiciary;
• $4.2 million to help former LRA combatants with vocational education and employment opportunities; and
• $15 million to promote rural rehabilitation and food security.

Northern Uganda has undergone a visible transformation since the LRA's departure from Uganda in 2005, especially in terms of infrastructure and social services. The population is able to move freely, stores are open, and fields are being cultivated. According to UNHCR, an estimated 95 percent of people once living in IDP camps have moved from camps to transit sites or returned home.

According to the Ugandan Bureau of Statistics, poverty in northern Uganda declined from 60.7 percent to 46.2 percent between 2005/6 and 2009/10, representing the largest decline in poverty of all regions in Uganda during that period. Yet, even with this impressive decline, the north remains the poorest region in the country. Furthermore, land issues, tensions between tribes and subtribes in the region, and widespread psycho-social trauma, among other issues, need to be addressed to ensure the sustainability of peace in northern Uganda.

From 2009 to 2011, the Government of Uganda (GoU) contributed approximately $ 110 million to its Peace, Recovery and Development Plan for Northern Uganda (PRDP). This is less than the government's original pledge to provide 30 percent of the PRDP's total budget, but GoU officials state that they will continue to earmark funds for northern Uganda's recovery. During this period, non-USG donors have provided significant funding in support of the PRDP.
Share this: