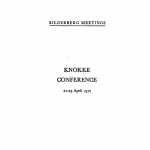 A copy of the conference report for the 1972 Bilderberg Conference held at La Reserve du Knokke-Heist in Knokke-Heist, Belgium.
The social media landscape in Belgium has grown considerably over the last few years and Belgians appear to be increasingly proactive in their social media endeavors as Internet access is obtainable from many electronic sources. All generations, young and old have familiarized themselves with the cell phone, iphone, Blackberry and Netbook usage in order to access social media sites while on the move. The rise in Internet access via mobile devices has created an abundance of new social media users.
Community fora in the Single Euro Payments Area, including in Austria, Belgium, Cyprus, Estonia, Éire/Ireland, Finland, France, Germany, Greece, Italy, Latvia, Luxembourg, Malta, the Netherlands, Portugal, Slovakia, Slovenia, and Spain.