Tag Archive for Government Shutdown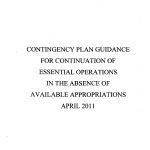 Several memos and contingency plans from September 2013 outlining the Department of Defense's preparation for a possible government shutdown.
This document provides guidance for identifying those missions and functions of the Department of Defense that may continue to be carried out in the absence of available appropriations. The information provided in this document is not exhaustive, but rather illustrative, and is intended primarily to assist in the identification of those activities that may be continued notwithstanding the absence of available funding authority in the applicable appropriations ( excepted activities). Activities that are determined not to be excepted, and which cannot be performed by utilizing military personnel in place of furloughed civilian personnel, will be suspended when appropriated funds expire. The Secretary of Defense may, at any time, determine that additional activities shall be treated as excepted.