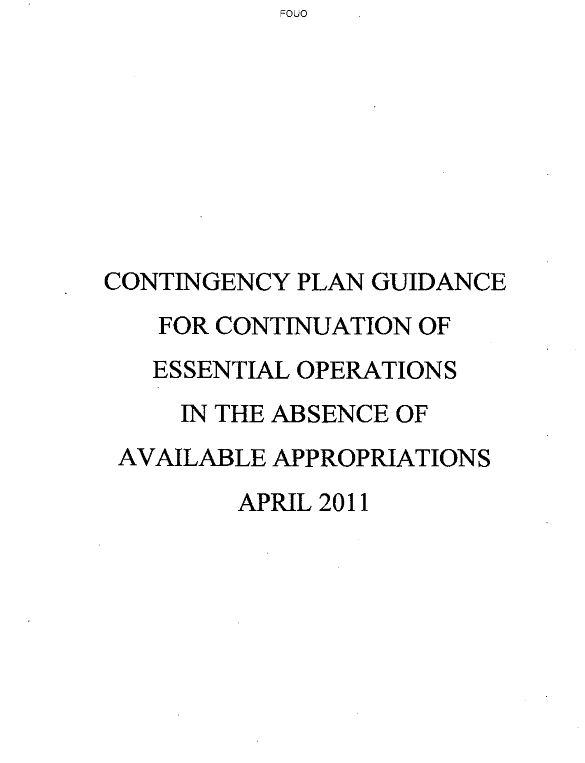 CONTINGENCY PLAN GUIDANCE FOR CONTINUATION OF ESSENTIAL OPERATIONS IN THE ABSENCE OF AVAILABLE APPROPRIATIONS
15 pages
For Official Use Only
April 7, 2011

This document provides guidance for identifying those missions and functions of the Department of Defense that may continue to be carried out in the absence of available appropriations. The information provided in this document is not exhaustive, but rather illustrative, and is intended primarily to assist in the identification of those activities that may be continued notwithstanding the absence of available funding authority in the applicable appropriations ( excepted activities). Activities that are determined not to be excepted, and which cannot be performed by utilizing military personnel in place of furloughed civilian personnel, will be suspended when appropriated funds expire. The Secretary of Defense may, at any time, determine that additional activities shall be treated as excepted.

…

Contracts

Contractors performing under a contract that was fully obligated upon contract execution (or renewal) prior to the expiration of appropriations may continue to provide contract services, whether in support of excepted activities or not. However, new contracts (including contract renewals or extensions, issuance of task orders, exercise of options) may not be executed unless the contractor is supporting an excepted activity. No funds will be available to pay such new contractors until Congress appropriates additional funds.

The expiration of an appropriation does not require the termination of contracts (or issuance of stop work orders) funded by that appropriation unless a new obligation of funds is required under the contract and the contract is not required to support an excepted activity. In cases where new obligation is required and the contract is not required to support an excepted activity, the issuance of a stop work order or the termination of the contract will be required.

The Department may continue to enter into new contracts, or place task orders under existing contracts, to obtain supplies and services necessary to carry out or support excepted activities even though there are no available appropriations. It is emphasized that this authority is to be exercised only when determined to be necessary – where delay in contracting would endanger national security or create a risk to human life or property.

Additionally, when authorized by the Secretary of Defense, contracts for covered items may be entered into under the authority of the Feed and Forage Act.
Share this: