This draft analysis by the so-called "troika" of the IMF, European Commission, and the European Central Bank was leaked to a number of media outlets.  Almost none of the outlets chose to reproduce the full PDF of the document, except for a few Italian economics publications.  The Financial Times seems to have published the document behind a paywall.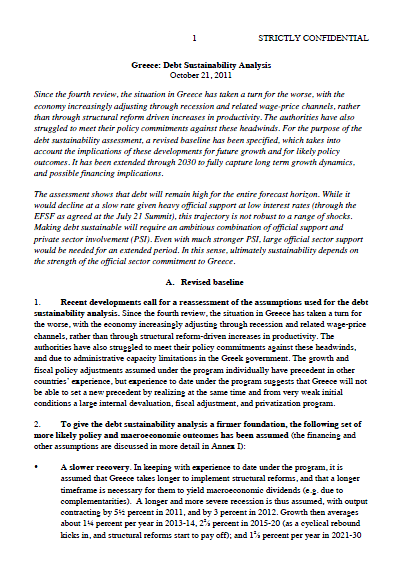 Greece: Debt Sustainability Analysis
10 pages
Strictly Confidential
October 21, 2011

Since the fourth review, the situation in Greece has taken a turn for the worse, with the economy increasingly adjusting through recession and related wage-price channels, rather than through structural reform driven increases in productivity. The authorities have also struggled to meet their policy commitments against these headwinds. For the purpose of the debt sustainability assessment, a revised baseline has been specified, which takes into account the implications of these developments for future growth and for likely policy outcomes. It has been extended through 2030 to fully capture long term growth dynamics, and possible financing implications.

The assessment shows that debt will remain high for the entire forecast horizon. While it would decline at a slow rate given heavy official support at low interest rates (through the EFSF as agreed at the July 21 Summit), this trajectory is not robust to a range of shocks. Making debt sustainable will require an ambitious combination of official support and private sector involvement (PSI). Even with much stronger PSI, large official sector support would be needed for an extended period. In this sense, ultimately sustainability depends on the strength of the official sector commitment to Greece.

…

3. Under these assumptions, Greece's debt peaks at very high levels and would decline at a very slow rate pointing to the need for further debt relief to ensure sustainability. Debt (net of collateral required for PSI) would peak at 186 percent of GDP in 2013 and decline only to 152 percent of GDP by end-2020 and to 130 percent of GDP by end-2030. The financing package agreed on July 21(especially lower rates on EFSF loans) does help the debt trajectory, but its impact is more than offset by the revised macro and policy framework. Greece would not return to the market until 2021 under the market access assumptions used, and cumulatively official additional financing needs (beyond what remains in the present program, and including the eventual rollover of existing official loans) could amount to some €252 billion from the present through to 2020.
Share this: