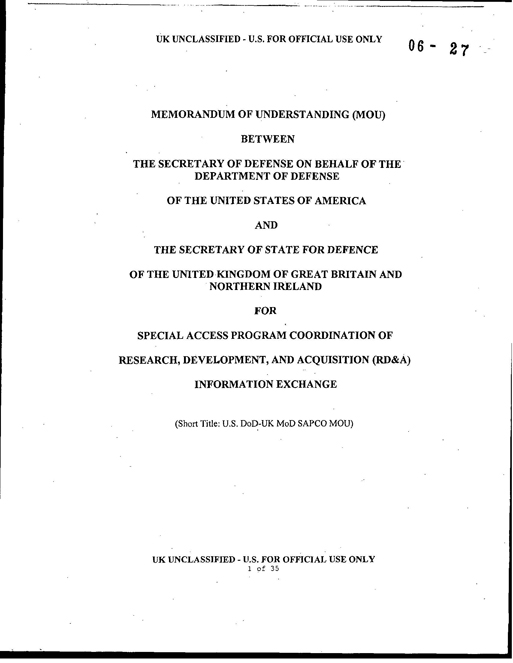 U.S. DoD-UK MoD SAPCO MOU
35 pages
UK Unclassified
For Official Use Only
December 19, 2005

MEMORANDUM OF UNDERSTANDING (MOU)

BETWEEN

THE SECRETARY OF DEFENSE

ON BEHALF OF THE DEPARTMENT OF DEFENSE OF THE UNITED STATES OF AMERICA

AND

THE SECRETARY OF STATE FOR DEFENCE OF THE UNITED KINGDOM OF GREAT BRITAIN AND NORTHERN IRELAND

FOR SPECIAL ACCESS PROGRAM COORDINATION OF RESEARCH, DEVELOPMENT, AND ACQUISITION (RD&A) INFORMATION EXCHANGE

(Short Title: U.S. DoD-UK MoD SAPCO MOU)

…

2.1 The objectives and scope of work ofthis MOU are to:

2.1.1 Establish a conduit for sharing SAP Project Information while maintaining appropriate safeguards. This conduit will allow dissemination of SAP Project Information to in-country, defense activities and provide a security structure for cooperative programs and competitions requiring SAP Project Information protection.

2.1.2 Implement equivalent,. nationally accredited, central SAP Coordination Offices (SAPCO) to be the single in-country focal point for administration and execution of this MOU. The UK and U.S. SAPCOs will be operated in accordance with Annex A (Co-Utilization Arrangement).

2.1.3 Establish a framework for U.S. DoD-UK MOD SAPCO coordination and monitoring of SAP-related exchange of Project Information, personnel, transfers or loans of SAP material and/or equipment, and research, development, acquisition, or support of SAP material and/or equipment conducted through existing or future program or project-specific Memoranda of Understanding (MOUs), Information Exchange Projects (IEPs), Project Arrangements (PAs), pr other written arrangements.

2.1.4 Conduct U.S. DoD-to-UK MOD SAPCO coordination of bilateral cooperation in SAP areas of interest, including coordinated oversight of all bilateral SAPs through equivalent security oversight requirements and standards to the maximum extent possible, taking into account differences in the Participants' legal and regulatory standards regarding SAP Projects.

2.1.5 Establish and implement a common access database for bilateral SAP Projects whereby both Participants can determine the program access status for a specific individual.

2.1.6 Establish and implement common secure communication protocols for transmission of SAP Project Information, including, but not limited to, secure telephone (i.e., STU/STE, BRENT) and secure fax communication links, between authorized entities of the Participants.

2.2 SAP Project Information exchange activities under this MOU will be managed under separate Information Exchange Projects (lEP). Each IEP will specify the scope of the information that may be exchanged. Once approved, each IEP will form an integral part of this MOU. An rEP will generally conform to the format in Annex B and will:

2.2.1 Specify the scope ofthe exchange.

2.2.2 Identify national Technical Project Officers and Establishments.

2.2.3 When necessary, specify an applicable special disclosure and use provisions.

2.2.4 Identify the highest level of classification of information that may be exchanged under the IEP.

2.2.5 Establish a termination date for the IEP which will precede the termination date of this MOU.

2.3 Information exchanged specifically for the purpose of harmonizing the Participants requirements for formulating, developing, and negotiating IEPs is permitted under this MOU. In addition to markings as specified in sections 7.3 and 9.2, such Information will be marked "For UK / U.S. SAPCO MOU Requirements Harmonization Only" and may not be used for any other purpose.

2.4 This MOU is limited to information exchange. Collaborative projects that may arise from information exchange under this MOU that involve the commitment of resources are outside the scope of this MOU and will be esiablished through separate arrangements.

…

SECTION VII
CONTROLLED UNCLASSIFIED INFORMATION

7.1 Except as otherwise provided in this MOU, or as authorized in writing by the originating Participant, Controlled Unclassified Information provided or generated pursuant to this MOU or IEPs will be controlled as follows:

7.1.1 Such information will be used only for the purposes authorized for use of SAP Project Information as specified in Section VI (Disclosure and Use of Special Access Program (SAP) Project Information).

7.1.2 Access to such information will be limited to personnel whose access is necessary for the permitted use,

7.1.3 Each Participant will take all lawful steps, which may include national classification, available to it to keep SAP Project Information free from further disclosure (including requests under any legislative provisions), except as provided in paragraph 7.1.2, unless the originating Participant consents to such disclosure. In the event of unauthorized disclosure, or ifit becomes probable that the information may have to be further disclosed under any legislative provision, immediate notification will be given to the originating Participant.

7.2 Controlled Unclassified Information provided or generated pursuant to this MOU will be handled in a manner that ensures control as provided for in paragraph 7.1.
Share this: