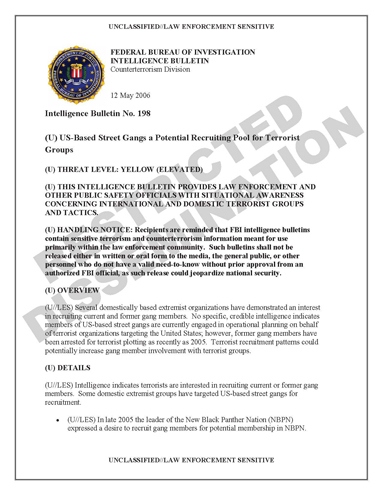 Intelligence Bulletin No. 198
4 pages
Law Enforcement Sensitive
For Official Use Only
May 12, 2006

(U) THREAT LEVEL: YELLOW (ELEVATED)

(U) THIS INTELLIGENCE BULLETIN PROVIDES LAW ENFORCEMENT AND OTHER PUBLIC SAFETY OFFICIALS WITH SITUATIONAL AWARENESS CONCERNING INTERNATIONAL AND DOMESTIC TERRORIST GROUPS AND TACTICS.

(U) HANDLING NOTICE: Recipients are reminded that FBI intelligence bulletins contain sensitive terrorism and counterterrorism information meant for use primarily within the law enforcement community. Such bulletins shall not be released either in written or oral form to the media, the general public, or other personnel who do not have a valid need-to-know without prior approval from an authorized FBI official, as such release could jeopardize national security.

(U) OVERVIEW

(U//LES) Several domestically based extremist organizations have demonstrated an interest in recruiting current and former gang members. No specific, credible intelligence indicates members of US-based street gangs are currently engaged in operational planning on behalf of terrorist organizations targeting the United States; however, former gang members have been arrested for terrorist plotting as recently as 2005. Terrorist recruitment patterns could potentially increase gang member involvement with terrorist groups.

(U) DETAILS

(U//LES) Intelligence indicates terrorists are interested in recruiting current or former gang members. Some domestic extremist groups have targeted US-based street gangs for recruitment.

• (U//LES) In late 2005 the leader of the New Black Panther Nation (NBPN) expressed a desire to recruit gang members for potential membership in NBPN.

(U//LES) Intelligence indicates that some international terrorist groups in the United States have members with former ties to street gangs. Gangs offer a desirable pool of potential recruits for international terrorist organizations. Many gang members are US citizens, giving them more operational flexibility within the United States than foreign-born potential recruits. Gang members are also likely to have experience in illegal or violent activity and may feel disenfranchised from the US Government or society.

• (U//LES) In the Seattle, Washington, area, a group of Islamic extremists with ambitions to engage in jihad included several former gang members with a history of criminal activity. Some of these individuals attempted to convert street gang members to radical Islam, possibly for the purpose of recruiting them.

(U//LES) Former gang members associated with terrorist organizations have recently become involved in terrorist planning against US interests.

• (U//LES) Two members of Jamiyyat Ul Islam Is-Saheeh (JIS), an Islamic extremist group originating in a California prison, were also former members of the Crips street gang. FBI investigations determined in 2005 that a JIS cell had been plotting to attack several targets in California.

• (U//LES) Jose Padilla, a former member of the Maniac Latin Disciples gang, attended al-Qa'ida training camps overseas. In November 2005 Padilla was indicted for aiding terrorists and conspiracy to murder US nationals abroad.

(U//LES) Law enforcement officials should be aware that terrorist groups may target street gang members for recruitment. Recipients should immediately report suspicious or criminal gang activities potentially related to terrorism to their local FBI Joint Terrorism Task Force. FBI regional phone numbers can be found at www.fbi.gov/contact/fo/fo.htm.

(U) ADMINISTRATIVE NOTE: LAW ENFORCEMENT RESPONSE

(U) Information contained in this intelligence bulletin is Law Enforcement Sensitive. No portion of this bulletin should be released to the media, to the general public, or over nonsecure Internet servers. Release of this material could adversely affect investigative activities or jeopardize national security. Specific comments or suggestions about the content or format of this bulletin should be addressed to the FBI at twwu@leo.gov.
Share this: