This document was first released publicly by the hacktivist collective known as Anonymous.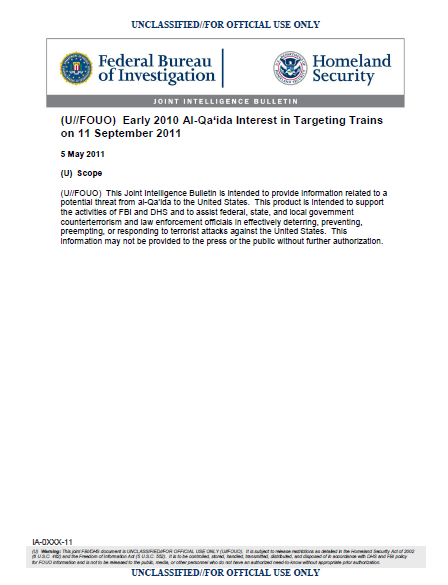 Early 2010 Al-Qa'ida Interest in Targeting Trains on 11 September 2011
3 pages
For Official Use Only
May 5, 2011

(U//FOUO) Al-Qa'ida Interest in 2010 to Attack U.S. Rail Sector

(U//FOUO) As of February 2010, al-Qa'ida was allegedly contemplating conducting an operation against trains at an unspecified location in the United States on the tenth anniversary of 11 September 2001. As one option, al-Qa'ida was looking at the possibility of tipping a train by tampering with the rails so that the train would fall off the track at either a valley or a bridge. Al-Qa'ida noted that an attack from tilting the train would only succeed one time because the tilting would be spotted. Al-Qa'ida also noted that newer train cars each have their own braking system, and that movement in a specific direction would derail it, but would not cause it to fall off the track.

(U//FOUO) While it is clear that there was some level of planning for this type of operation in February 2010, we have no recent information to indicate an active ongoing plot to target transportation and no information on possible locations or specific targets.

(U) Reporting of Suspicious Activity

(U//FOUO) Federal, state and local government and law enforcement should remain vigilant of the following indicators and suspicious activities that could be indicative of a plot to attack the U.S. rail system:

— (U//FOUO) Clips or spikes missing from track sections.
— (U//FOUO) Railroad materials such as ties or heavy equipment, or debris such as concrete blocks, tree limbs, or trunks placed on tracks.
— (U//FOUO) Packages or baggage left on or near tracks.
— (U//FOUO) Trespassing, especially if frequent, on railroad or mass transit property.
— (U//FOUO) Theft or suspicious absence of railroad maintenance tools, identification badges, or communications equipment.
— (U//FOUO) Persons lacking appropriate background or qualifications who attempt to gain employment with a rail or mass transit system.

(U) Outlook

(U//FOUO) FBI and DHS will continue to monitor intelligence reporting indications of the advancement of terrorist plots or indications of new threats to the Homeland. Additionally, we continue to operate under the premise that terrorists not yet identified by the Intelligence Community and law enforcement may be operating in the United States and could advance and execute attacks without warning.
Share this: