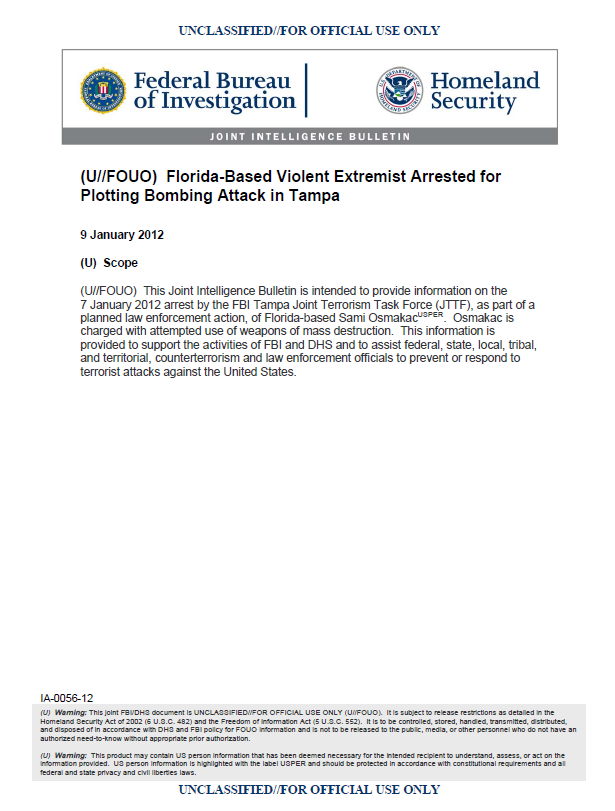 Joint Intelligence Bulletin
6 pages
For Official Use Only
January 9, 2012

(U//FOUO) This Joint Intelligence Bulletin is intended to provide information on the 7 January 2012 arrest by the FBI Tampa Joint Terrorism Task Force (JTTF), as part of a planned law enforcement action, of Florida-based Sami Osmakac. Osmakac is charged with attempted use of weapons of mass destruction. This information is provided to support the activities of FBI and DHS and to assist federal, state, local, tribal, and territorial, counterterrorism and law enforcement officials to prevent or respond to terrorist attacks against the United States.

(U) Circumstances Leading to the Arrest

(U//FOUO) On 7 January 2012, the FBI Tampa JTTF arrested Sami Osmakac, 25, of Pinellas Park, Florida, as part of a planned law enforcement operation after he allegedly took possession of explosives, a fully automatic AK-47 assault rifle, ammunition and magazines for the AK-47, a pistol, ammunition and a magazine for the pistol, grenades, and a suicide vest. Osmakac allegedly planned to attack a target in Tampa, according to the affidavit in support of the criminal complaint.

(U//FOUO) In late September 2011, a confidential source informed the FBI of Osmakac's interest in purchasing flags representing al-Qa'ida. In subsequent conversations, Osmakac allegedly expressed the desire to conduct a violent attack in the Tampa area and asked for assistance in procuring a vehicle-borne improvised explosive device (VBIED), weapons such as Uzis or AK-47s, and an explosives-laden belt to use in a two-stage attack. As part of an undercover operation, Osmakac was introduced to an individual whom he believed to hold extremist beliefs and was able to supply weapons and explosives. All weapons, ammunition, and explosives provided by the FBI had previously been rendered inoperable.

(U//FOUO) According to court documents, during November 2011, Osmakac planned to attack a Tampa area military recruiting center. However, he later changed his plan, allegedly telling a confidential source that the recruiting center did not have enough personnel inside.

(U//FOUO) According to the arrest affidavit, on 1 January 2012, Osmakac drove through the Ybor City neighborhood of Tampa to choose target locations, planning to eventually set off an explosive charge packed in the trunk of a vehicle parked in front of high-end restaurants and nightclubs. All of his pre-operational activities were closely monitored by the FBI.

(U//FOUO) Osmakac allegedly outlined various scenarios in which he would park a VBIED near busy nightspots and return to his nearby hotel room to collect the remaining weapons. He would then return to the scene to detonate the VBIED remotely, and in the aftermath conduct a small-arms attack at a nearby location while wearing a suicide vest. According to a confidential source, Osmakac said he would attempt to take hostages and contact authorities, specifically the FBI, in order to negotiate the release of Muslim prisoners. Osmakac told the same source that he believed that detonating the VBIED before he took hostages would prove he was "not joking." Osmakac allegedly planned to release the hostages and detonate the suicide vest while surrendering to law enforcement after his demands were met, according to court documents.

(U//FOUO) Motivations in Planning the Attack

(U//FOUO) Osmakac, a naturalized US citizen, born in the former Yugoslavia, previously had a positive view of the United States for helping his fellow Muslims in Kosovo in their time of need. He later decided that the United States is his enemy because he believes the United States is killing his fellow Muslims, according to the affidavit in support of the criminal complaint.

(U//FOUO) Just before he allegedly attempted the attack, Osmakac filmed a martyrdom video in his hotel room, with a pistol in his hand and the AK-47 displayed behind him. In the video, he stated his belief that Muslims' "blood" was more valuable than that of non-Muslims and he wanted "pay back" for the wrongs he felt were done to Muslims, according to the affidavit.

— (U//FOUO) In discussions with an under cover employee, Osmakac declined opportunities to back out of the plan.

(U//FOUO) Targets and Tactics Differ Slightly From Recent Homegrown Violent Extremist Plots

(U//FOUO) Disrupted plots by homegrown violent extremists (HVEs) within the past year have primarily targeted government and military facilities and personnel, including a military recruiting center in Seattle, a restaurant frequented by military personnel near Fort Hood, Texas, and the Pentagon and US Capitol building with improvised explosives, small arms, and grenades.*

(U//FOUO) Osmakac, however, allegedly abandoned his plan to attack a military recruiting center for a less secure civilian target which held the potential for a greater number of casualties. His alleged tactics also differed from previous HVE plotting in that he planned to take hostages to achieve a specific goal—the release of Muslim prisoners—and then take his own life by detonating his suicide vest in the proximity of
arresting officers.
Share this: