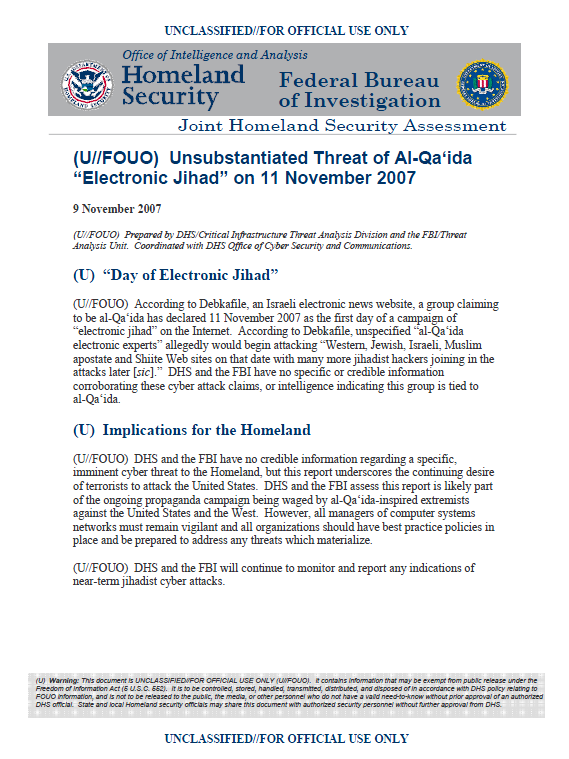 Unsubstantiated Threat of Al-Qa'ida "Electronic Jihad" on 11 November 2007

(U) "Day of Electronic Jihad"

(U//FOUO) According to Debkafile, an Israeli electronic news website, a group claiming to be al-Qa'ida has declared 11 November 2007 as the first day of a campaign of "electronic jihad" on the Internet. According to Debkafile, unspecified "al-Qa'ida electronic experts" allegedly would begin attacking "Western, Jewish, Israeli, Muslim apostate and Shiite Web sites on that date with many more jihadist hackers joining in the attacks later [sic]." DHS and the FBI have no specific or credible information corroborating these cyber attack claims, or intelligence indicating this group is tied to al-Qa'ida.

(U) Implications for the Homeland

(U//FOUO) DHS and the FBI have no credible information regarding a specific, imminent cyber threat to the Homeland, but this report underscores the continuing desire of terrorists to attack the United States. DHS and the FBI assess this report is likely part of the ongoing propaganda campaign being waged by al-Qa'ida-inspired extremists against the United States and the West. However, all managers of computer systems networks must remain vigilant and all organizations should have best practice policies in place and be prepared to address any threats which materialize.

(U//FOUO) DHS and the FBI will continue to monitor and report any indications of near-term jihadist cyber attacks.
Share this: