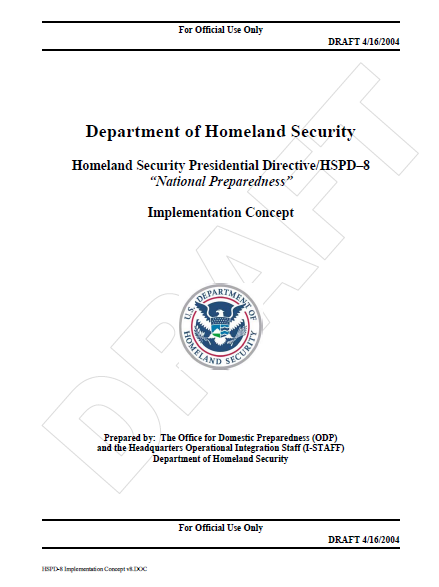 Homeland Security Presidential Directive/HSPD–8 "National Preparedness" Implementation Concept
52 pages
Draft
For Official Use Only
April 16, 2004

EXECUTIVE SUMMARY

Homeland Security Presidential Directive 8/HSPD-8 establishes policies to strengthen the preparedness of the United States to prevent and respond to threatened or actual domestic terrorist attacks, major disasters, and other emergencies by requiring a national domestic preparedness goal; establishing mechanisms for improved delivery of Federal preparedness assistance to State and local governments; and outlining actions to strengthen preparedness capabilities of Federal, State, and local entities. This paper describes a concept for rapid and systematic implementation of the provisions of HSPD-8 to improve preparedness doctrine and practice and reorient preparedness programs and activities that converged within homeland security under a unified national all-hazards preparedness strategy.

While current preparedness processes have produced significant capacity, they can be more
effectively organized to meet current and future challenges. The imperative to rapidly establish
operational capacity forced the convergence of a broad array of preparedness programs under
homeland security. Without a unified strategic direction, legacy inefficiencies and
desynchronized approaches will continue. The homeland security community is highly
differentiated, with a wide range of missions against both adaptive and non-adaptive threats and
hazards. Finally, our environment is resource constrained, and the costs of terrorism prevention
and disaster relief are ever on the rise. We can do more to optimize our investments. We must
examine and improve our processes for determining needs, identifying options, making decisions,
and providing capabilities to support homeland security missions. This requires streamlined
processes and alternative organizations to better integrate capabilities in support of national
objectives.

Uncertainty is the cardinal attribute of homeland security threats and hazards. We cannot
definitively predict where or when our terrorist adversaries will strike, or when the next natural
disaster or manmade accident will occur. We must mitigate this uncertainty by developing
capabilities that are agile, flexible and robust in order to meet the wide range of homeland
security challenges. This implementation concept involves a shift from a threat-based to a
capabilities-based planning approach, in order to take the all-hazards approach to the next level.

The recommendations proposed in this concept are substantial, and will require the support of
top management at all levels of government. A Senior Steering Committee is therefore critical to
provide executive-level input and "top down" guidance to keep initiatives on track. To be
effective, the Committee Chair must have access to the Secretary and Deputy Secretary of
Homeland Security, and Committee members must have equivalent access to the heads of their
respective organizations. The Committee and support staff will need to establish an interagency
and intergovernmental process to drive implementation. This process must clearly spell out what
needs to be done, who needs to do it, and when it needs to be completed. Leadership will need
to receive regular progress reviews. The need for change, goals, and progress toward meeting
the goals must be effectively communicated.
Share this: