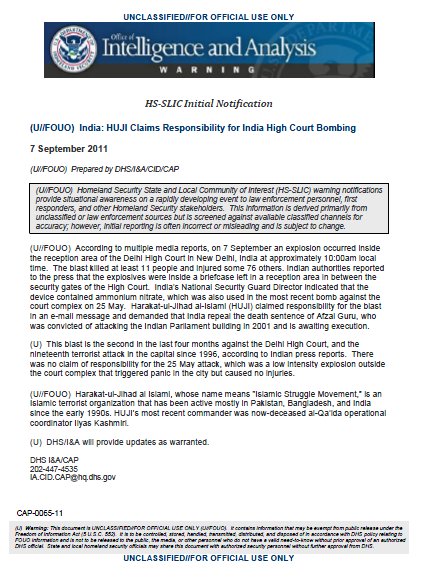 India: HUJI Claims Responsibility for India High Court Bombing
2 pages
For Official Use Only
September 7, 2011

(U//FOUO) According to multiple media reports, on 7 September an explosion occurred inside the reception area of the Delhi High Court in New Delhi, India at approximately 10:00am local time. The blast killed at least 11 people and injured some 76 others. Indian authorities reported to the press that the explosives were inside a briefcase left in a reception area in between the security gates of the High Court. India's National Security Guard Director indicated that the device contained ammonium nitrate, which was also used in the most recent bomb against the court complex on 25 May. Harakat-ul-Jihad al-Islami (HUJI) claimed responsibility for the blast in an e-mail message and demanded that India repeal the death sentence of Afzal Guru, who was convicted of attacking the Indian Parliament building in 2001 and is awaiting execution.

(U) This blast is the second in the last four months against the Delhi High Court, and the nineteenth terrorist attack in the capital since 1996, according to Indian press reports. There was no claim of responsibility for the 25 May attack, which was a low intensity explosion outside the court complex that triggered panic in the city but caused no injuries.

(U//FOUO) Harakat-ul-Jihad al Islami, whose name means "Islamic Struggle Movement," is an Islamic terrorist organization that has been active mostly in Pakistan, Bangladesh, and India since the early 1990s. HUJI's most recent commander was now-deceased al-Qa'ida operational coordinator Ilyas Kashmiri.
Share this: