The title of this post has been changed to meet with the approval of Drunken Predator Drone.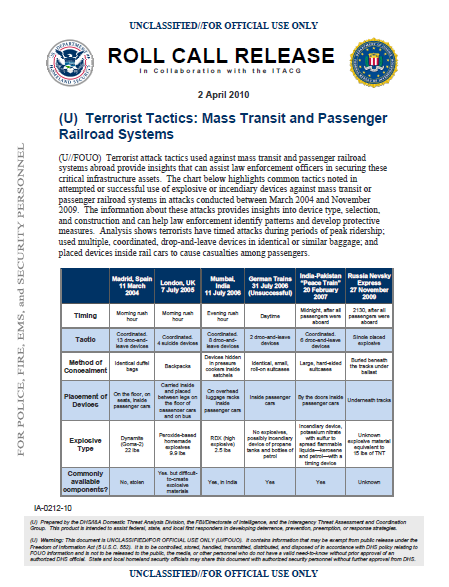 DHS-FBI ROLL CALL RELEASE
2 pages
For Official Use Only
April 2, 2010

(U//FOUO) Terrorist attack tactics used against mass transit and passenger railroad systems abroad provide insights that can assist law enforcement officers in securing these critical infrastructure assets. The chart below highlights common tactics noted in attempted or successful use of explosive or incendiary devices against mass transit or passenger railroad systems in attacks conducted between March 2004 and November 2009. The information about these attacks provides insights into device type, selection, and construction and can help law enforcement identify patterns and develop protective measures. Analysis shows terrorists have timed attacks during periods of peak ridership; used multiple, coordinated, drop-and-leave devices in identical or similar baggage; and placed devices inside rail cars to cause casualties among passengers.
Share this: