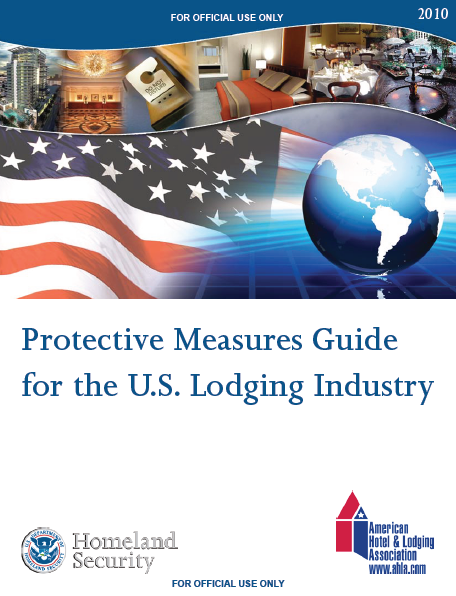 Protective Measures Guide for the U.S. Lodging Industry
84 pages
For Official Use Only
2010
3.6 MB

Preventing terrorism, enhancing security, and ensuring resilience to disasters are core missions of the U.S. Department of Homeland Security (DHS). Accomplishing these missions necessitates building and fostering a collaborative environment in which the private sector and Federal, State, local, tribal, and territorial governments can better protect critical infrastructure and key resources (CIKR). The U.S. Lodging Industry is designated as CIKR because it is essential to the Nation's economic vitality and way of life. It is critical to the Department's vision of ensuring a homeland that is safe, secure, and resilient against terrorism and other hazards. As such, DHS developed the Protective Measures Guide for the U.S. Lodging Industry in collaboration with the American Hotel & Lodging Association to provide options for hotels to consider when implementing protective measures.

The guide provides an overview of threat, vulnerability, and protective measures designed to assist hotel owners and operators in planning and managing security at their facilities. It provides suggestions for successful planning, organizing, coordinating, communicating, operating, and training activities that contribute to a safe environment for guests and employees. In addition, when contemplating appropriate protective measures to implement, owners and operators should consider their own knowledge of the property's operations and vulnerabilities, as well as the general surroundings and its place within the community. When implementing appropriate protective measures, owners and operators should make use of additional resources, from local law enforcement and emergency management agencies to the security resources listed in the appendices of this guide. This guide consists of contributions from the following partners:

Accor Hospitality
American Hotel & Lodging Association
Bristol Hotel and Resorts
Hilton Hotels Corporation
HospitalityLawyer.com
Hyatt Hotels Corporation
InterContinental Hotels Group
Interstate Hotels & Resorts
Marriott International, Inc.
The Peninsula New York
Red Roof Inn
Starwood Hotels and Resorts Worldwide, Inc.
U.K. National Counter Terrorism Security Office
U.S. Food and Drug Administration

…

2.2 Key Vulnerabilities of Hotels

Among the key vulnerabilities of the U.S. lodging industry are the following:

Resistance to a fortress mentality: Many hotel companies must balance the need for enhanced security screening with positive customer perception. At the same time, increased security at hotels overseas is accepted and, in some locations, expected as a safety measure. There are many instances where U.S. hotels increase security and screening but this is usually done for an event or at the request of a special guest or client that is either staying at the hotel or participating in some function on hotel grounds.

Unrestricted public access: Openness to the public is a feature common to hotels, and it contributes to their vulnerability. In general, hotels may have no security to screen guests for explosives or other weapons before they enter the facility.

Differentiating between suspicious activity and tourist activity: Hotels are expected to have strangers flowing in and out of their properties daily. Tourists and terrorists are similar in that they both are inquisitive about the surroundings and they like to take photographs. m Unrestricted access to service areas: In some hotels, because of fire exit requirements, some doors connecting service areas to public areas must remain unlocked at all times, allowing anyone access to the hotel's back of the house operations, which may include areas such as food storage, food preparation, utilities, chemical storage, etc.

Unrestricted access to peripheral areas: Hotels can be vulnerable within their own parking lots or parking garages where guests and vehicles have access with little or no screening.

…

Building designs are not security oriented: Many hotel buildings, particularly older ones, may not have been designed with security considerations in mind. Examples of such designs are those that include large areas of glass that is not shatter or blast resistant, structural supports that cannot handle large overpressures from explosives, and doors and windows that are not tamper-resistant.
Share this: