Evidently these are the people behind this fascinating marketing strategy. It is unclear if there have been any negative repercussions from the mailings.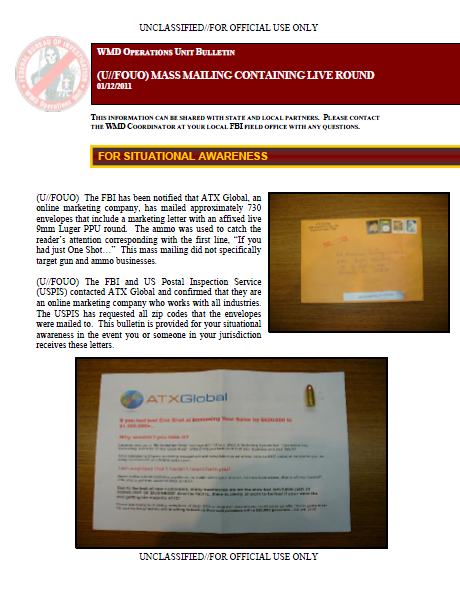 MASS MAILING CONTAINING LIVE ROUND
1 page
For Official Use Only
January 12, 2011

(U//FOUO) The FBI has been notified that ATX Global, an online marketing company, has mailed approximately 730 envelopes that include a marketing letter with an affixed live 9mm Luger PPU round. The ammo was used to catch the reader's attention corresponding with the first line, "If you had just One Shot…" This mass mailing did not specifically target gun and ammo businesses.

(U//FOUO) The FBI and US Postal Inspection Service (USPIS) contacted ATX Global and confirmed that they are an online marketing company who works with all industries. The USPIS has requested all zip codes that the envelopes were mailed to. This bulletin is provided for your situational awareness in the event you or someone in your jurisdiction receives these letters.
Share this: