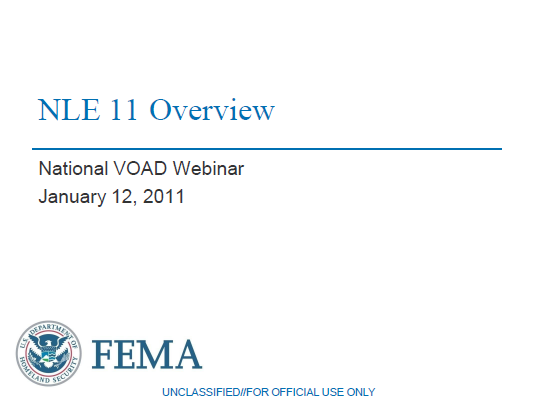 NLE 11 Overview
20 pages
For Official Use Only
January 12, 2011

What's Different?
•NLE 11 will have many unique facets
–Follow-on to FEMA Catastrophic Planning Initiative
–First exclusive natural hazard NLE
–First "Resource Allocation Workshop"
–Bicentennial anniversary of the 1811 New Madrid earthquake
–Bottom-up planning process
–A "National Level Exercise with 8 states directly impacted and potential for many EMAC" states
–New working groups: citizen and community preparedness; long-term recovery
–Recent similar event (Haiti)

…

NLE 11 Overarching Objectives (1/3)
•Communications:Demonstrate the ability to maintain a continuous flow of critical information among multi-jurisdictional and multi-disciplinary emergency responders, command posts, agencies and governmental officials for the duration of the earthquake response operation.
•Incident Management/Emergency Operations Center (EOC) Management:Demonstrate the ability to effectively manage a catastrophic earthquake incident through multi-agency unified coordination.
•Citizen Evacuation and Shelter-in-Place:Demonstrate the ability to assure affected and at-risk populations (and companion animals) are safely sheltered-in-place and/or evacuated to safe refuge areas in order to obtain access to medical care, shelter and other essential services, and are effectively and safely reentered into the affected area.

NLE 11 Overarching Objectives (2/3)
•Mass Care (Sheltering, Feeding, and Related Services):Demonstrate the ability to provide mass care services (sheltering, feeding, and bulk distribution) for the affected general populations, services for functional-needs populations, and service animals, companion animals, and household pets.
•Critical Resource Distribution and Logistics:Demonstrate the ability to identify, inventory, dispatch, mobilize, transport, recover, demobilize, track and record available human and material critical resources throughout all incident management phases.
•Emergency Public Information and Warning:Demonstrate the ability of intergovernmental agencies and the private sector to execute an effective public official and national media strategy in response to a catastrophic earthquake through the effective receipt and transmission of coordinated, prompt, and reliable information regarding threats to public health, safety, and property, through clear, consistent information delivery systems. Assure this information is updated regularly and that it outlines the protective measures that can be taken by individuals and their communities during a catastrophic earthquake.

NLE 11 Overarching Objectives (3/3)
•Medical Surge:Demonstrate the ability to rapidly expand healthcare resources to provide medical personnel, support functions, physical space and logistics support to deliver triage, treatment and medical care to the affected and at-risk populations within sufficient time to achieve recovery and minimize medical complications.
•Recovery:Demonstrate the ability to implement recovery processes after a catastrophic earthquake, including the establishment of recovery priorities, the assessment of economic impact, and the coordination and implementation of recovery and relief plans to assure that individuals, families, businesses, and communities are provided with appropriate levels and types of relief with minimal delay.
Share this: