This threat advisory relates to an incident at the end of September where four soldiers from Fort Sill killed multiple members of the Crips street gang in a home-invasion robbery after being ripped off in a drug deal.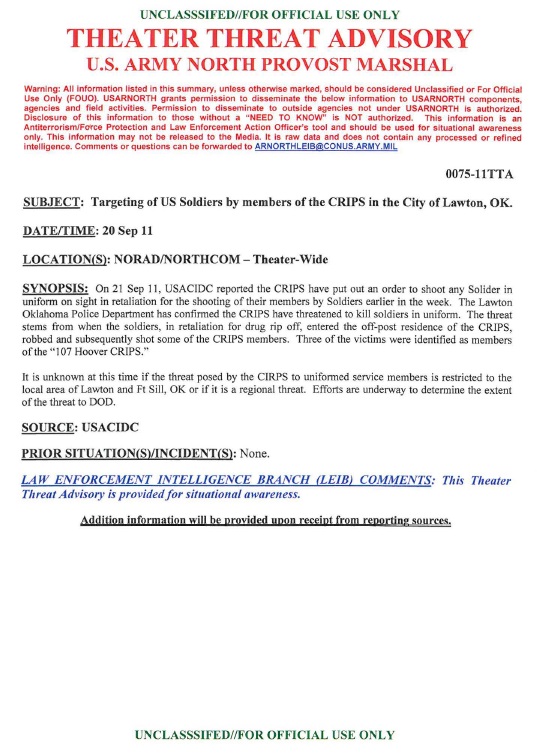 THEATER THREAT ADVISORY U.S. ARMY NORTH PROVOST MARSHAL
1 page
For Official Use Only
September 20, 2011

SUBJECT: Targeting of US Soldiers by members of the CRIPS in the City of Lawton, OK.

DATETIME: 20 Sep 11

LOCATION(S): NORAD/NORTHCOM- Theater-Wide

SYNOPSIS: On 21 Sep 11, USACIDC reported the CRIPS have put out an order to shoot any Solider in uniform on sight in retaliation for the shooting of their members by Soldiers earlier in the week. The Lawton Oklahoma Police Department has confirmed the CRIPS have threatened to kill soldiers in uniform. The threat stems from when the soldiers, in retaliation for drug rip off, entered the off-post residence of the CRIPS, robbed and subsequently shot some of the CRIPS members. Three of the victims were identified as members of the "107 Hoover CRIPS."

It is unknown at this time if the threat posed by the CRIPS to uniformed service members is restricted to the local area of Lawton and Ft Sill, OK or if it is a regional threat. Efforts are underway to determine the extent of the threat to DOD.

SOURCE: USACIDC

PRIOR SITUATION(S) INCIDENT(S): None.

LAW ENFORCEMENT INTELLIGENCE BRANCH (LEIB) COMMENTS: This Theater Threat Advisory is provided for situational awareness.

Addition information will be provided upon receipt from reporting sources.
Share this: