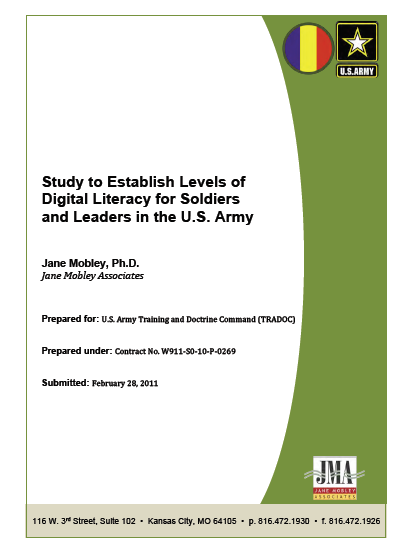 Study to Establish Levels of Digital Literacy for Soldiers and Leaders in the U.S. Army
162 pages
For Official Use Only
February 28, 2011

The Commanding General, U.S. Army Training and Doctrine Command (TRADOC), directed a study of Digital Literacy to meet a variety of Army requirements in the "digital age." Specifically, the study was designed to:

•     Characterize requirements for baseline levels of digital competence for all cohorts across the Army at accession;

•     Provide analysis that identifies, determines and discusses appropriate levels of advancing Digital Literacy within each cohort (Enlisted, Warrant Officer, Commissioned and Civilian) for all cohorts, all levels;

•     Develop Digital Literacy taxonomy (method of classification), lexicon (defined words) and semantic (language);

•   Document Digital Literacy knowledge, skills and abilities to include ability to access, create, evaluate, manage, integrate and communicate information from multiple sources, thereby providing common Digital Literacy; and

•   For all cohorts, IMT level: Describe competencies necessary for a Soldier/Civilian to perform tasks using specific technology.

The research hypothesis for this study was formulated out of the levels/cohorts  model and vocabulary that the Army has used traditionally and successfully for education and training. The overall research findings do not support the primary  hypothesis that Digital Literacy will or should manifest in advancing levels by cohort.  Rather, Digital Literacy across the Army will be expressed in the following levels:

1.   Baseline Level – includes all Soldiers and DA Civilians who would be expected to be competent, responsible users of digital technology and able to communicate, locate, transform and share ideas and information through digital devices

2.   Functional Level – includes operators and managers possessing specific knowledge, skills and abilities to use, manage, assess and understand digital technologies and their application

3.   Advanced Level – primarily composed of Cyber Warriors, Developers, Technical Engineers, System and Network Architects, CIO/CTO, etc., responsible for implementing/developing and maintaining the digital technologies and applications

4.   Expert Level – the highest-­‐capability users, managers and developers,  representing the training, expertise and experience required to control risks  and optimize opportunities of digital technology

Based on research findings, the study team recommends a widely usable definition focused on both professional and personal development, with a values statement that grounds the digital experience in the context of Army Values. This definition can be used across the Army and over time, because it is supported by a structure of Digital Literacy levels with defined competencies that can be customized for various  echelons of learning and Military Occupational Specialties, will change in the rapidly expanding digital environment and can be readily updated.

Digital Literacy is the individual's awareness, attitudes and abilities to appropriately use digital tools in order to accomplish his or her Army mission and to better enable personal and professional development.

A digitally literate member of the Army team integrates relevant information and knowledge with judgment to support mission requirements, safeguard the security and wellbeing of others on the team and uphold the Profession of Arms.
Share this: