This bulletin was originally published on RadioReference.com by users of the site.  A brief section of the document has been redacted at the request of the Maryland Coordination and Analysis Center to remove personal information related to non-law enforcement staff.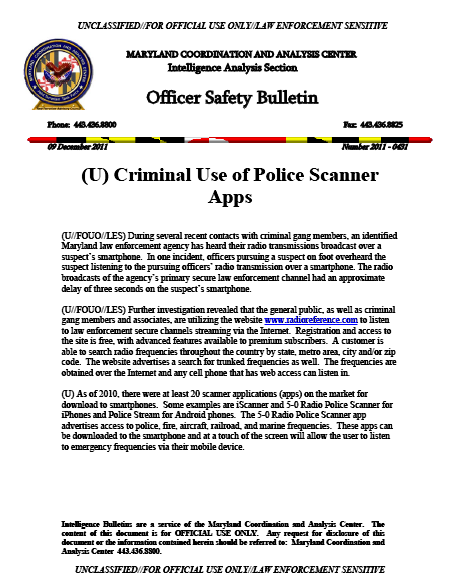 Maryland Coordination and Analysis Center Criminal Use of Police Scanner Apps
3 pages
For Official Use Only
Law Enforcement Sensitive
December 9, 2011

(U//FOUO//LES) During several recent contacts with criminal gang members, an identified Maryland law enforcement agency has heard their radio transmissions broadcast over a suspect's smartphone. In one incident, officers pursuing a suspect on foot overheard the suspect listening to the pursuing officers' radio transmission over a smartphone. The radio broadcasts of the agency's primary secure law enforcement channel had an approximate delay of three seconds on the suspect's smartphone.

(U//FOUO//LES) Further investigation revealed that the general public, as well as criminal gang members and associates, are utilizing the website www.radioreference.com to listen to law enforcement secure channels streaming via the Internet. Registration and access to the site is free, with advanced features available to premium subscribers. A customer is able to search radio frequencies throughout the country by state, metro area, city and/or zip code. The website advertises a search for trunked frequencies as well. The frequencies are obtained over the Internet and any cell phone that has web access can listen in.

(U) As of 2010, there were at least 20 scanner applications (apps) on the market for download to smartphones. Some examples are iScanner and 5-0 Radio Police Scanner for iPhones and Police Stream for Android phones. The 5-0 Radio Police Scanner app advertises access to police, fire, aircraft, railroad, and marine frequencies. These apps can be downloaded to the smartphone and at a touch of the screen will allow the user to listen to emergency frequencies via their mobile device.

(U//FOUO//LES) This situation presents a concern for officer safety. A criminal who is able to listen to law enforcement radio transmissions in near-real time could use the information to further their criminal activity, hide criminal activity, assist in a get-away, gain investigative information or set up an ambush position. Law enforcement needs to maintain a heightened awareness that criminals may exploit emerging technology in order to gain an upper-hand during the planning, execution, and escape phases of their crimes.
Share this: