| | | | |
| --- | --- | --- | --- |
| CHARACTERISTICS AND COMMON VULNERABILITIES INFRASTRUCTURE CATEGORY: HYDROELECTRIC DAMS | SENSITIVE HOMELAND SECURITY INFORMATION – LAW ENFORCEMENT SENSITIVE | January 15, 2004 | Download |
| POTENTIAL INDICATORS OF TERRORIST ACTIVITY INFRASTRUCTURE CATEGORY: HYDROELECTRIC DAMS | SENSITIVE HOMELAND SECURITY INFORMATION – LAW ENFORCEMENT SENSITIVE | January 30, 2004 | Download |
Industry Profile
Hydropower, including pumped storage, constitutes about 14% of the electrical generating
capacity of the United States (U.S.). Hydropower is the primary source of renewable energy in
the U.S. Total U.S. hydroelectric capacity is 103.8 gigawatts (GW), including pumped storage
projects. The federal government owns 38.2 GW at 165 sites (excluding pumped storage).
Another 40 GW of non-federal, licensed conventional hydroelectric capacity (excluding pumped
storage) exists at 2,162 sites in the U.S. (National Hydropower Association). The distribution of
hydropower generating capacity by ownership is illustrated in Figure 1. The 10 largest
hydroelectric facilities in the country are listed in Table 1 (U.S. Society on Dams).
Federal ownership of hydroelectric facilities is concentrated in the U.S. Army Corps of
Engineers (USACE), the U.S. Bureau of Reclamation (USBR), and the Tennessee Valley
Authority (TVA).
The USACE is the largest hydropower producer, with 375 generating units and a total rated
capacity of 21 GW. Its largest producer is the Bonneville Dam on the Columbia River, with 286
megawatts (MW) of rated capacity. Most of the USACE hydropower capacity is concentrated in
the Northwestern Division, which, in addition to Bonneville, has 14 other dams with more than
100 MW of rated capacity. (USACE Hydroelectric Design Center).
The USBR has somewhat less total hydropower capacity than USACE, with a total of 14.8 GW
produced at 58 hydroelectric plants. The bulk of USBR's hydroelectric capacity, however, is
concentrated in a few large dams. More than two-thirds is accounted for by the top three dams:
Grand Coulee (6.8 GW), Hoover (2 GW), and Glen Canyon (1.3 GW).
The TVA maintains 29 conventional hydroelectric dams throughout the Tennessee River system
and 1 pumped-storage facility for the production of electricity. TVA hydroelectric facilities have
a total capacity of about 5 GW. Its largest facility is the Raccoon Mountain pumped storage
reservoir with 1.5 GW of capacity. Altogether, TVA operates 15 dams with more than100 MW
of hydroelectric generating capacity. In addition, 4 Alcoa dams on the Little Tennessee River and
8 Corps of Engineers dams on the Cumberland River contribute to the TVA power system.
Most non-federal hydroelectric dams are operated by power companies and are licensed by the
Federal Energy Regulatory Commission (FERC). FERC listed 1,010 licensed hydroelectric
facilities in 2001 (FERC). Fourteen of the licensed facilities are 1 GW or more in size, with the
largest (2.75 GW) being the Niagara facility owned by New York Power Authority. Table 2
shows the 14 largest-capacity hydroelectric facilities licensed by FERC in 2001.
…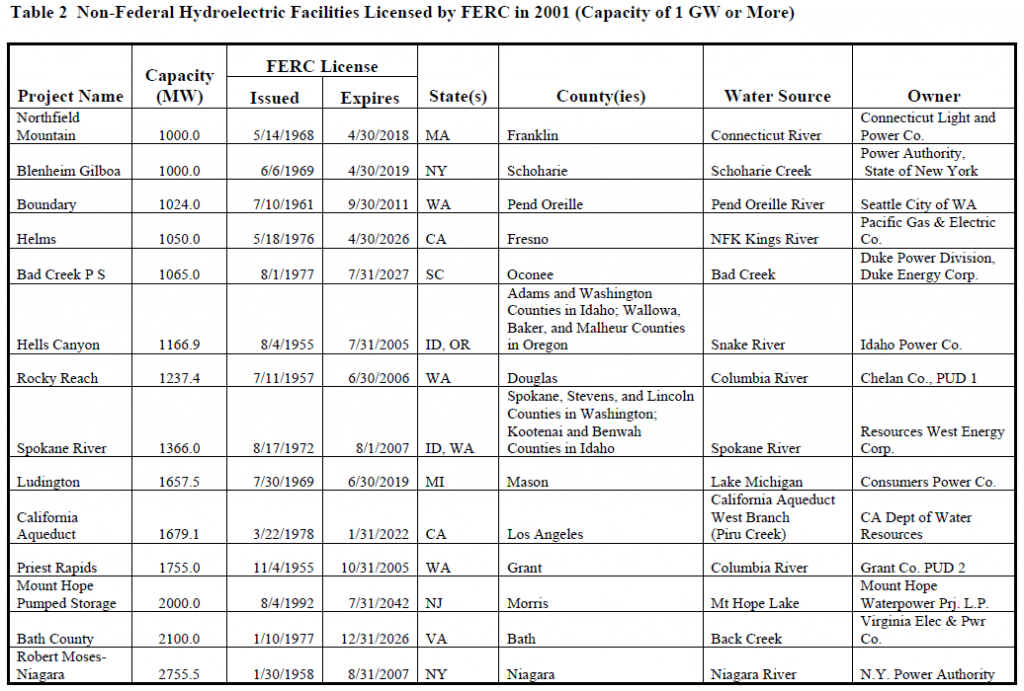 Share this: