| | | | |
| --- | --- | --- | --- |
| CHARACTERISTICS AND COMMON VULNERABILITIES INFRASTRUCTURE CATEGORY: CABLE LANDING STATIONS | SENSITIVE HOMELAND SECURITY INFORMATION – LAW ENFORCEMENT SENSITIVE | January 15, 2004 | Download |
| POTENTIAL INDICATORS OF TERRORIST ACTIVITY INFRASTRUCTURE CATEGORY: CABLE LANDING STATIONS | SENSITIVE HOMELAND SECURITY INFORMATION – LAW ENFORCEMENT SENSITIVE | January 30, 2004 | Download |
Characterization of the Industry
Underwater cables carry telecommunications traffic (voice and data) under bodies of water
(e.g., lakes and seas). These cables carry about 95% of all intercontinental telecommunications
traffic. International banking and finance transactions are highly dependent on underwater (also
known as submarine) communications cables. Some military communications traffic is carried
via underwater cables. Most underwater communications cables in service are fiber-optic cables.
New systems are almost always equipped with fiber-optic cables (rather than older technology
coaxial cables). Underwater cable systems have expanded in recent years due to increased
demand, changes in technology, and reduction in costs. This paper focuses on the gateway point
to underwater cable systems, the cable landing station, including the fiber run from the station to
shore where the fiber enters the water. Additional detail on the underwater portion of fiber
cabling can be found in Characteristics and Common Vulnerabilities, Infrastructure Category:
Underwater Cables (Draft, December 15, 2003).
The longest underwater telecommunications cable systems connect continents. Shorter systems
are laid along coastlines to avoid problems of siting terrestrial systems. Alternative routes are
often installed to increase system reliability.
The first underwater cable, a telegraph cable, was laid in 1850 between England and France.
Like most early cables, it failed quickly. Including that first cable, 950 underwater cables have
been installed worldwide through 2003. The first fiber-optic cable, TAT-8, was put into service
in 1988. Since then, 178 cables have been laid.
Submarine cables enter the Continental United States (U.S.), Hawaii, and Alaska at various
locations as shown in Figure 1. Each of the cable landing locations has a number of redundant
and diverse backhaul routes. These routes provide connectivity on both regional and local levels
between the cable landings and the domestic network. Table 1 lists 52 cable landing stations in
the U.S. The majority of these landing sites use fiber optics.
…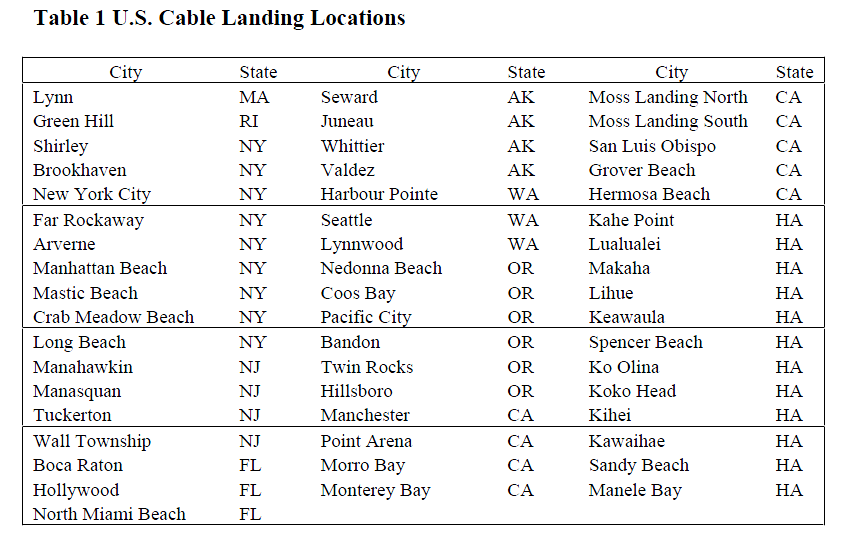 Share this: