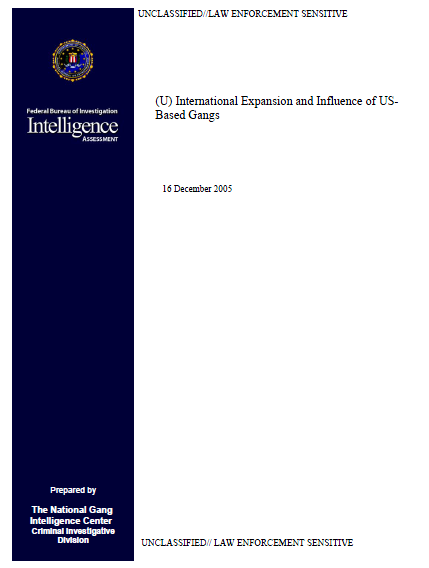 NGIC Intelligence Assessment
27 pages
Law Enforcement Sensitive
December 16, 2005

The purpose of this assessment is to explore the expansion and influence of US-based gangs abroad and their illicit operations and associations with foreign criminal organizations. For the purpose of this assessment, the term "gang" encompasses both street gangs and outlaw motorcycle gangs. In addition to FBI and open source reporting, the following law enforcement agencies from the United States, Canada, Central America, the Netherlands, and United Kingdom were surveyed to obtain data for the assessment.

…

(U) Key Judgments

(U//LES) Several US-based gangs have expanded internationally, although their expansion appears to be limited and unsystematic. Major US-based gangs are operating in Australia, Asia, Canada, the Caribbean, Central America, Europe, Mexico, South America, and New Zealand. Most gang members abroad are not counterparts of US-based sets or cliques, but are homegrown or "wanna-be" gang members influenced by media and popular culture. Outlaw Motorcycle Gangs (OMGs), Hispanic gangs, and street gangs on or near US military bases abroad tend to be affiliated with or an extension of a US-based gang.
(U//LES) Many US-based gangs maintain some ties to foreign criminal organizations. Most criminal gangs involved in drug trafficking and distribution have alliances with Mexican, Colombian, or Nigerian drug cartels, or to organized crime or domestic terrorist groups. Such alliances could ultimately facilitate the gang's expansion abroad and collaboration with foreign criminal organizations.
(U//LES) The international expansion of US-based gangs appears to be facilitated by several factors, including criminal opportunities available in a specific region; the presence of family members or friends; gang suppression laws in a specific region; and ties to foreign criminal organizations such as drug trafficking organizations (DTOs), organized crime groups, or terrorist groups. Gangs that are sophisticated and organized are more likely to have factions abroad. US-based gangs will continue to expand their operations abroad as long as conditions facilitating such expansion and a market for illicit goods are present.
(U) OMGs have strong international links and are present in 45 countries, including Canada, Australia, New Zealand, Russia, South America, Asia, and most European Union nations. Their expansion abroad is primarily driven by the illicit drug market and the search for international suppliers. Major OMGs are expanding faster overseas than they are in the United States, and expansion efforts are likely to continue.
(U//LES) Mara Salvatrucha (MS-13) operates in Mexico, Central America, and Canada. MS-13 members are allegedly involved in alien smuggling outside of the United States and are providing alien smuggling organizations with enforcement services for a fee. Although there is no evidence suggesting a link between MS-13 and any terrorist organizations, the gang's propensity for alien smuggling and profit motivations may make them amenable to smuggling terrorists into the United States.
(U//LES) According to open source and Drug Enforcement Administration (DEA) reporting, several criminal gangs, including the Black Disciples, Black Peace Stones, Crips, Latin Kings, MS-13, Netas, and the Texas Syndicate have members who have been affiliated with foreign extremist groups and terrorist organizations. Furthermore, some of these gangs subscribe to radical Islam, making them more susceptible to recruitment by terrorist organizations and more likely to travel abroad to engage in criminal activity. The potential for terrorist recruitment of street gangs greatly increases in correctional institutions, where several associations between American gangs and international terrorists have been documented.
(U//LES) US law enforcement officials have suggested that US-based gangs migrate abroad and collaborate with questionable international interest groups for a profit-related purpose. Consequently, it is likely that several US-based gangs will augment their relationships with foreign criminal organizations and DTOs to obtain access to the illicit global market, should it serve their financial objectives.
Share this: