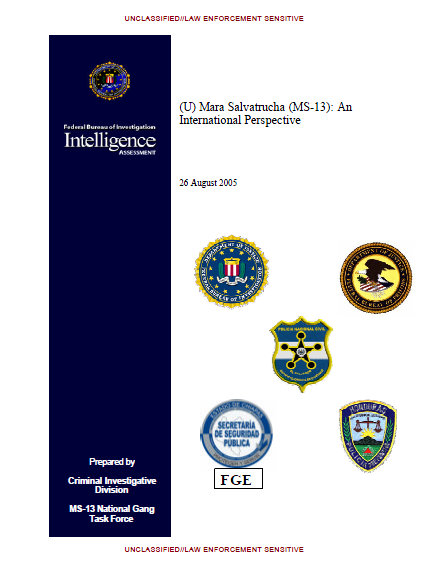 Mara Salvatrucha (MS-13): An International Perspective
39 pages
Law Enforcement Sensitive
August 26, 2005

(U) The purpose of this assessment is to provide an overview of the international activities of the MS-13 criminal organization. The report is the result of the analysis of arrest records, law enforcement reports, deportation records, interviews, and observations conducted by members of the MS-13 National Gang Task Force (NGTF) regarding documented MS-13 members in the United States; Chiapas, Mexico; El Salvador; and Honduras. Violent MS-13 members have crossed international boundaries and key members have documented links between the United States and the countries addressed in this assessment (see Appendix A).

(U) Key Judgements

Available law enforcement information indicates that there are approximately 8,000-10,000 active MS-13 members in the United States. However, due to diverse law enforcement gang membership criteria and migration issues, the exact number of MS-13 gang members in this country is unknown.
(U) In the United States, MS-13 has an identified presence in 33 states and the District of Columbia. FBI information indicates that MS-13 is considered highly active in California, Maryland, North Carolina, New Jersey, New York, Texas, Virginia, and Washington.
(U//LES) Although leaders of several cliques may work together occasionally to achieve a common goal, a single national or international MS-13 gang leader has not been identified within the United States or abroad. The autonomy of the gang's cliques makes them difficult to target as there is no centralized leadership. The structure of the cliques varies based on membership, criminal activity, and the background of the clique's founding members.
(U//LES) As of July 2005, the Federal Bureau of Prisons (BOP) had identified 127 incarcerated MS-13 members. The majority of these individuals are El Salvadoran nationals; however, some are also US citizens.
(U//LES) MS-13 members in the United States are actively involved in drug related criminal activity in Georgia, Massachusetts, North Carolina, Indiana, Nevada, Arkansas, California, Tennessee, New York, New Jersey, Oklahoma, Nebraska, Washington, Virginia and Maryland.
(U) According to intelligence analysis and source reporting, the formation of MS-13 cliques (groups of individuals joined together in a region) is often the result of MS-13 member migration to new areas. The migration of individuals is based on factors such as job availability, avoidance of law enforcement, family connections, and prison sentencing.
(U//LES) US-based MS-13 members have been arrested for violent crimes including murder, robbery, drive-by-shootings, stabbings, assault, rape, witness intimidation, extortion, malicious wounding, and threats against law enforcement. MS-13 cliques will adapt their criminal activity based on the opportunities available in a specific area.
(U//LES) In December 2004, the El Salvador Policia Nacional Civil (PNC) reported a total of 126 active MS-13 cliques in El Salvador. These cliques are generally well-organized with a defined leader and several "national" leaders. In El Salvador, an MS-13 clique's primary financial gain is through drug sales and extortionate activities. However, MS-13 gang members are best known for their violence and are responsible for more homicides than other El Salvadoran gangs combined.
(U//LES) Both US and foreign law enforcement agencies have documented communications between MS-13 members in El Salvador, Honduras, and Mexico with members in the United States. Additionally, telephone calls and money transfers have been documented between US and El Salvador members.
(U//LES) The Honduras Policia Preventiva (HPP) has identified 13 active MS-13 cliques in five sectors of Honduras: San Pedro Sula, La Ceiba, Comayagua, Tegucigalpa, and Choluteca.
(U//LES) In Honduras, the HPP has identified a five- level structure within the MS-13 gang which includes aspiring members, sympathizers, new members, permanent members, and leaders. MS-13 is accused of murdering civilians to protest political decisions. Five of the key MS-13 members implicated in a 23 December 2004 bus massacre in Honduras (which killed 28 civilians) had documented links to the United States.
(U//LES) Cellular telephones are the most common communication method used by MS-13 members both internationally and domestically. Telephone calls between Honduras and the United States have been documented by law enforcement and corrections agencies in both countries.
(U//LES) Analysis of source and law enforcement reporting indicates that MS-13 members in Honduras are more financially stable than MS-13 members in other countries. This may be partially due to the nature of MS-13 criminal activities in Honduras and the fact that some members have obtained wealth from legitimate business or family inheritance.
(U//LES) The city of Tapachula, on the border with Guatemala, has the largest concentration of MS-13 members in Chiapas, Mexico. Membership among incarcerated adult members in Chiapas consists primarily of transient MS-13 members from Central American countries in route to the United States. Most of the criminal activity revolves around the location of railroad lines. Other immigrants are the primary victims of MS-13 criminal activities in this area.
(U) Although MS-13 is active in the Chiapas area, particularly along the border and near railroads, there is no evidence to support the allegation that they "control" the area.
Share this: