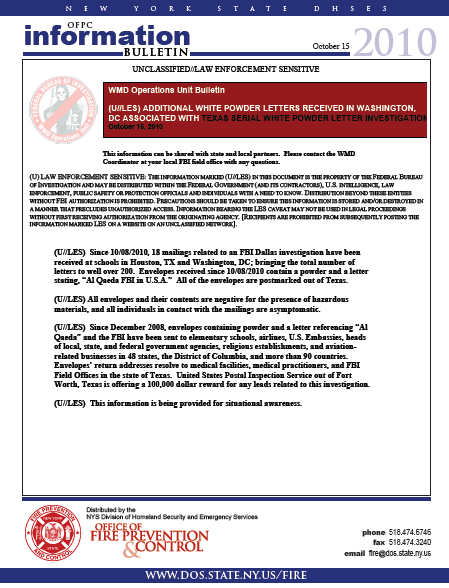 WMD Operations Unit Bulletin
1 page
Law Enforcement Sensitive
October 15, 2010

(U//LES) Since 10/08/2010, 18 mailings related to an FBI Dallas investigation have been received at schools in Houston, TX and Washington, DC; bringing the total number of letters to well over 200. Envelopes received since 10/08/2010 contain a powder and a letter stating, "Al Qaeda FBI in U.S.A." All of the envelopes are postmarked out of Texas.

(U//LES) All envelopes and their contents are negative for the presence of hazardous materials, and all individuals in contact with the mailings are asymptomatic.

(U//LES) Since December 2008, envelopes containing powder and a letter referencing "Al Qaeda" and the FBI have been sent to elementary schools, airlines, U.S. Embassies, heads of local, state, and federal government agencies, religious establishments, and aviationrelated businesses in 48 states, the District of Columbia, and more than 90 countries. Envelopes' return addresses resolve to medical facilities, medical practitioners, and FBI Field Offices in the state of Texas. United States Postal Inspection Service out of Fort Worth, Texas is offering a 100,000 dollar reward for any leads related to this investigation.

(U//LES) This information is being provided for situational awareness.
Share this: