This document is part of a collection leaked by the anonymous hacker collective known as LulzSec.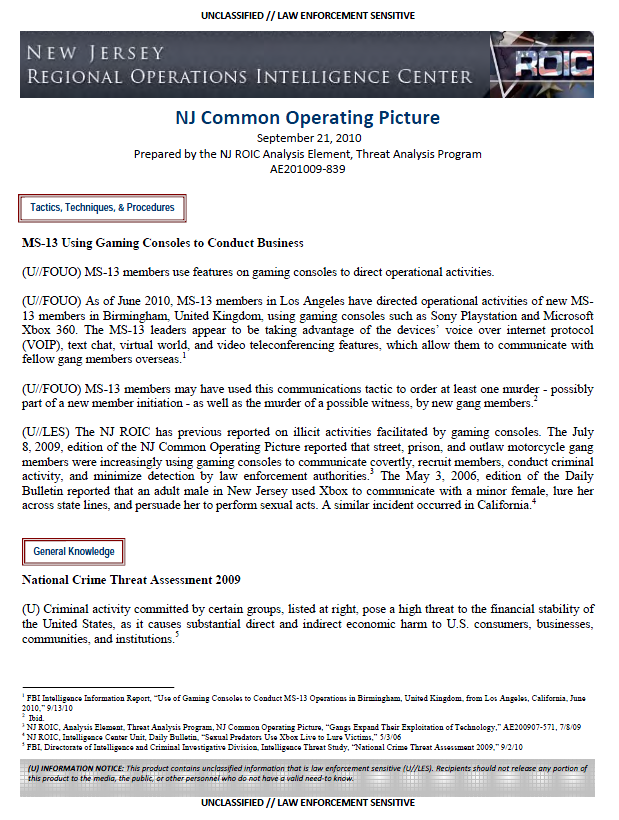 MS-13 Using Gaming Consoles to Conduct Business
2 pages
Law Enforcement Sensitive
September 21, 2010

(U//FOUO) MS-13 members use features on gaming consoles to direct operational activities.

(U//FOUO) As of June 2010, MS-13 members in Los Angeles have directed operational activities of new MS-13 members in Birmingham, United Kingdom, using gaming consoles such as Sony Playstation and Microsoft Xbox 360. The MS-13 leaders appear to be taking advantage of the devices' voice over internet protocol (VOIP), text chat, virtual world, and video teleconferencing features, which allow them to communicate with fellow gang members overseas.

(U//FOUO) MS-13 members may have used this communications tactic to order at least one murder – possibly part of a new member initiation – as well as the murder of a possible witness, by new gang members.

(U//LES) The NJ ROIC has previous reported on illicit activities facilitated by gaming consoles. The July 8, 2009, edition of the NJ Common Operating Picture reported that street, prison, and outlaw motorcycle gang members were increasingly using gaming consoles to communicate covertly, recruit members, conduct criminal activity, and minimize detection by law enforcement authorities.3 The May 3, 2006, edition of the Daily Bulletin reported that an adult male in New Jersey used Xbox to communicate with a minor female, lure her across state lines, and persuade her to perform sexual acts. A similar incident occurred in California.
Share this: