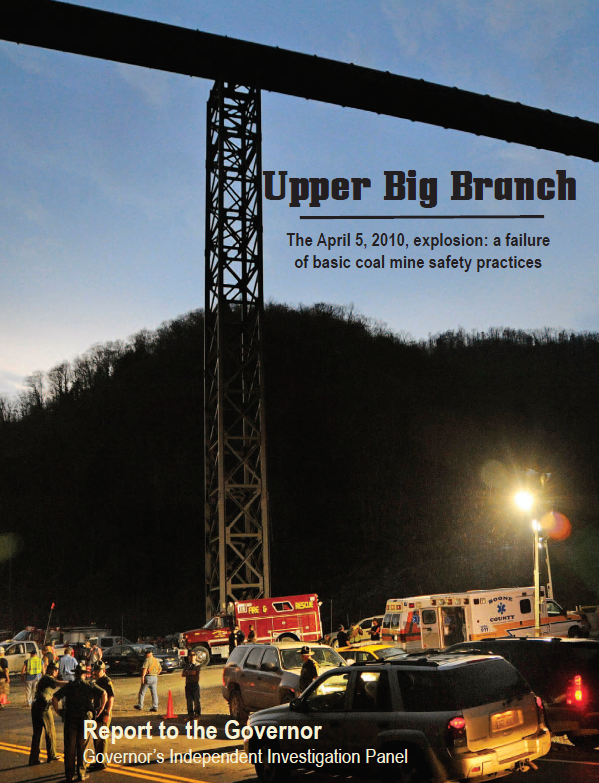 Governor's Independent Investigation Panel

At approximately 3:02 p.m. on Easter Monday, April 5, 2010, a powerful explosion tore through the Upper Big Branch mine, owned by Massey Energy and operated by its subsidiary, Performance Coal Company, at the convergence of Boone and Raleigh counties in southern West Virginia.

Twenty-nine miners died and one was seriously injured as the enormously powerful blast rocketed through two and one-half miles of underground workings nearly 1,000 feet beneath the surface of the rugged mountains along the Coal River. The disaster has had grave consequences for a mining company, for a community and, most importantly, for the family members who lost men dear to them.

On April 13, 2010, then West Virginia Governor Joe Manchin III asked J. Davitt McAteer, former Assistant Secretary of Labor in charge of the federal Mine Safety and Health Administration, to conduct an independent investigation into the disaster. The Governor said, "We owe it to the families of the 29 miners we lost last week to find out what caused this. We owe it to them and every coal miner working today to do everything humanly possible to prevent this from happening again… I fully expect that we will learn … from this and make dramatic changes to protect our miners."

As a result of an inquiry that continued for more than a year, the Governor's Independent Investigation Panel has reached the following conclusions:

• The explosion at the Upper Big Branch mine could have been prevented.
• The explosion was the result of failures of basic safety systems identified and codified to protect the lives of miners. The company's ventilation system did not adequately ventilate the mine. As a result, explosive gases were allowed to build up. The company failed to meet federal and state safe principal standards for the application of rock dust. Therefore, coal dust provided the fuel that allowed the explosion to propagate through the mine. Third, water sprays on equipment were not properly maintained and failed to function as they should have. As a result, a small ignition could not be quickly extinguished.
• Three layers of protection designed to safeguard the lives of miners failed at Upper Big Branch. First, the company's pre-shift/on-shift examination system broke down so that safety hazards either were not recorded, or, if recorded, were not corrected. Second, the U.S. Mine Safety and Health Administration (MSHA) failed to use all the tools at its disposal to ensure that the company was compliant with federal laws. Third, the West Virginia Office of Miners' Health Safety and Training (WVHST) failed in its role of enforcing state laws and serving as a watchdog for coal miners.
• Regulatory agencies alone cannot ensure a safe workplace for miners. It is incumbent upon the coal industry to lead the way toward a better, safer industry and toward a culture in which safety of workers truly is paramount. A genuine commitment to safety means not just examining miners' work practices and behaviors. It means evaluating management decisions up the chain of command – all the way to the boardroom – about how miners' work is organized and performed.
• The politics of coal must be addressed at both a state and national level. Coal is a vital component in our nation's energy strategy. The men and women who mine it also are a national resource whose lives, safety and health must be safeguarded.
Share this: