The Centers for Disease Control and Prevention (CDC) is closely monitoring an outbreak caused by a novel (new) coronavirus in Wuhan, Hubei Province, China. Chinese authorities first identified the new coronavirus, which has resulted in over a thousand confirmed human infections in China with several deaths reported.
The World Health Organization (WHO) on January 30, 2020, declared the outbreak of novel Coronavirus 2019-nCov a Public Health Emergency of International Concern (PHEIC).
The President of the United States has declared a Public Health Emergency for the novel Coronavirus (2019-nCoV) and has imposed travel restrictions, taking effect Sunday February 2, 2020, at 1700 hours ET.
The World Health Organization (WHO) reports there are 37,558 (+2,676) cases and 813 (+89) confirmed deaths from the novel Coronavirus 2019-nCoV worldwide, including 12 confirmed cases in the U.S and 6 in California.
…
Center for Disease Control (CDC) Risk Assessment
Outbreaks of novel virus infections among people are always of public health concern. The risk from these outbreaks depends on characteristics of the virus, including whether and how well it spreads between people, the severity of resulting illness, and the medical or other measures available to control the impact of the virus. Investigations are ongoing to learn more, but some degree of person-to-person spread of 2019-nCoV is occurring. It is not clear yet how easily 2019-nCoV spreads from person-to-person. While CDC considers this as a serious public health concern, based on current information, the immediate health risk from 2019-nCoV to the general American public is considered low at this time.
Centers for Disease Control (CDC) Actions
CDC established a 2019-nCoV Incident Management Structure on January 07, 2020. On January 21, 20220, CDC activated its Emergency Response System to provide ongoing support to the 2019-nCoV response.
CDC along with Customs and Border Protection (CBP) are continuing to conduct enhanced entry screening of passengers who have been in Wuhan within the past 14 day at 20 U.S. airports. Travel out of Wuhan has been shut down; the number of passengers who meet this criteria are dwindling.
All flights from China are being funneled through the eleven (11) US airports.
On February 4, 2020, the FDA issued an Emergency Use Authorization (EUA) to authorize the emergency use of Centers for Disease Control and Prevention's (CDC) 2019-novel Coronavirus (2019-nCoV) Real-Time Reverse Transcriptase (RT)-PCR Diagnostic Panel for the presumptive qualitative detection of nucleic acid from the 2019-nCoV in upper and lower respiratory specimen.
The CDC will distribute 200 test kits for the novel coronavirus to domestic labs, and another 200 test kits to international labs. This will allow for enhanced capacity for testing by early next week. Each test kit can perform 700 to 800 patient samples. CDC officials are expecting these kits will result in states announcing their own confirmed cases, rather than waiting for confirmation from the CDC.
CDC reported the first U.S. citizen death (a 60 year-old man) in Wuhan.
…
California Governor's Office of Emergency Services (Cal OES)
Commercial flights into California from the Hubei Province, China, could require quarantine and housing for up to 14 days while being screened and tested for 2019-nCoV. Cal OES is communicating and coordinating with State and Local partners to identify housing locations and potential needs within the Operational Areas.
CDPH, Cal OES, and the Emergency Medical Services Authority (EMSA) have formed a Multi-Agency Coordination Group (MAC) for scarce resource allocation of N-95 respirators. Objectives include:
o Competing priorities
o Advanced planning
o Supply on hand
o Supply chain availability
o Current outstanding resource request
o Distribution guidance based upon priority of needs
Cal OES Law Enforcement Branch
The Cal OES Law Enforcement Branch continues to monitor the circumstances surrounding the Coronavirus quarantines. To date there have been no requests for Law Enforcement Mutual Aid for civil unrest/protests, or site security.
Cal OES Law Enforcement Area Coordinator assigned to the novel Coronavirus remains in contact with Federal, state, and Local partners regarding law enforcement needs and quarantine status.
Cal OES State Threat Assessment Center (STAC)
The State Threat Assessment System (STAS) is on an enhanced readiness posture, STAC will continue to monitor Suspicious Activity Reporting (SAR) and threat streams for any potential threats and will issue alerts as needed.
STAC Commander has briefed HAS STAS Directors on status, enhanced posture requested.
All California Intelligence centers are at an enhanced posture.
The STAC Awareness Response Team (ART) has consulted with CDPH and the State Warning Center, and issued two alert updates pertaining to 2019- nCoV.
The STAC Duty Analyst and key members of management have participated in daily update teleconferences with the CDC and national health partners.
Cal Cyber Security Integration Center (Cal-CSIC) continues to monitor and collaborate with Federal, State, and Local partners.
Cal OES Fire and Rescue Division
OES Fire Division in Regions 1, 2, and 6, are actively engaged with local fire officials and military bases (Travis, March, and Miramar) on any needs that may arise from the novel Coronavirus response.
…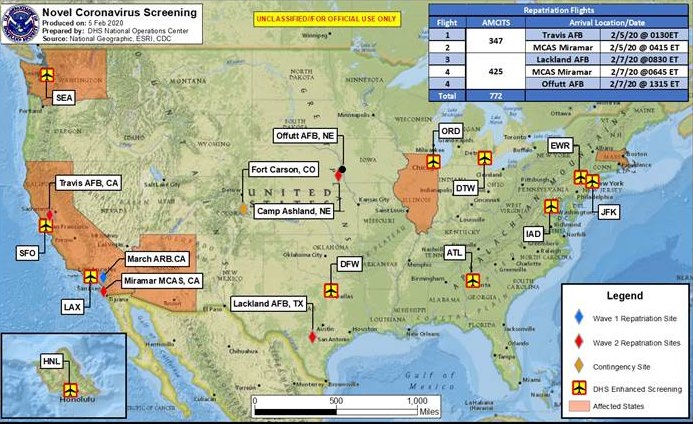 Share this: