The following bulletin from the Colorado Information Analysis Center warning law enforcement officers to minimize or eliminate their social media presence was obtained from the website of the Johnson City, Tennessee Police Department.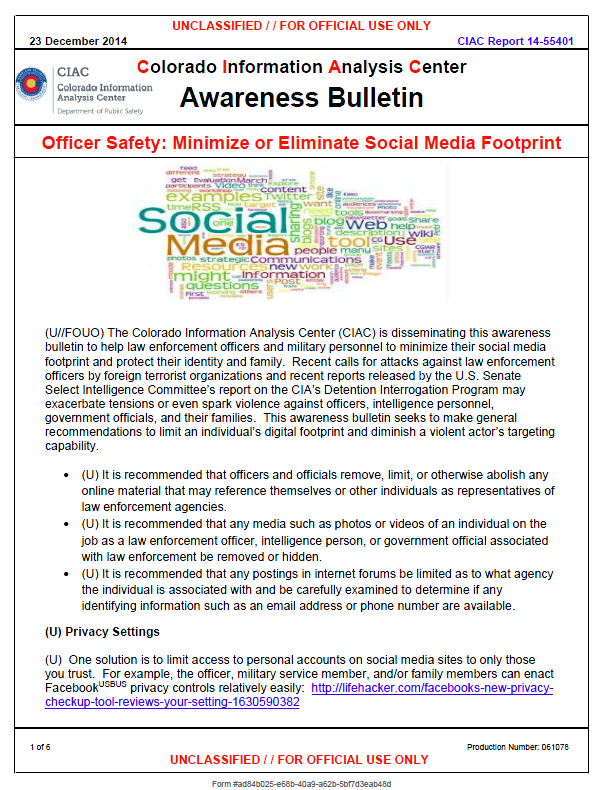 Colorado Information Analysis Center Awareness Bulletin
6 pages
For Official Use Only
December 24, 2014

(U//FOUO) The Colorado Information Analysis Center (CIAC) is disseminating this awareness bulletin to help law enforcement officers and military personnel to minimize their social media footprint and protect their identity and family. Recent calls for attacks against law enforcement officers by foreign terrorist organizations and recent reports released by the U.S. Senate Select Intelligence Committee's report on the CIA's Detention Interrogation Program may exacerbate tensions or even spark violence against officers, intelligence personnel, government officials, and their families. This awareness bulletin seeks to make general recommendations to limit an individual's digital footprint and diminish a violent actor's targeting capability.

(U) It is recommended that officers and officials remove, limit, or otherwise abolish any online material that may reference themselves or other individuals as representatives of law enforcement agencies.

(U) It is recommended that any media such as photos or videos of an individual on the job as a law enforcement officer, intelligence person, or government official associated with law enforcement be removed or hidden.

(U) It is recommended that any postings in internet forums be limited as to what agency the individual is associated with and be carefully examined to determine if any identifying information such as an email address or phone number are available.

(U) Privacy Settings

(U) One solution is to limit access to personal accounts on social media sites to only those you trust. For example, the officer, military service member, and/or family members can enact FacebookUSBUS privacy controls relatively easily: http://lifehacker.com/facebooks-new-privacycheckup-tool-reviews-your-setting-1630590382

(U) Social Media Removal or Deactivation

(U) The following section provides instructions to delete an individual's information from the most prominent social media websites.

FacebookUSBUS

(U) Any information, photos, or posts that are desired can be saved to the user's computer at Account Settings > General > Download a copy of your Facebook Data > Start my Archive.
(U) To deactivate an account, which would render it inactive and unsearchable (however, Facebook still retains the account information): Account Settings > Security > Deactivate your account
(U) To completely remove a user's data from Facebook, the user must go to:
https://www.facebook.com/help/delete_account and click the blue "Delete My Account" button. The complete removal of all information from Facebook's servers may take up to a day. This renders all information removed and the account cannot be reactivated.

TwitterUSBUS

(U) To deactivate a user's account: Account Settings > Deactivate my Account > "Okay, fine, deactivate account" This step will deactivate the account and Twitter will hold the account information for 30 days before deleting it from their servers.

TumblrUSBUS

(U) To delete an account on Tumblr, the user must go to: https://www.tumblr.com/login?redirect_to=%2Faccount%2Fdelete, log into your account by confirming your password and click on "delete account page".

LinkedInUSBUS

(U) To close an account: Privacy & Settings > Account > Close Your Account. The website will request verification information, and then process the request. It may take a while for all traces of the account to leave internet searches.

Google+USBUS

(U) Most users of Google+ are unaware that they have a Google+ account.
(U) There is the option of deleting all Google+ profile information without deleting a user's Google account.
(U) To delete public information from Google+ account: Click on name and/or email in upper right hand corner of a signed in Google account > Account Management > Delete profile and remove related Google+ features > Delete Google+ content.
(U) To delete an entire Google+ account (Note, this will not delete the Gmail or Google Drive account): Click on name and/or email in upper right hand corner of a signed in Google account > Account Management > Delete your entire Google profile. This will delete the Google+ profile. This will complicate Google's connected services (most commonly YouTube).
(U) To delete an entire Google account (including Gmail and Google Drive): go to the Google Account homepage and click Close account and delete all services and info associated with it.

SpokeoUSBUS

(U) To remove your listing from Spokeo first find the profile you want to remove and copy its URL.
(U) Direct your browser to http://www.spokeo.com/opt_out/new and paste the URL of the profile. Click "remove this listing."

SnapchatUSBUS

(U) Open the application and select the square icon in the lower left corner. Next, select the cog icon in the upper right corner >
(U) Mobile applications typically utilize third party providers for analytics. Snapchat utilize Flurry, developed by Yahoo!

(U) Removing Information From Background Check Websites

(U) The major background check websites (Appendix A) have different requirements for a user to completely remove their information from publicly purchasable databases. Each site must be visited individually and each individual process followed. The site may require proof of identity in the form of a state issued ID or driver's license. In this case, black out all information other than your name, address, and date of birth. Only give each site the minimum amount of information required to identify you.

(U) Voter Registration

(U) Eliminating your name from voter registration rolls is also a potential way to limit personal information that can be collected relatively easily. Per Colorado Revised Statute 24-72-204 (3.5) section 2.11.2, an elector may request his or her voter registration address be confidential. The procedure for address confidentiality is as follows: contact the county clerk in the county of residence, complete a voter confidentiality form and pay a $5 fee. The elector must use the application provided by the Secretary of State and include his or her name, address, and birth date on the application.

(U) County Assessor's Offices

(U) Any individual who owns real property in the state of Colorado is registered with that county's assessor who values the home for tax reasons. The assessor's database is publicly searchable by address, plot number, or tax reference number and gives the owners' name and some details about the home. In some cases, law enforcement officers and officials can have their information removed from public disclosure. A non-inclusive list of county assessors with contact information is included in Appendix B.
Share this: