This document was first obtained and published by American Banker.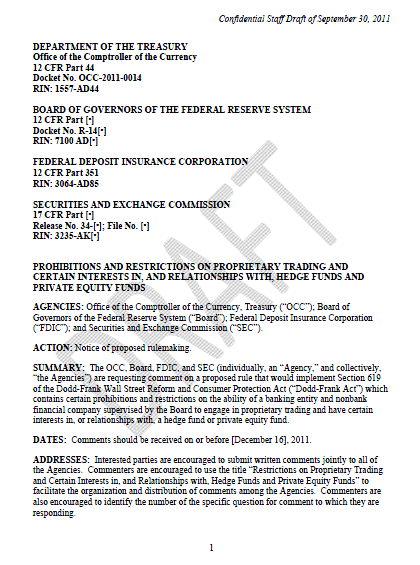 PROHIBITIONS AND RESTRICTIONS ON PROPRIETARY TRADING AND CERTAIN INTERESTS IN, AND RELATIONSHIPS WITH, HEDGE FUNDS AND PRIVATE EQUITY FUNDS
205 pages
Confidential Draft
September 30, 2011

AGENCIES: Office of the Comptroller of the Currency, Treasury ("OCC"); Board of Governors of the Federal Reserve System ("Board"); Federal Deposit Insurance Corporation ("FDIC"); and Securities and Exchange Commission ("SEC").

ACTION: Notice of proposed rulemaking.

SUMMARY: The OCC, Board, FDIC, and SEC (individually, an "Agency," and collectively, "the Agencies") are requesting comment on a proposed rule that would implement Section 619 of the Dodd-Frank Wall Street Reform and Consumer Protection Act ("Dodd-Frank Act") which contains certain prohibitions and restrictions on the ability of a banking entity and nonbank financial company supervised by the Board to engage in proprietary trading and have certain interests in, or relationships with, a hedge fund or private equity fund.

DATES: Comments should be received on or before [December 16], 2011.

ADDRESSES: Interested parties are encouraged to submit written comments jointly to all of the Agencies. Commenters are encouraged to use the title "Restrictions on Proprietary Trading and Certain Interests in, and Relationships with, Hedge Funds and Private Equity Funds" to facilitate the organization and distribution of comments among the Agencies. Commenters are also encouraged to identify the number of the specific question for comment to which they are responding.

…

I. Background.

The Dodd-Frank Act was enacted on July 21, 2010. Section 619 of the Dodd-Frank Act added a new section 13 to the Bank Holding Company Act of 1956 ("BHC Act") (to be codified at 12 U.S.C. § 1851) that generally prohibits any banking entity from engaging in proprietary trading or from acquiring or retaining an ownership interest in, sponsoring, or having certain relationships with a hedge fund or private equity fund ("covered fund"), subject to certain exemptions. New section 13 of the BHC Act also provides for nonbank financial companies supervised by the Board that engage in such activities or have such interests or relationships to be subject to additional capital requirements, quantitative limits, or other restrictions.

…

C. Covered Fund Activities and Investments.

Subpart C of the proposed rule implements the statutory prohibition on, as principal, directly or indirectly, acquiring and retaining an ownership interest in, or having certain relationships with, a covered fund, as well as the various exemptions to this prohibition included in the statute. Section __.10 of the proposed rule contains the core prohibition on covered fund activities and investments and defines a number of related terms, including "covered fund" and "ownership interest." The proposed rule's definition of covered fund generally parallels the statutory definition of "hedge fund" and "private equity fund," and explains the universe of entities that would be considered a "covered fund" (including those entities determined by the Agencies to be "such similar funds") and, thus, subject to the general prohibition.

The definition of "ownership interest" provides further guidance regarding the types of interests that would be considered to be an ownership interest in a covered fund. As described in this Supplementary Information, these interests may take various forms. The definition of ownership interest also explicitly excludes from the definition "carried interest" whereby a banking entity may share in the profits of the covered fund solely as performance compensation for services provided to the covered fund by the banking entity (or an affiliate, subsidiary, or employee thereof).
Share this: