Public Intelligence
A recent "Privacy Impact Assessment" from the Department of Homeland Security lists Public Intelligence among the websites actively monitored by the DHS National Operations Center (NOC) for "situational awareness".  The report describes the monitoring as part of the "Publicly Available Social Media Monitoring and Situational Awareness Initiative":
The NOC will use Internet-based platforms that provide a variety of ways to follow activity related to monitoring publicly available online forums, blogs, public websites, and message boards. Through the use of publicly available search engines and content aggregators2 the NOC will monitor activities on the social media sites listed in Appendix A for information that the NOC can use to provide situational awareness and establish a common operating picture. Appendix A is a current list of sites that the NOC will use as a starting point under this Initiative. Initial sites listed may link to other sites not listed. The NOC may also monitor those sites if they are within the scope of this Initiative. The NOC will gather, store, analyze, and disseminate relevant and appropriate de-identified information to federal, state, local, and foreign governments, and private sector partners authorized to receive situational awareness and a common operating picture.
In May, a similar report for the "BP Oil Spill Response Social Media Event Monitoring Initiative" also listed Public Intelligence.  The most recent report lists other freedom of information sites, including Cryptome and WikiLeaks.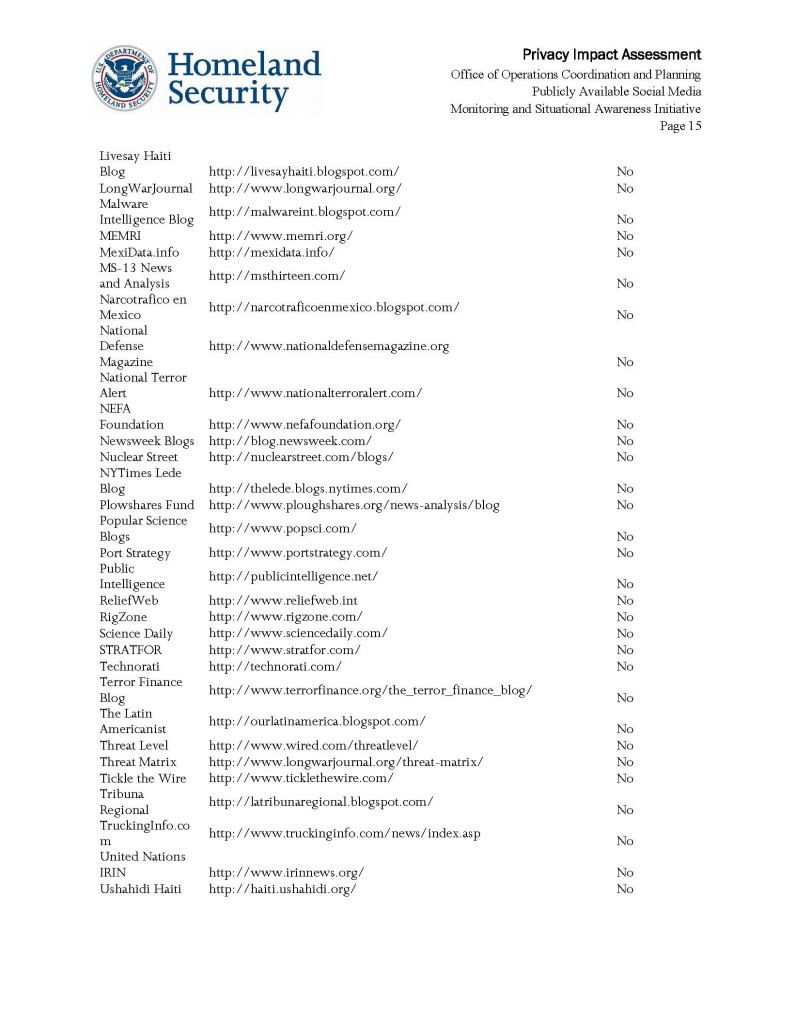 Share this: