(U//FOUO) We judge that narratives driven by Chinese, Iranian, and Russian state media, and proxy websites linked to these governments, often involve fact-based articles as well as editorials; these publications may include misinformation, disinformation, or factual but misrepresented information. This monthly "Snapshot" compiles English-language narratives, which we assess are intended for US and Western audiences, and highlights both consistent trends and emergent messaging, which we assess to reveal foreign actors' changing influence priorities. We judge that, typically, China uses state and proxy media—including US-based outlets—to try to shape diaspora conduct and US public and leadership views; Iran state media manipulates emerging stories and emphasizes Tehran's strength while denigrating US society and policy; and Russia uses both state and proxy media to amplify narratives seeking to weaken Washington's global position relative to Moscow's. This snapshot identifies the most persistent or emergent narratives being spread by these actors for English-speaking—probably US—audiences, as well as narratives of interest to Homeland Security stakeholders.
…
(U//FOUO) Chinese state media continued July's heavy shift to Taiwan issues—away from significant focus on Ukraine or COVID-19—while also claiming that several US domestic controversies show a failing democracy. Outlets denounced visits to Taiwan by US politicians as political grandstanding, and as attempts to undermine the One‑China policy.
(U//FOUO) Iranian state media focused on long-standing narratives. Outlets praised Tehran's purported efforts to revitalize the Joint Comprehensive Plan of Action (JCPOA), while criticizing Washington's negotiating stance, and pushed stories of US social discord, including inflation and the search of the former president's property.
(U//FOUO) Russian state media and proxy websites continued their heavy focus on Ukraine by blaming global economic, energy, and food insecurity on the Western response. They also alleged that Ukrainian military actions endangered the Zaporozhye nuclear power plant. Moscow further highlighted its support for Beijing after the Taiwan visits of US Congressional delegations.
…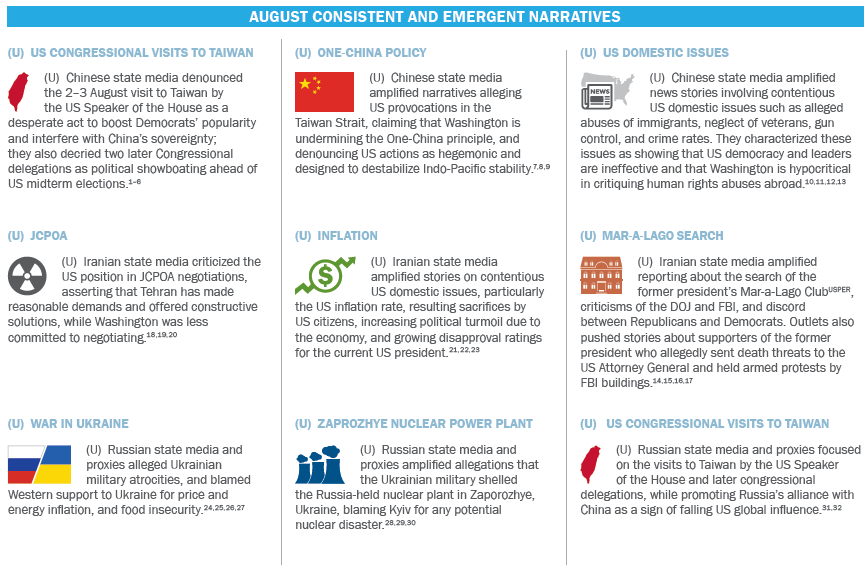 Share this: