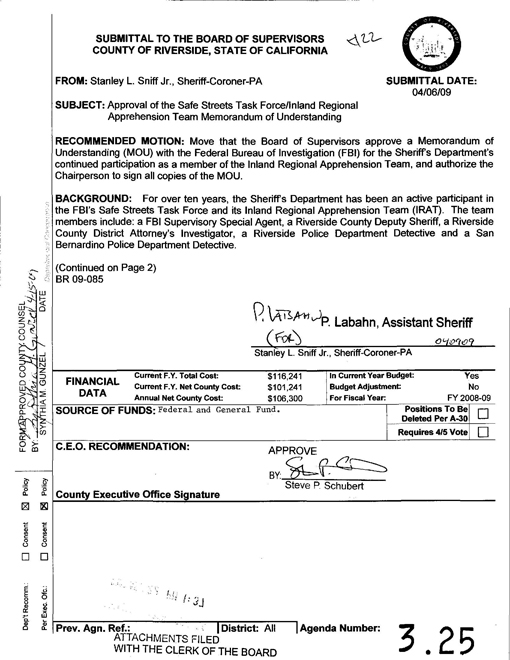 Inland Regional Apprehension Team
FBI Los Angeles Field Office
For Official Use Only
This document is the property of the FBI and is loaned to your agency. Neither it nor its contents may be released without authorization by FBI Headquarters.
April 6, 2009

FEDERAL BUREAU OF INVESTIGATION
LOS ANGELES FIELD OFFICE
SAFE STREETS TASK FORCE (SSTF)
MEMORANDUM OF UNDERSTANDING (MOU)
INLAND REGIONAL APPREHENSHION TEAM (IRAT)

1) PARTIES

This Memorandum of Understanding (MOU) is entered into by and between the Federal Bureau of Investigation (FBI); and the Riverside Sheriff's Office,

2) AUTHORITIES

Authority for the FBI to enter into this agreement can be found at 28 U,S,C, § 533; 42 U.S.C. § 3771; and 28 C,F,R, § 0.85 and applicable United States Attorney General guidelines,

3) PURPOSE

The purpose of this MOU is to delineate the responsibilities of SSTF participants, maximize inter-agency cooperation, and formalize relationships between the participating agencies for policy guidance, planning, training, public and media relations. This MOU is not intended, and should not be construed, to create any right or benefit, substantive or procedural, enforceable at law or otherwise by any third party against the parties, the United States, or the officers, employees, agents, or other associated personnel thereof.

4) MISSION

The mission of IRAT is to achieve maximum coordination and cooperation among participating agencies in an effort to identify, locate, and apprehend violent offenders wanted for committing violent crimes to include murder, robbery, violent assault, serious sexual assaults, kidnaping, and other major crimes of violence. In addition to the safe apprehension of known and/or unknown criminals wanted for prior offenses, IRAT may target known career criminals for prosecution and conduct appropriate investigation in cases wherein the participating agencies have jurisdictional interests, IRAT will enhance the effectiveness of all participating agencies through a well coordinated effort seeking the most effective investigative avenues by which to locate and apprehend fugitives who are attempting to avoid prosecution.

5) SUPERVISION AND CONTROL

A. Supervision

Overall supervision of the personnel on the SSTF shall be the shared responsibility of the participants. The Special Agent in Charge (SAC) of the Los Angles Field Office shall designate one Supervisory Special Agent (SSA) to have direct and daily responsibility for all personnel and investigative matters pertaining to the SSTF.

Responsibility for conduct, not under the direction of the SAC or SSA, of each SSTF member, both personally and professionally, shall remain with the respective agency head and each agency shall be responsible for the actions of their respective employees.

Each agency member who is a SSTF member will be subject to the personnel rules, regulations, laws, and policies applicable to those of their respective agencies. FBI participants will continue to adhere to the Bureau's ethical standards and will remain subject to the Supplemental Standards of Ethical Conduct for employees of the Department of Justice. Each SSTF member will continue to report to his or her respective agency head for non-investigative administrative matters not detailed in this MOU. Subject to other provisions in this document, continued membership on the SSTF will be based on performance and will be at the discretion of each member's respective supervisor.

B. Case Assignments

The FBI SSA with designated oversight for investigative and personnel matters will be responsible for opening, monitoring, directing, and closing SSTF investigations in accordance with existing FBI policy and the applicable United States Attorney General's Guidelines. Assignments of cases to personnel will be based on, but not limited to, experience, training and performance, in addition to the discretion of the SSA with designated oversight for investigative and personnel matters. For FBI administrative purposes, SSTF cases will be entered into the relevant FBI computer system.

…

7) INFORMATION SHARING

No information possessed by the FBI, to include information derived from informal communications by the Assignee with personnel of the FBI, may be disseminated by the Assignee to non SSTF personnel without the permission of the Assignee's designated FBI SSTF Supervisor and in accordance with the applicable laws and internal regulations, procedures or agreements between the FBI and the Participating Agencies that would permit the Participating Agencies to receive that information directly. Likewise, the Assignee will not provide any Participating Agency information to the FBI that is not otherwise available to it unless authorized by appropriate Participating Agency officials.

…

9) DEADLY FORCE AND SHOOTING INCIDENT POUCIES

Members of the SSTF will follow their own agency's policy concerning firearms discharge and use of deadly force.

10) DEPUTATIONS


Local and state law enforcement personnel designated to the SSTF, subject to a limited background inquiry, may be sworn as federally deputized Special Deputy United States Marshals, with the FBI securing the required deputation authorization. These deputations should remain in effect throughout the tenure of each investigator's assignment to the SSTF or until the termination of the SSTF, whichever comes first. Administrative and personnel policies imposed by the participating agencies will not be voided by deputation of their respective personnel.

11) VEHICLES

The FBI may authorize members of the SSTF to use vehicles owned or leased by the FBI when necessary in connection with SSTF surveillance, case management and investigations, and if available.
Share this: