The following document is a 466-page summary of a more than 25,000-page report compiled by the Indian government's Karnataka Lokayukta or People's Commissioner who investigated years of illegal activities in the Indian mining sector, including widespread corruption, bribery and the exportation of illicit iron ore worth more than $3 billion.  The report has met with widespread controversy due to its singling out of a number of prominent billionaires in the Indian mining industry.  For more information, see the Wall Street Journal's article on the report.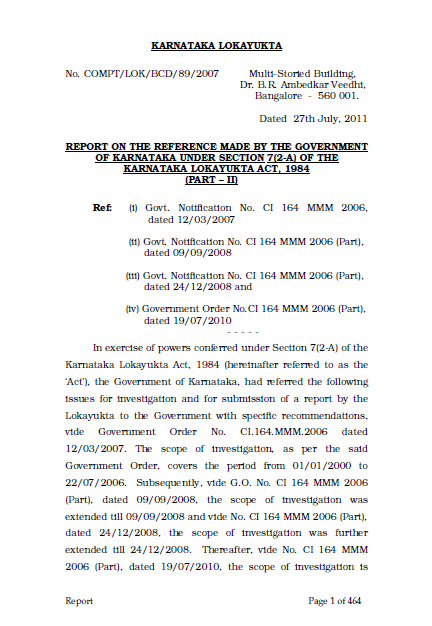 REPORT ON THE REFERENCE MADE BY THE GOVERNMENT OF KARNATAKA UNDER SECTION 7(2-A) OF THE KARNATAKA LOKAYUKTA ACT, 1984

In exercise of powers conferred under Section 7(2-A) of the Karnataka Lokayukta Act, 1984 (hereinafter referred to as the 'Act'), the Government of Karnataka, had referred the following issues for investigation and for submission of a report by the Lokayukta to the Government with specific recommendations, vide Government Order No. CI.164.MMM.2006 dated 12/03/2007. The scope of investigation, as per the said Government Order, covers the period from 01/01/2000 to 22/07/2006. Subsequently, vide G.O. No. CI 164 MMM 2006 (Part), dated 09/09/2008, the scope of investigation was extended till 09/09/2008 and vide No. CI 164 MMM 2006 (Part), dated 24/12/2008, the scope of investigation was further extended till 24/12/2008. Thereafter, vide No. CI 164 MMM 2006 (Part), dated 19/07/2010, the scope of investigation is further extended till 19/07/2010, after including one more term of reference, in addition to those contained in the G.O. dated 12/03/2007. The terms of reference as per G.O. No. CI 164 MMM 2006, dated 12/03/2007 are as follows:

The facts leading to the reference as well as the terms of reference are as follows:

"(i) The spurt in the international prices of steel and iron ore during last 3-4 years has made the mining and export of high quality iron ore from the mining in Bellary, Tumkur and Chitradurga Districts very lucrative. With the average cost of production of iron ore at around Rs.150 per ton, and the royalties to be paid to the Government being abysmally low at Rs.16.25 per ton for different grades there have been serious systemic distortions due to the high profit margins. This has led to allegations of large scale corruption and complaints of profiteering through illegal mining with the complicity of the authorities in all levels of Government.

(ii) The Government in its orders vide notification No. CI 16 MMM 2003 and No.CI 33 MMM 1994 both Dated: 15.03.2003, de-reserved for private, mining an area of 11620 square km in the State, meant for State exploitation/ mining by the public sector and notified the surrender of an area of 6832.48 hectares of prime iron ore bearing lands respectively, which has paved way for distribution of public assets to select private individuals,/ entities without regard to their professional or technical or business background.

(iii) The entire exercise was undertaken in a manner so as to benefit only a select few individuals/entities. The main objectives behind dereservation i.e. to encourage mining based industries to create more employment opportunities in private sector, to attract private capital and professional management for optimal use of state mineral resources were given a go by and allotments were made to the applicants on considerations other than merit.

(iv) It has been alleged that in the name of issuing temporary transportation permits to lift and transport iron ore in patta lands [which by itself is nor permissible in law], large scale illegal mining activity was allowed to be carried out for certain period, even in the forest areas, having no link to the survey numbers of patta lands and for transportation of the  illegally mined ore from the forest areas on the strength of such forest passes/ transport permits.

(v) It has been reported that the State has been deprived of its revenues. There have been many complaints from transporters associations regarding overloading of Transport vehicles, that illegal gratification was sought for allowing overloading of iron etc., and the repeated complaints and representations by transporters associations, it has been alleged to have not been seriously considered by the Government. It is also alleged that most of the ore not accounted for and transported illegally in excess was the out come of illegal mining activities.

(vi) In the inspection report of the Accountant General of Karnataka for the years 2003-2004 and 2004-2005 on Mysore Minerals Limited (MML), a public sector undertaking, several lapses were pointed out regarding various Memorandum of Understandings (MOUs), raising and marketing contracts, joint ventures etc., between Mysore Minerals Ltd., and Private Companies, wherein the interest of MML was compromised to deprive the PSU of the Contractual Entitlements, dividends and profits due to one sided agreements, non-revision or suboptimal revision of prices resulting in losses amounting to crores of rupees at a time when the mining sector was generating huge profits.

(vii) It has also been noticed that the Iron Ore fines and mud stocks/ low grade ore far in excess of the quantity were allotted arbitrarily to select individuals through Mysore Mineral Ltd., much below the prevailing market price and MMTC price and even below the prices fixed from time to time by MML itself. There have been complaints of certain influential individuals who were part of the power structure
within the Government, by manipulating the records and interfering in the affairs of MML, caused huge loss to the Corporation and the State, Similarly major and minor minerals such as granite, manganese and other minerals of the state, for the past several years, have been misused, indiscriminately exploited for benefiting a selected few resulting in loss of revenue to MML and the State.

(viii) This has led to serious allegations and extensive debate on the floor of both the Houses of Legislature with references made to large scale illegalities, irregularities leading to enormous loss to State exchequer and plundering of state mineral wealth. Allegations have been leveled against various authorities of Government of complicity in illegal mining activities, which led the Hon'ble Chief Minister to give an assurance on the floor of the House that in order to ensure highest level of fairness and probity, an impartial inquiry will be ordered in to the illegalities which have taken place in Bellary, Tumkur and Chitradurga Districts.

The issues referred for investigation and report are as follows:

(a) Various alleged illegalities, irregularities, events, issues and executive and other decisions set out in clause (i) to (viii) and to assess the quantum of losses to the Government and to suggest remedial measures to undo such irregularities and illegalities.

(b) To enquire into the affairs so the Mysore Minerals Ltd., (MML) and its commercial activities carried out in a manner to cause losses to the company and the instances of direct/ indirect political interference/ patronage in the commercial affairs of the company. To fix responsibility and initiate suitable action, both, civil and/ or criminal as may be appropriate, against all persons found responsible, including private contracting parties.

(c) To fix responsibility and initiate suitable action against all public servants including ministers whether in office or otherwise state, its instrumentalities or State owned Companies/Corporations or other bodies and authorities, either in collusion with private parties or otherwise for various acts of omission and commission leading to various illegalities, irregularities, events and executive decisions set out in clause (i) to (viii) and also pertaining to issues such as:

(1) The process and timing of disposal of applications, both in case of notified areas and free areas, for grant of Mining Lease, Reconnaissance Permits and Prospecting Licenses;

(2) the irregularities reported in issue of permits by both Forest and Mines departments;

(3) the irregularities reported in transportation of minerals such as overloading, the issue of informal "token systems", transportation without permits etc;

(4) the entire range of the various aspects of illegal mining ranging from encroachments, mining without necessary permits and clearances, mining outside the permitted areas, mining beyond permitted quantities, illegal transportation of minerals etc.

(5) the mining and transportation of major minerals from Patta lands without valid mining leases etc;

(6) the legality in transfer of leases from one lease holder to another. This will include the case wise examination of legality and validity of grant of mining leases, with reference to the basic policy/objectives behind the decisions taken to de-reserve the areas meant for exploitation by the public sector held and surrendered areas and the instances of direct or indirect political interference.

(d) All instances where the mandatory regulations and statutory provisions have been given a go-by and not observed, including environmental and other clearances, to directly or indirectly facilitate and/ or encourage illegal and/ or unregulated mining operations and to suggest remedial measures and suitable action against persons found responsible for their commissions and omissions.

(e) Any other related issues, event and/ or instance which the Hon'ble Lokayukta may deem fit and proper to go into the illegal and un-regulated mining and related issues, including dereservation of the areas meant exclusively for public sector in Karnataka's mining regions ask mentioned above.

(f) To comprehensively inquire into the charges, allegations, complaints of misuse and abuse of the office, if any elected representatives, ministers and officers who held or hold offices of profit for pecuniary benefit pertaining to illegal/ unregulated mining and incidental issues thereof, resulting in loss of revenue to the Government of Karnataka and Public Undertakings under the Government of Karnataka.

(g) Illegal granite quarrying in Bangalore Rural District and other Districts.
Share this: