See also:

Inspire Al-Qaeda in the Arabian Peninsula Magazine Issues 8 and 9, May 2012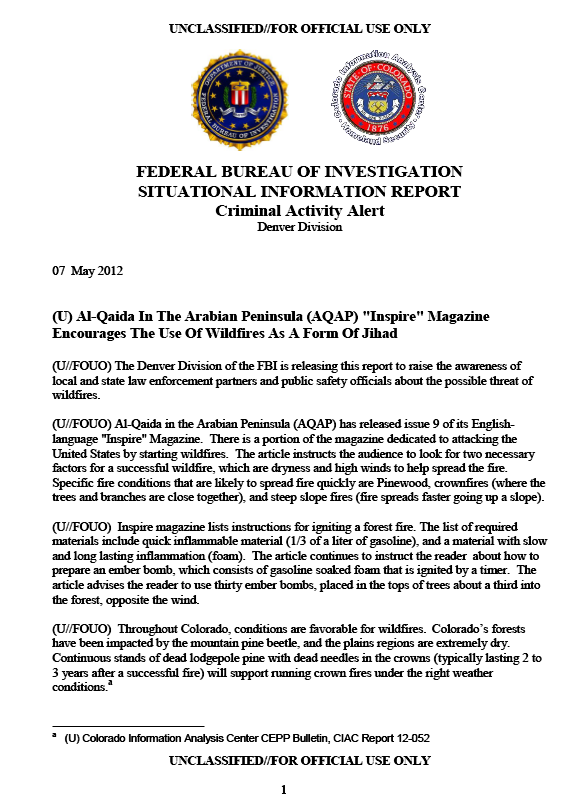 Al-Qaida In The Arabian Peninsula (AQAP) "Inspire" Magazine Encourages The Use Of Wildfires As A Form Of Jihad
5 pages
For Official Use Only
May 7, 2012

(U//FOUO) The Denver Division of the FBI is releasing this report to raise the awareness of local and state law enforcement partners and public safety officials about the possible threat of wildfires.

(U//FOUO) Al-Qaida in the Arabian Peninsula (AQAP) has released issue 9 of its English-language "Inspire" Magazine. There is a portion of the magazine dedicated to attacking the United States by starting wildfires. The article instructs the audience to look for two necessary factors for a successful wildfire, which are dryness and high winds to help spread the fire. Specific fire conditions that are likely to spread fire quickly are Pinewood, crownfires (where the trees and branches are close together), and steep slope fires (fire spreads faster going up a slope).

(U//FOUO) Inspire magazine lists instructions for igniting a forest fire. The list of required materials include quick inflammable material (1/3 of a liter of gasoline), and a material with slow and long lasting inflammation (foam). The article continues to instruct the reader about how to prepare an ember bomb, which consists of gasoline soaked foam that is ignited by a timer. The article advises the reader to use thirty ember bombs, placed in the tops of trees about a third into the forest, opposite the wind.

(U//FOUO) Throughout Colorado, conditions are favorable for wildfires. Colorado's forests have been impacted by the mountain pine beetle, and the plains regions are extremely dry. Continuous stands of dead lodgepole pine with dead needles in the crowns (typically lasting 2 to 3 years after a successful fire) will support running crown fires under the right weather conditions.
Share this: