Force Reintegration Cell HQ ISAF
| | | | |
| --- | --- | --- | --- |
| ISAF REINTEGRATION GUIDE | November 22, 2010 | 24 pages | Download |
| ANA and ANP COMMANDERS GUIDE TO THE 'AFGHANISTAN PEACE AND REINTEGRATION PROGRAM' (APRP) | February 12, 2011 | 1 page | Download |
| ISAF REINTEGRATION 'SOLDIERS CARD' A GUIDE FOR ISAF PERSONNEL WHEN APPROACHED BY AFGHANS SEEKING TO LEAVE THE INSURGENCY AND JOIN THE AFGHANISTAN PEACE AND REINTERGRATION PROGRAMME (APRP) | February 12, 2011 | 1 page | Download |
The Afghanistan Peace and Reintegration Programme (APRP) is active. It provides for both reintegration (where fighters leave the fight and peacefully rejoin their communities) and reconciliation (where entire insurgent groups reach a settlement with GIRoA that ends hostilities).

Reintegration is the focus of this guide. Information is presented on the APRP, its place in the COIN Campaign and ISAF"s role. It provides those in ISAF with what they need to work with community leaders and GIRoA and ANSF partners to build their understanding of the Programme and its opportunities. It is an Afghan Programme and ISAF"s role is to assist and encourage GIRoA to implement it fully.

Programme Overview

The APRP is only for Afghans. It is based on the fact that most Afghan insurgents are fighting near their communities and that only a minority are ideologically driven. Instead, most fight because of grievances, often local in origin. The APRP seeks to enable local agreements where communities (supported by GIRoA) reach out to insurgents, to address their grievances, to encourage them to stop fighting, to rejoin their community permanently, peacefully, with dignity and honour, and to accept the laws of Afghanistan.

Grievance resolution and alternatives to fighting that protect dignity and honour are key to the process, but reintegration also needs community security. An insurgent will only consider coming forward if he is confident that he will survive the process. He must also want to stop fighting and his reasons for doing so will vary. Many insurgents will be tired of fighting and worry about the threat of being targeted. Others may decide that fighting is no longer the way to achieve their goals. Reintegration depends on trust and confidence among the Afghans which may require a long dialogue to be established.

The APRP brings lasting reintegration through three phases:

Social Outreach, Confidence Building and Negotiation.
Demobilization.
Consolidation of Peace.

Reintegration is an essential part of the COIN Campaign, not an alternative to it. This is why it must be supported. ISAF"s role is to team with Afghans at every level. Our task is to aid them in understanding the Programme and its opportunities, and to support them in implementing it.

…

Informal Reintegration

Informal reintegration occurs when an insurgent stops fighting and returns home on his own. The informal returnee gets no protection from targeting and no access to political amnesty. He will have no support in addressing his grievances. His community will not be able to benefit from the APRP's community recovery opportunities. For these reasons, insurgents should be encouraged to reintegrate formally under the APRP.

Supporting Reintegration

Outreach, Confidence Building and Negotiation

Outreach involves building awareness of the APRP. ISAF can assist by discussing the APRP with our Afghan partners. Officials and ordinary Afghans need this awareness. They need to understand what the APRP offers, that it is real, that it will have enough resources and will endure. ISAF has an important role in developing awareness.

Outreach often can be done through social ties in order to engage insurgents in dialogue, to seek their return to their communities with dignity, honour and forgiveness. This involves overcoming distrust, scepticism and uncertainty on all sides. For some, concerns about security, immediate livelihood and grievances will need to be addressed before insurgents come forward to reintegrate. This is an Afghan process. Afghans can only reintegrate with Afghans and the dialogue must be among Afghans. It will take time and many discussions. Although ISAF does not directly participate in the discussions, it can facilitate them and must be prepared to assist in ensuring security and that basic needs are met. ISAF should also restrict the targeting of fighters involved in dialogue at this stage.

Demobilization

When an insurgent agrees to reintegrate, he starts demobilization. This enables the transition for him to become a law-abiding member of society. ISAF may have a role in facilitating security and should provide oversight, mentoring and reporting. GIRoA has primary responsibility.

Vetting, Registration and Weapons Management: To reintegrate, an insurgent must be vetted to confirm he is a genuine insurgent and not a criminal or trying to exploit the APRP. Vetting is followed by registration which includes taking biometric data and other relevant information. Personal weapons are also registered. Those weapons needed for security may be kept by the reintegrees. GIRoA will collect heavy weapons and related materiel. Communities should be consulted during vetting and may aid in this activity. ISAF should monitor and observe and seek to verify insurgent identities. This will enable JPEL persons to be put on the Restricted Targeting List. (Note: Individuals should not be told whether they are on the JPEL). Each province will need to build the capability to do this process itself.
Security and Transition Assistance: Each reintegration event will be unique. Some reintegrees will need transition support to meet their basic needs. ISAF may be able to assist with this. Also, security for reintegrees and their community will need to be addressed. This may require moving them to a safer location for a time. During that time, other arrangements may have to be made to deal with security to enable them to return home. Safeguarding reintegrees and their community is essential for APRP success. GIRoA authorities have the main responsibility for providing transition assistance and ensuring security. ISAF should encourage and support GIRoA solutions.
Amnesty, Grievance Resolution and Community Acceptance: During their demobilization, former fighters must agree to renounce violence and to live within Afghanistan's laws. In return, GIRoA will grant them political amnesty. Receiving their community"s acceptance and forgiveness will be decided on by their community. This may require continued grievance resolution dialogue. In some cases, it may not be possible. Then, government officials will need to find an arrangement that may involve temporary or even permanent relocation. GIRoA must lead these processes. ISAF should monitor and assist where needed.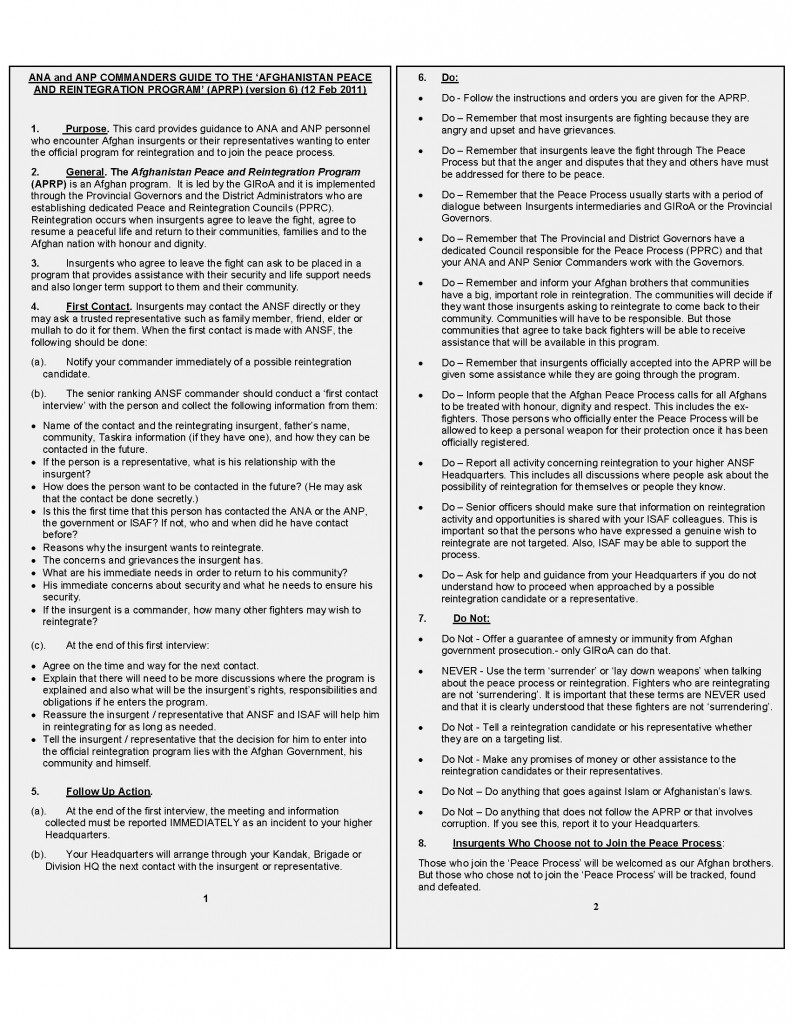 Share this: