The following manual was originally released in the late 1990s and has been revised several times since then.  This version is believed to be the most recent publicly available version of the manual.  It describes "the programs by which State and local law enforcement agencies can obtain excess, surplus, and foreign excess personal Federal property and equipment from the Department of Defense (DOD) and the General Services Administration at little or no cost."  The National Criminal Justice Reference Service has a listing for the document, though the links are now dead and a full PDF version is no longer available.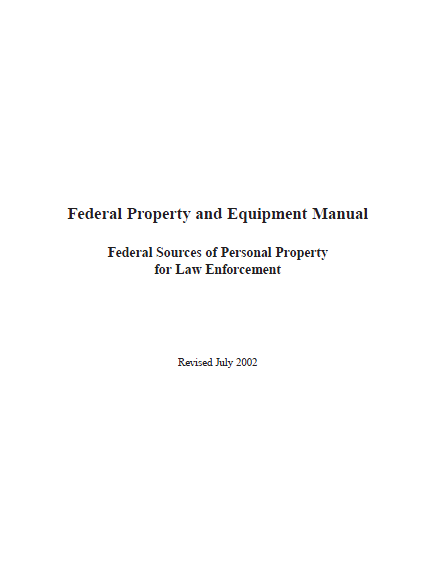 National Law Enforcement and Corrections Technology Center Federal Property and Equipment Manual

For a number of years, Congress has recognized that State and local law enforcement could benefit from access to excess and surplus personal Federal property and has passed legislation to make this property and equipment available. The largest generator of this property has been the U.S. Department of Defense (DoD). Although this source of property has passed its peak and the amount and variety of excess property will continue to decline over time, law enforcement agencies can still obtain high-quality, high-value property at little or no cost.

Among the Federal programs for the transfer of property to law enforcement, the Section 1208 Program enjoyed the greatest prominence because of the volume of property transferred and because the transfers were made without charge. The program began in 1989 when Congress amended the National Defense Authorization Act to permit the Secretary of Defense to transfer, without charge, excess DoD personal property (supplies and equipment) suitable for employment in counterdrug activities to Federal and State agencies (see box for extract). County and municipal agencies participated as State agencies.

Under Section 1208, the Secretary of Defense transferred to Federal and State law enforcement agencies, without charge, a wide variety of equipment, vehicles, and aircraft suitable for use in counterdrug activities. He assigned the administration of the program to the Deputy Assistant Secretary of Defense for Drug Enforcement Policy and Support (DEP&S). DEP&S established four Regional Logistics Support Offices (RLSOs), and each State appointed a State coordinator whose function was to approve or disapprove requests for excess DoD property. In 18 States and Territories the coordinators are also State Agents for Surplus Property; in 8 States they are in the National Guard; and in the other 28 States and Territories they are in offices connected to law enforcement, such as emergency management, State narcotics enforcement, criminal justice, or State police. A list of State coordinators can be found on the Law Enforcement Support Office Web site, http://www.dla.mil/j-3/leso. RLSOs served as links between the coordinators and the Defense Reutilization and Marketing Offices, which controlled the property.

The 1033 Program superseded the 1208 Program in 1996 and permits the Secretary of Defense to transfer excess DoD personal property for law enforcement activities. The requirement that the property be for counterdrug activities was removed from the program.

The 1208 Program and the 1033 Program are discussed in chapter one.

Another source of surplus Federal personal property for State and local governments that has existed for more than 50 years is the General Services Administration (GSA) donation program, which is administered by State Agencies for Surplus Property. This resource is available to law enforcement and corrections agencies and is discussed in chapter two.

The third source of Federal personal property is discussed in chapter three. This is the 1122 Program, through which law enforcement agencies can purchase supplies and equipment suitable for counternarcotics activities from DoD and GSA suppliers.

Chapter four covers equipment loans from the Armed Services and support for law enforcement activities provided by the National Guard.
Share this: