This brief excerpt from a report put together by the NYPD Citizen Complaint Review Board in 2002 in response to citizen complaints about officers failing to identify themselves.  The report includes a 2003 update to the NYPD Patrol Guide that clearly states that officers are required to "courteously" state their rank, name, badge number and command when asked by any citizen while giving them sufficient time to write down this information.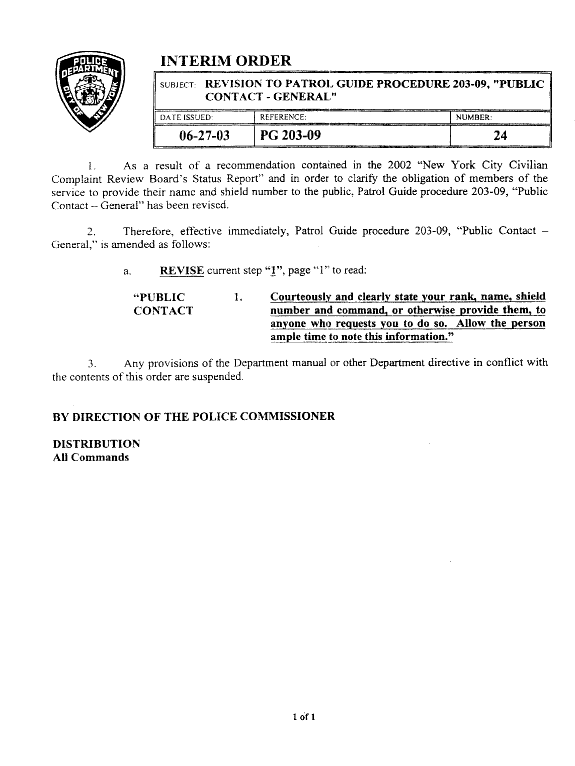 Refusal to Provide Name and/or Shield Number: An Analysis of an Allegation
REVISION TO PATROL GUIDE PROCEDURE 203-09, "PUBLIC CONTACT-GENERAL"
2002

Civilians filed 231 allegations of "refusal to provide name and/or shield number" in 1999, 349 in 2000, 468 in 2001, and 636 in 2002, a 175% increase in just four years and an 82% increase in the last three years. During these same years, refusal to provide name and/or shield number constituted less than one percent, 5%, 8%, and 10% of all allegations the board substantiated. These increases led the CCRB to take a closer look at this allegation and summarize its findings in this report. As the basis for this mini-study, the agency chose to examine all complaints in which the civilian filed this allegation that the board closed after a full investigation between January 1 and June 30, 2002.

A word must first be said about the legal landscape in which this allegation exists. The New York City Police Department Patrol Guide, procedure 203-09 (Public Contact—General), states that officers must "give name and shield number to anyone requesting them." New York City's Office of Administrative Trials and Hearings ("OATH") has issued a number of recent opinions that examine what this patrol guide procedure requires of officers. In essence, these cases have held that the patrol guide procedure imposes an "affirmative obligation" to "give name and shield number to anyone requesting them;" in other words, a demand for a name or badge number demands an "affirmative response."

…

1. As a result of a recommendation contained in the 2002 "New York City Civilian Complaint Review Board's Status Report" and in order to claritY the obligation of members of the service to provide their name and shield number to the public, Patrol Guide procedure 203-09, "Public Contact- General" has been revised.

2. Therefore, effective immediately, Patrol Guide procedure 203-09, "Public Contact – General," is amended as follows:

a. REVISE current step "1", page "1" to read:

"PUBLIC CONTACT

1. Courteously and clearly state your rank, name, shield number and command, or otherwise provide them, to anyone who requests you to do so. Allow the person ample time to note this information."

3. Any provisions of the Department manual or other Department directive in conflict with the contents of this order are suspended.
Share this: