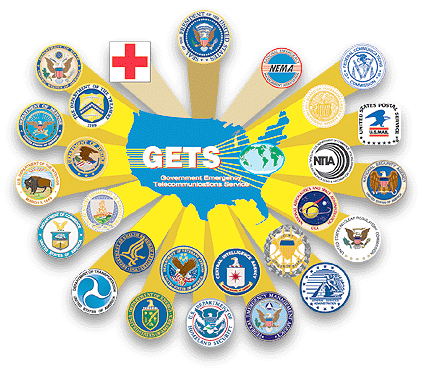 Allows emergency access and priority processing for local and long distance calls on the public switched telephone network
Access is granted via a pin number issued to eligible personnel
Landline counterpart to Nationwide Wireless Priority Service (WPS) which offers similar features for wireless phone systems
The Government Emergency Telecommunications Service (GETS) is a White House-directed emergency phone service provided by the National Communications System (NCS) in the Office of Cybersecurity and Communications Division, National Protection and Programs Directorate, Department of Homeland Security. GETS supports Federal, State, local, and tribal government, industry, and non-governmental organization (NGO) personnel in performing their National Security and Emergency Preparedness (NS/EP) missions. GETS provides emergency access and priority processing in the local and long distance segments of the Public Switched Telephone Network (PSTN). It is intended to be used in an emergency or crisis situation when the PSTN is congested and the probability of completing a call over normal or other alternate telecommunication means has significantly decreased.1 2
Purposes and Intent
GETS supports federal, state, local, and tribal government, industry, and non-governmental organization (NGO) personnel during crises or emergencies by providing emergency access and priority processing for local and long distance calls on the public switched telephone network. GETS is intended to be used in an emergency or crisis situation when the public switched telephone network is congested and the probability of completing a call over normal or other alternate telecommunication means is reduced.3
GETS is necessary because reliance on telecommunications has been accompanied by an increased vulnerability to network congestion and system failures. Although backup systems are in place, disruptions in service can still occur. Natural disasters, power outages, fiber cable cuts, and software problems can cripple the telephone services of entire regions. Additionally, congestion in the public switched telephone network, such as the well-documented "Mother's Day phenomenon," in which Mother's Day generally has the highest blocking of long-distance telephone calls of any single day of the year, can prevent access to circuits. However, during times of emergency, crisis, or war, government personnel and emergency workers need to know that their calls will go through.
For cellular telephone users, a related capability is offered by the Nationwide Wireless Priority Service (WPS). WPS users have the ability to queue at the top for the next available communications channel to their registered base station in order to place their call, greatly enhancing their ability to complete wireless calls during times of congestion. WPS is available only to designated leadership at all government levels, national security, emergency responders, and private sector critical infrastructure personnel, as approved by the NCS and Federal Communications Commission (FCC) Rules and Requirements.4
GETS uses these major types of networks:
The local networks provided by local exchange carriers and wireless providers, such as cellular carriers and personal communications services (PCS)
The major long distance networks provided by interexchange carriers such as AT&T, Verizon, and Sprint, including their international services
Government-leased networks, including the Federal Technology Service and the Defense Switched Network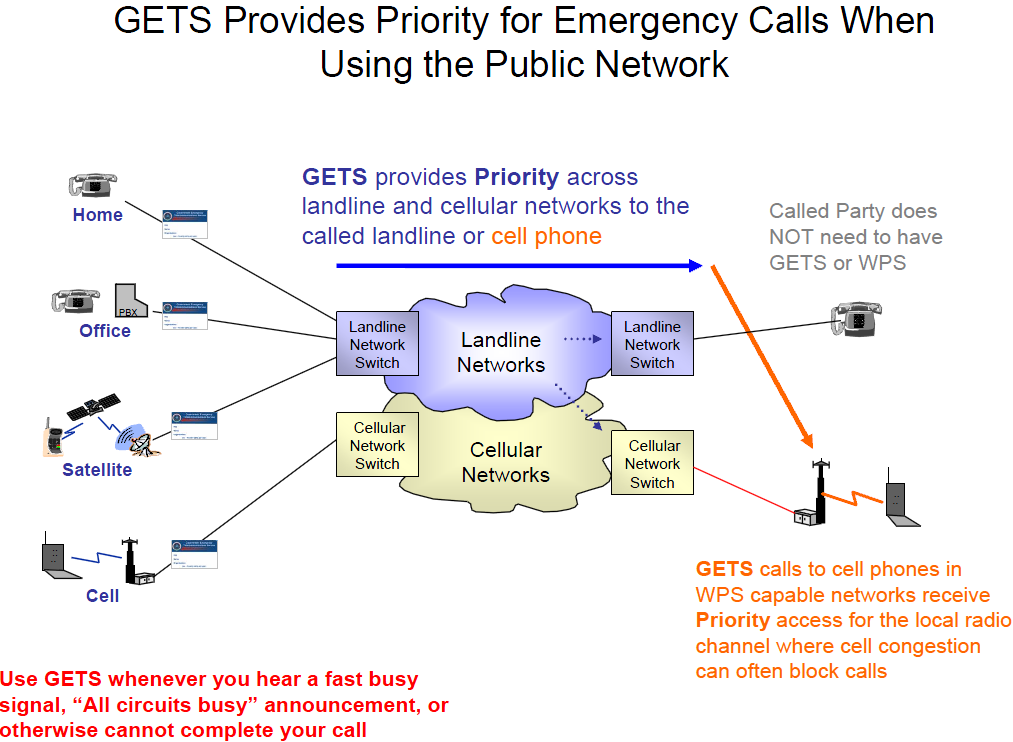 Accessibilty
GETS is accessed through a dialing plan and Personal Identification Number (PIN) card verification system. The user dials a universal access number using common telephone equipment. A prompt directs the entry of the user's PIN and the telephone number. Once the user is authenticated as a valid, his or her call receives special treatment.
Main GETS Access Number: 1-710-NCS-GETS (627-4387)
AT&T: 1-888-288-4387
MCI/Verizon: 1-800-900-4387
Sprint: 1-800-257-8373
or
110+228
1010+222
1010+333
+1-710-627-4387
1. Dial GETS Access Number
2. Listen for tone, then enter your PIN (do not enter # after last digit)
3. Listen for voice prompt: "Please enter your destination number now."
4. Enter the destination number (omit the 1 before the area code)
5. You will hear an announcement "You are using GETS, AT&T/MCI/Sprint"
6. Network will route your call to the destination telephone number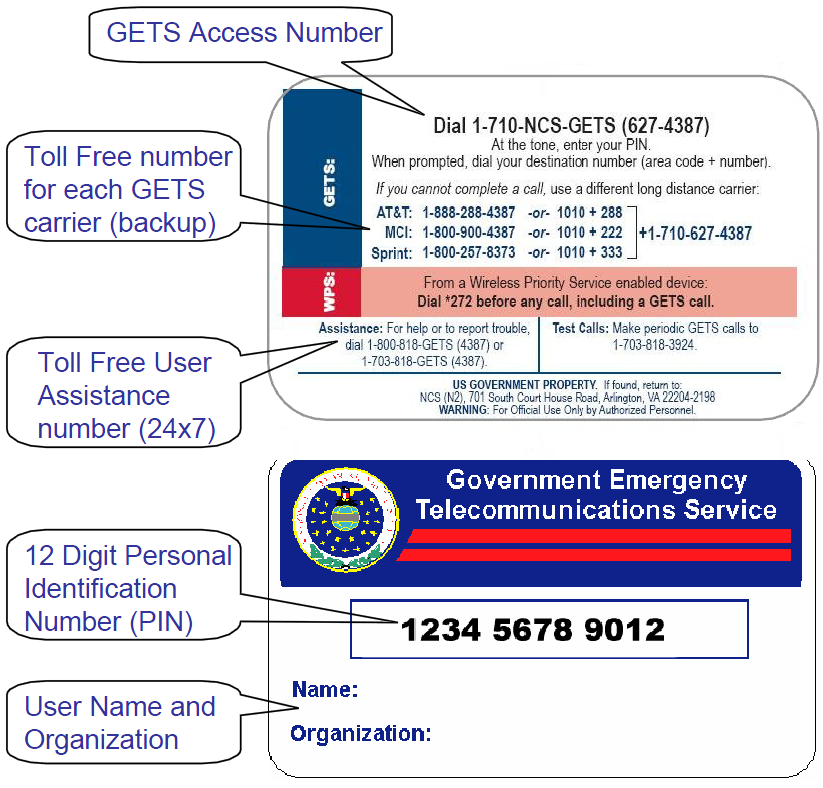 Eligibility
The following user categories are considered eligible for issuance of GETS pin numbers:
National Security Leadership
This user performs NS/EP functions essential to national survival when nuclear attacks threatens or occurs. In addition, this user provides support to critical orderwire and control services necessary to ensure the rapid and efficient provisioning or restoration of other NS/EP services. These user functions may include the following:
Critical orderwire or control service supporting other NS/EP functions
Presidential support critical to continuity of Government and national security
leadership
National Command Authority support for military command and control critical
to national survival
Intelligence critical to warning of potentially catastrophic attack
Support for the conduct of diplomatic negotiations critical to arresting or
limiting hostilities
National Security Posture and US Population Attack Warning
This user type performs additional NS/EP functions essential to maintaining an optimum defense, diplomatic, or continuity of government posture before, during, and after crisis situations. Such situations are those ranging from national emergencies to international crises, including nuclear attack. These user functions may include the following:
Threat assessment and attack warning
Conduct of diplomacy
Collection, processing, and dissemination of intelligence
Command and control of military forces
Military mobilization
Continuity of Federal Government before, during, and after crisis situations
Continuity of state and local government functions supporting the Federal
Government during and after national emergencies
Recovery of critical national functions after crisis situations
National space operations
Public Health, Safety, and Maintenance of Law and Order
The user type performs NS/EP functions necessary for giving civil alert to the US population by maintaining law and order and the health and safety of the US population in times of national, regional, or serious local emergency. These user functions may include the following:
Population warning (other than attack warning)
Law enforcement
Continuity of critical state and local government functions (other than support of the Federal
Government during and after national emergencies)
Hospitals and distribution of medical supplies
Critical logistic functions and public utility services
Civil air traffic control
Military assistance to civil authorities
Defense and protection of critical industrial facilities
Critical weather services
Transportation to accomplish foregoing NS/EP functions
Public Welfare and Maintenance of National Economic Posture
This user type performs NS/EP functions necessary for maintaining the public welfare and national economic posture during any national or regional emergency. These user functions may include the following:
Distribution of food and other essential supplies
Maintenance of national monetary, credit, and financial systems
Maintenance of price, wage, rent, and salary stabilization, and consumer rationing programs
Control of production and distribution of strategic materials and energy supplies
Prevention and control of environmental hazards or damage
Transportation to accomplish the foregoing NS/EP functions
Disaster Recovery
This user type performs NS/EP functions of managing a variety of recovery operations after the initial response has been accomplished. These user functions may include the following:
Managing medical resources such as supplies, personnel, or patients in medical facilities
Other activities such as coordination to establish and stock shelters, to obtain detailed damage assessments, or to support key disaster field office personnel may be included.
Examples of those eligible include:

Medical recovery operations leadership
Detailed damage assessment leadership
Disaster shelter coordination and management
Critical Disaster Field Office support personnel
Share this:





Source notes: