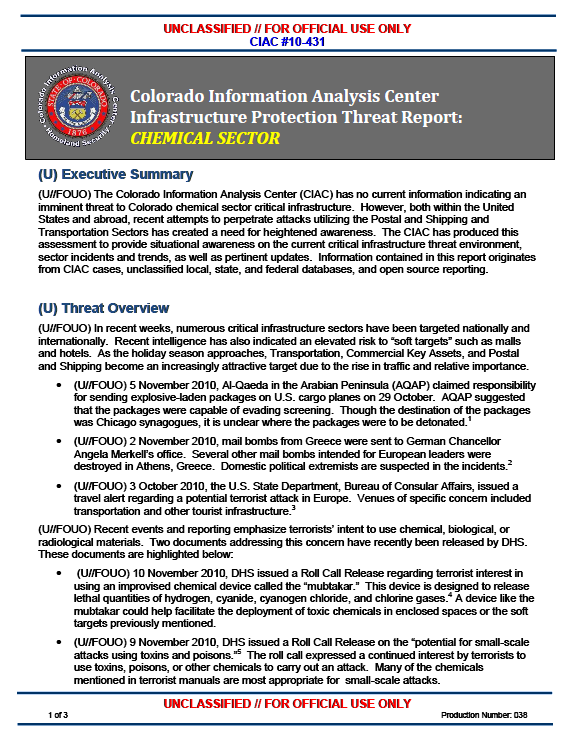 Colorado Information Analysis Center Infrastructure Protection Threat Report: CHEMICAL SECTOR
3 pages
For Official Use Only
December 2010

(U) Executive Summary

(U//FOUO) The Colorado Information Analysis Center (CIAC) has no current information indicating an imminent threat to Colorado chemical sector critical infrastructure. However, both within the United States and abroad, recent attempts to perpetrate attacks utilizing the Postal and Shipping and Transportation Sectors has created a need for heightened awareness. The CIAC has produced this assessment to provide situational awareness on the current critical infrastructure threat environment, sector incidents and trends, as well as pertinent updates. Information contained in this report originates from CIAC cases, unclassified local, state, and federal databases, and open source reporting.

(U) Threat Overview

(U//FOUO) In recent weeks, numerous critical infrastructure sectors have been targeted nationally and internationally. Recent intelligence has also indicated an elevated risk to "soft targets" such as malls and hotels. As the holiday season approaches, Transportation, Commercial Key Assets, and Postal and Shipping become an increasingly attractive target due to the rise in traffic and relative importance.

(U//FOUO) 5 November 2010, Al-Qaeda in the Arabian Peninsula (AQAP) claimed responsibility for sending explosive-laden packages on U.S. cargo planes on 29 October. AQAP suggested that the packages were capable of evading screening. Though the destination of the packages was Chicago synagogues, it is unclear where the packages were to be detonated.
(U//FOUO) 2 November 2010, mail bombs from Greece were sent to German Chancellor Angela Merkell's office. Several other mail bombs intended for European leaders were destroyed in Athens, Greece. Domestic political extremists are suspected in the incidents.
(U//FOUO) 3 October 2010, the U.S. State Department, Bureau of Consular Affairs, issued a travel alert regarding a potential terrorist attack in Europe. Venues of specific concern included transportation and other tourist infrastructure.

(U//FOUO) Recent events and reporting emphasize terrorists' intent to use chemical, biological, or radiological materials. Two documents addressing this concern have recently been released by DHS. These documents are highlighted below:

(U//FOUO) 10 November 2010, DHS issued a Roll Call Release regarding terrorist interest in using an improvised chemical device called the "mubtakar." This device is designed to release lethal quantities of hydrogen, cyanide, cyanogen chloride, and chlorine gases. A device like the mubtakar could help facilitate the deployment of toxic chemicals in enclosed spaces or the soft targets previously mentioned.
(U//FOUO) 9 November 2010, DHS issued a Roll Call Release on the "potential for small-scale attacks using toxins and poisons." The roll call expressed a continued interest by terrorists to use toxins, poisons, or other chemicals to carry out an attack. Many of the chemicals mentioned in terrorist manuals are most appropriate for small-scale attacks.
Share this: