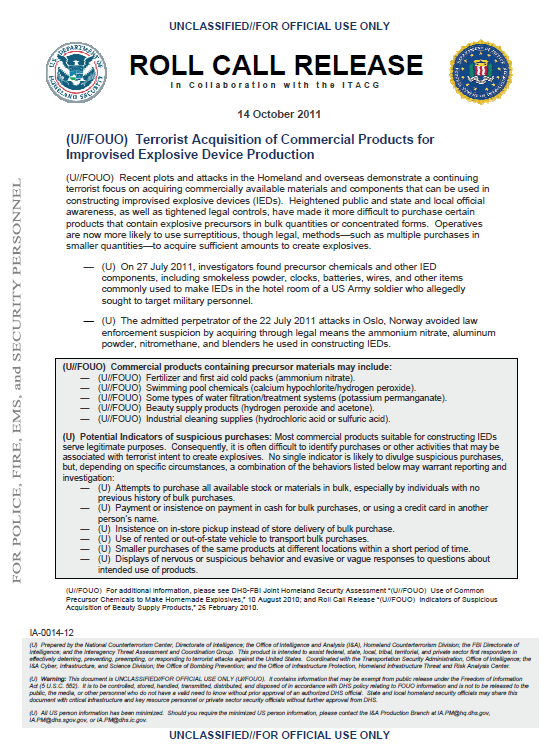 Terrorist Acquisition of Commercial Products for Improvised Explosive Device Production
2 pages
For Official Use Only
October 14, 2011

(U//FOUO) Recent plots and attacks in the Homeland and overseas demonstrate a continuing terrorist focus on acquiring commercially available materials and components that can be used in constructing improvised explosive devices (IEDs). Heightened public and state and local official awareness, as well as tightened legal controls, have made it more difficult to purchase certain products that contain explosive precursors in bulk quantities or concentrated forms. Operatives are now more likely to use surreptitious, though legal, methods—such as multiple purchases in smaller quantities—to acquire sufficient amounts to create explosives.

— (U) On 27 July 2011, investigators found precursor chemicals and other IED components, including smokeless powder, clocks, batteries, wires, and other items commonly used to make IEDs in the hotel room of a US Army soldier who allegedly sought to target military personnel.
— (U) The admitted perpetrator of the 22 July 2011 attacks in Oslo, Norway avoided law enforcement suspicion by acquiring through legal means the ammonium nitrate, aluminum powder, nitromethane, and blenders he used in constructing IEDs.

(U//FOUO) Commercial products containing precursor materials may include:
— (U//FOUO) Fertilizer and first aid cold packs (ammonium nitrate).
— (U//FOUO) Swimming pool chemicals (calcium hypochlorite/hydrogen peroxide).
— (U//FOUO) Some types of water filtration/treatment systems (potassium permanganate).
— (U//FOUO) Beauty supply products (hydrogen peroxide and acetone).
— (U//FOUO) Industrial cleaning supplies (hydrochloric acid or sulfuric acid).

(U) Potential Indicators of suspicious purchases: Most commercial products suitable for constructing IEDs serve legitimate purposes. Consequently, it is often difficult to identify purchases or other activities that may be associated with terrorist intent to create explosives. No single indicator is likely to divulge suspicious purchases, but, depending on specific circumstances, a combination of the behaviors listed below may warrant reporting and investigation:

— (U) Attempts to purchase all available stock or materials in bulk, especially by individuals with no previous history of bulk purchases.
— (U) Payment or insistence on payment in cash for bulk purchases, or using a credit card in another person's name.
— (U) Insistence on in-store pickup instead of store delivery of bulk purchase.
— (U) Use of rented or out-of-state vehicle to transport bulk purchases.
— (U) Smaller purchases of the same products at different locations within a short period of time.
— (U) Displays of nervous or suspicious behavior and evasive or vague responses to questions about intended use of products.

(U//FOUO) For additional information, please see DHS-FBI Joint Homeland Security Assessment "(U//FOUO) Use of Common Precursor Chemicals to Make Homemade Explosives," 10 August 2010; and Roll Call Release "(U//FOUO) Indicators of Suspicious Acquisition of Beauty Supply Products," 26 February 2010.
Share this: