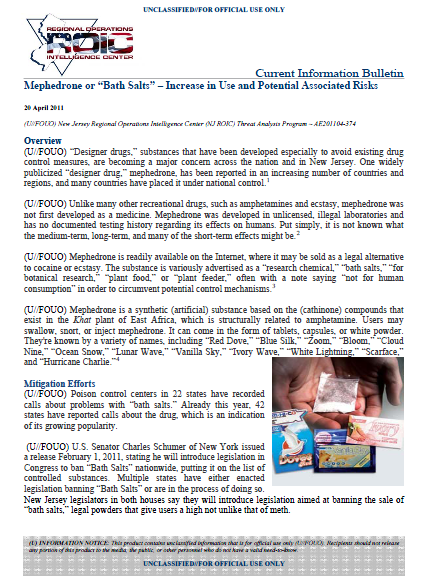 Mephedrone or "Bath Salts" – Increase in Use and Potential Associated Risks
2 pages
For Official Use Only
April 20, 2011

(U//FOUO) "Designer drugs," substances that have been developed especially to avoid existing drug control measures, are becoming a major concern across the nation and in New Jersey. One widely publicized "designer drug," mephedrone, has been reported in an increasing number of countries and regions, and many countries have placed it under national control.

(U//FOUO) Unlike many other recreational drugs, such as amphetamines and ecstasy, mephedrone was not first developed as a medicine. Mephedrone was developed in unlicensed, illegal laboratories and has no documented testing history regarding its effects on humans. Put simply, it is not known what the medium-term, long-term, and many of the short-term effects might be.

(U//FOUO) Mephedrone is readily available on the Internet, where it may be sold as a legal alternative to cocaine or ecstasy. The substance is variously advertised as a "research chemical," "bath salts," "for botanical research," "plant food," or "plant feeder," often with a note saying "not for human consumption" in order to circumvent potential control mechanisms.

(U//FOUO) Mephedrone is a synthetic (artificial) substance based on the (cathinone) compounds that exist in the Khat plant of East Africa, which is structurally related to amphetamine. Users may swallow, snort, or inject mephedrone. It can come in the form of tablets, capsules, or white powder. They're known by a variety of names, including "Red Dove," "Blue Silk," "Zoom," "Bloom," "Cloud Nine," "Ocean Snow," "Lunar Wave," "Vanilla Sky," "Ivory Wave," "White Lightning," "Scarface," and "Hurricane Charlie."

…

Impact in New Jersey

(U//FOUO) In 2011, there have been two confirmed and one possible incident related to "Bath Salts." In one incident Raritan Township (Hunterdon County) PD arrested and charged an individual with possession of a toxic chemical (Bath Salts) for the purpose of causing a condition of intoxication following a traffic stop.

(U//FOUO) In the latest incident, police in Livingston (Essex County) were called to an address on the report of a burglary in progress. Upon arriving they discovered that there was no burglary and that the caller admitted to sniffing bath salts to get high. This individual was also charged with possession of a toxic chemical for the purpose of intoxication.

(U//FOUO) The effects of using the designer drugs such as "Bath Salts" are as unknown as the substances they contain. However, there is enough anecdotal information available to indicate that users are likely to exhibit the full range of presentations to include paranoia and violent behavior similar to amphetamine users. Law enforcement and emergency services personnel should use caution when encountering individuals suspected of being under the influence of these designer drugs as their demeanor may change without warning posing a potential threat to the officer and the individual.
Share this: