This document is part of a collection leaked by the anonymous hacker collective known as LulzSec.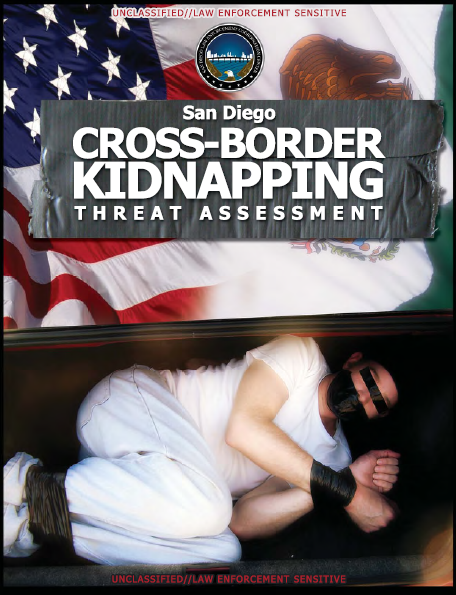 SAN DIEGO LAW ENFORCEMENT COORDINATION CENTER CROSS-BORDER KIDNAPPING THREAT ASSESSMENT
12 pages
For Official Use Only
Law Enforcement Sensitive
October 2010

The San Diego Law Enforcement Center (SD-LECC) convened an analytical task force in Spring 2010 to address the question: "What does cross-border kidnapping in San Diego look like?" Intelligence Analysts from Chula Vista Police Department, San Diego Sheriff's Department, the Federal Bureau of Investigation, and the Department of Homeland Security's Office of Intelligence and Analysis analyzed statistical, investigative and open source intelligence from local law enforcement agencies, FBI, DHS, ICE, CBP, DEA and the U.S. Department of State Bureau of Consular Affairs to prepare this assessment. There is strong evidence—based on intelligence gathered from traditional and alternative sources, such as banks, hospitals, citizen interviews, wiretaps and private consulting firms—that kidnappings in the San Diego area are widely underreported. Consequently, this assessment offers a strategic baseline only; there is insufficient data to support a definitive study of cross-border kidnapping tactics and techniques. This assessment is intended to support law enforcement executives and practitioners in their efforts to collect additional information and combat this problem.

…

(U) EXECUTIVE SUMMARY / KEY FINDINGS

(U//FOUO) The San Diego-Law Enforcement Coordination Center's Area of Responsibility (SD-LECC's AOR), which includes San Diego and Imperial counties, has encountered five types of kidnappings that cross the U.S. Southwest border: forprofit, drug retribution, express, virtual, and coyote. The SD-LECC assesses with medium confidence1 that cross-border kidnappings pose a low probability, low impact threat to most residents in the SD-LECC AOR, but a medium probability, high impact threat to those who frequently engage in either licit or illicit cross-border activity.

(U//FOUO) Cross-border kidnappings are underreported for several reasons: involvement of the victim (or his family members) in illicit activity; threats and intimidation from the kidnappers; and inherent suspicion of government and law enforcement officials in Mexico and among Mexican immigrants in the U.S.

(U//FOUO) Despite the close geographic proximity of San Diego and Tijuana, violence in Northern Baja California does not correlate directly with violence levels in the SD-LECC AOR.

(U) THE SITUATION IN SAN DIEGO

(U) Drug-related Kidnappings

(U//LES) Kidnappings have been an integral part of Drug Trafficking Organization (DTO) and cartel operations for decades, starting in the 1980s and increasing throughout the 1990s. DTOs originally used kidnapping as an enforcement or punishment technique. Individuals were taken in retaliation, as debt collateral, for turf enforcement, or for some other goal related to the larger narcotics criminal enterprise. Mexican law enforcement officials were aware of these kidnappings, but were either content to allow the cartels to use kidnappings in their war of attrition or were themselves involved in the crimes. By the mid-2000s, organized crime groups and lower-level criminals were wellversed in the fundamentals of kidnapping as an enforcement tactic and money-making venture.

(U//LES) The most common type of drug-related kidnapping is referred to as a drug "rip." These happen in retaliation for a drug dealer's mishandling of a drug shipment (losing the shipment, selling it for profit, etc). The kidnapping ransom is meant to replace the original value of the lost drug shipment. This type of kidnapping also may be a retribution kidnapping, used to enforce territory, pay back a DTO member for an insult or personal slight, or for capricious reasons like romantic entanglements or grudges. Initial ransom demands are typically very high – upwards of U.S.$1 million.

…

(U) Coyote Kidnappings

(U//FOUO) In the last three years, DHS/ICE has served as the agency of referral for all coyote or immigrant kidnappings. These kidnappings target immigrants as they try to cross into the U.S., immigrants who are already in the U.S illegally, and immigrants who are staged in Mexico awaiting final crossing. It is not uncommon for kidnappers to target families of prospective immigrants as well.

(U//LES) Between FY2007 and 2nd Quarter FY2010, ICE initiated 17 coyote kidnapping investigations in the San Diego region. During FY 2009, the year with the most cases, only four of the seven cases initiated actually involved migrants who were being smuggled. In those four cases, family members living in the U.S. and Mexico were called and usually asked to wire the ransom money, which ranged from $500 to $5,000.

(U//FOUO) Coyote kidnappings are unlikely to be reported to law enforcement because the victims are in the U.S. illegally. Family members, some of whom are also in the U.S. illegally, fear retribution and deportation if they contact authorities. DHS/ICE has encouraged the reporting of crimes against aliens through public affairs campaigns and by providing victims with referral services to help them deal with post-traumatic stress disorder (PTSD) or rape. Despite these efforts, case statistics illustrate the drastic underreporting of this type of kidnapping.
Share this: