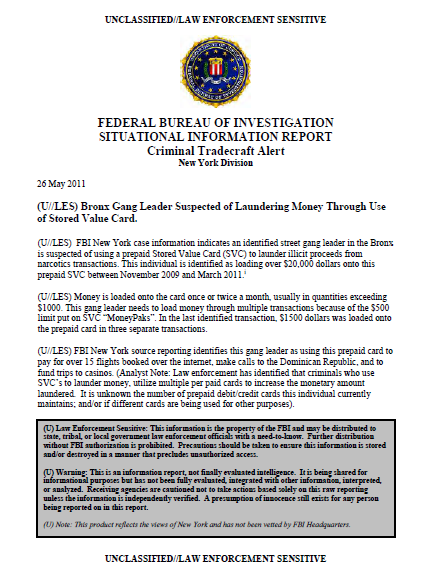 Bronx Gang Leader Suspected of Laundering Money Through Use of Stored Value Card
3 pages
Law Enforcement Sensitive
May 26, 2011

(U//LES) FBI New York case information indicates an identified street gang leader in the Bronx is suspected of using a prepaid Stored Value Card (SVC) to launder illicit proceeds from narcotics transactions. This individual is identified as loading over $20,000 dollars onto this prepaid SVC between November 2009 and March 2011.

(U//LES) Money is loaded onto the card once or twice a month, usually in quantities exceeding $1000. This gang leader needs to load money through multiple transactions because of the $500 limit put on SVC "MoneyPaks". In the last identified transaction, $1500 dollars was loaded onto the prepaid card in three separate transactions.

(U//LES) FBI New York source reporting identifies this gang leader as using this prepaid card to pay for over 15 flights booked over the internet, make calls to the Dominican Republic, and to fund trips to casinos. (Analyst Note: Law enforcement has identified that criminals who use SVC's to launder money, utilize multiple per paid cards to increase the monetary amount laundered. It is unknown the number of prepaid debit/credit cards this individual currently maintains; and/or if different cards are being used for other purposes).

(U//LES) Prepaid credit/debit cards can be purchased at over 50,000 different retailers in the United States and cash can be withdrawn from them at over 15,000 participating ATM's. The maximum amount of money that users are allowed to load on their cards is $2,500. Cards can be reloaded by purchasing "MoneyPaks", which are provided by numerous online reloadable prepaid card services and sold at a variety of retailers. Individuals can instantly obtain a prepaid SVC by submitting an online application. (Analyst Note: A minimal amount of personal information is required to apply for a SVC; and, individuals can be issued SVC's under false names). SVC service companies generally require no credit checks and keep few records on user activity and personal information.
Share this: