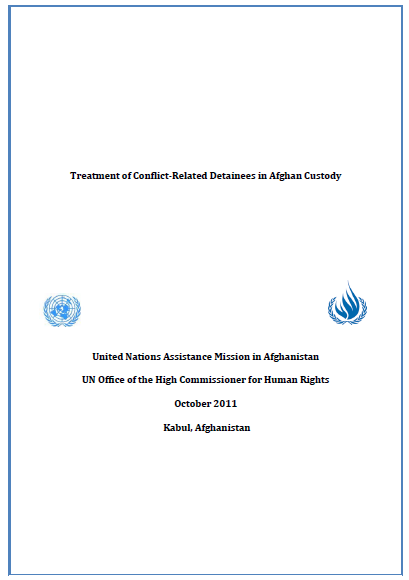 United Nations Assistance Mission in Afghanistan Treatment of Conflict-Related Detainees in Afghan Custody

Executive Summary

"After two days [in a National Directorate of Security (NDS) facility in Kandahar] they transferred me to NDS headquarters [in Kandahar]. I spent one night on their veranda. On the following day, an official called me to their interrogation room. He asked if I knew the name of his office. I said it was "Khad" [Dari term for the former NDS]. "You should confess what you have done in the past as Taliban; even stones confess here," he said. He kept insisting that I confess for the first two days. I did not confess. After two days he tied my hands on my back and start beating me with an electric wire. He also used his hands to beat me. He used his hands to beat me on my back and used electric wire to beat me on my legs and hands. I did not confess even though he was beating me very hard. During the night on the same day, another official came and interrogated me. He said "Confess or be ready to die. I will kill you." I asked him to bring evidence against me instead of threatening to kill me. He again brought the electric wire and beat me hard on my hands. The interrogation and beating lasted for three to four hours in the night. The NDS officials abused me two more times. They asked me if I knew any Taliban commander in Kandahar. I said I did not know. During the last interrogation, they forced me to sign a paper. I did not know what they had written. They did not allow me to read it."
– Detainee 371, May 2011

From October 2010 to August 2011, the United Nations Assistance Mission in Afghanistan (UNAMA) interviewed 379 pre‐trial detainees and convicted prisoners at 47 detention facilities in 22 provinces across Afghanistan. In total, 324 of the 379 persons interviewed were detained by National Directorate of Security (NDS) or Afghan National Police (ANP) forces for national security crimes ‐ suspected of being Taliban fighters, suicide attack facilitators, producers of improvised explosive devices, and others implicated in crimes associated with the armed conflict in Afghanistan. Interviews were conducted at facilities including ANP detention centres, NDS facilities, Ministry of Justice prisons and juvenile rehabilitation centres; as a result of transfers, the interviews dealt with detainees located in 24 of Afghanistan's 34 provinces. With two exceptions, Government officials from the ANP, NDS, Ministry of Justice and other departments cooperated with UNAMA and provided full access to detainees and facilities.

NDS and ANP are the main Afghan security forces engaged in detaining and arresting conflict‐related detainees with NDS responsible for investigation of national security crimes and interrogation of such detainees. NDS is the State's principal internal and external intelligence‐gathering organ, conducting security and law enforcement operations to gather actionable intelligence to prevent crimes against public security. As the country's police force, ANP deals with both criminal and conflict‐related offences. International military forces also play a significant role in detention of individuals for conflict‐related offences.

UNAMA's research focused on detention practices of the NDS with a secondary focus on detention by ANP. UNAMA's interviews concentrated on the treatment of detainees by NDS and ANP officials and the Government of Afghanistan's compliance with due process guarantees under Afghan and international human rights law. UNAMA made no assumptions or findings on the guilt or innocence of those detainees it interviewed for crimes of which they were suspected, accused or convicted.

UNAMA acknowledges the critical and extremely difficult role that NDS and ANP have in safeguarding national security in the current situation of armed conflict in Afghanistan. Torture and Abuse of Detainees by NDS and ANP UNAMA's detention observation found compelling evidence that 125 detainees (46 percent) of the 273 detainees interviewed who had been in NDS detention experienced interrogation techniques at the hands of NDS officials that constituted torture, and that torture is practiced systematically in a number of NDS detention facilities throughout Afghanistan. Nearly all detainees tortured by NDS officials reported the abuse took place during interrogations and was aimed at obtaining a confession or information. In almost every case, NDS officials stopped the use of torture once detainees confessed to the crime of which they were accused or provided the requested information. UNAMA also found that children under the age of 18 years experienced torture by NDS officials.

More than one third of the 117 conflict‐related detainees UNAMA interviewed who had been in ANP detention experienced treatment that amounted to torture or to other cruel, inhuman or degrading treatment.

In situations where torture occurred, it typically took the form of abusive interrogation practices used to obtain confessions from individuals detained on suspicion of crimes against the State. The practices documented meet the international definition of torture. Torture occurs when State officials, acting in their official capacity inflict or order, consent or acquiesce to the infliction of severe physical or mental pain or suffering against an individual to obtain a confession or information, or to punish or discriminate against the individual.18 Such practices amounting to torture are among the most serious human rights violations under international law, are crimes under Afghan law and are strictly prohibited under both Afghan and international law. Detainees described experiencing torture in the form of suspension (being hung by the wrists from chains or other devices attached to the wall, ceiling, iron bars or other fixtures for lengthy periods) and beatings, especially with rubber hoses, electric cables or wires or wooden sticks and most frequently on the soles of the feet. Electric shock, twisting and wrenching of detainees' genitals, stress positions including forced standing, removal of toenails and threatened sexual abuse were among other forms of torture that detainees reported. Routine blindfolding and hooding and denial of access to medical care in some facilities were also reported. UNAMA documented one death in ANP and NDS custody from torture in Kandahar in April 2011.

UNAMA found compelling evidence that NDS officials at five facilities systematically tortured detainees for the purpose of obtaining confessions and information. These are the provincial NDS facilities in Herat, Kandahar, Khost and Laghman, and the national facility of the NDS Counter‐Terrorism Department 124 (formerly Department 90) in Kabul. UNAMA received multiple, credible allegations of torture at two other provincial NDS facilities in Kapisa and Takhar. UNAMA did not find indications of torture at two provincial NDS facilities, Paktya and Uruzgan, at the time of its visits to these facilities.

UNAMA received numerous allegations regarding the use of torture at 15 other locations covering 17 NDS facilities. Twenty‐five percent of detainees interviewed in these 17 facilities alleged they had been tortured. At the time of writing of this report, UNAMA had not established the credibility of the allegations based on the number of interviews conducted and the need to corroborate allegations satisfactorily. UNAMA continues to investigate these allegations.

Detainees in ANP custody reported that abuse occurred in a broader range of circumstances and settings. Some of this abuse constituted torture while other methods amounted to cruel, inhuman, or degrading treatment. Reports of abuse by the ANP included police officers committing torture or ill‐treatment at the time of arrest, at check posts, at district headquarters, and at provincial headquarters. The Government of Afghanistan is obliged under Afghan law and the Convention against Torture and Other Cruel, Inhuman or Degrading Treatment or Punishment to investigate promptly all acts of torture and other ill‐treatment, prosecute those responsible, provide redress to victims and prevent further acts of torture. The Government's obligation to respect the prohibition against torture is also nonderogable meaning that no exceptional circumstances whatsoever, whether a state of war or a threat of war, internal political instability or any other public emergency, can be invoked as a justification of torture. UNAMA calls on the Afghan authorities to take all possible steps to end and prevent torture, and provide accountability for all acts of torture.
Share this: