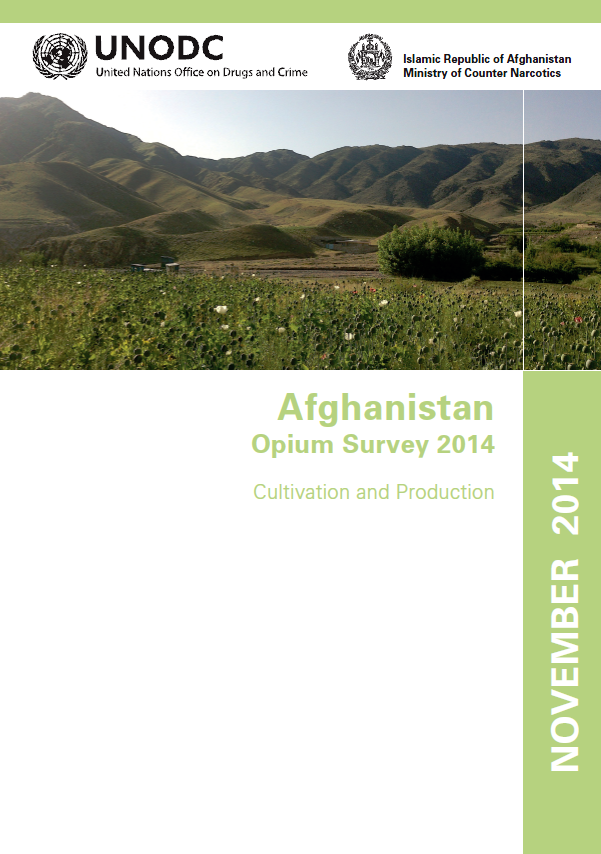 United Nations Office on Drugs and Crime
67 pages
November 2014
4.3 MB

The Afghanistan Opium Survey is implemented annually by the Ministry of Counter Narcotics (MCN) of Afghanistan in collaboration with the United Nations Office on Drugs and Crime (UNODC). The survey team collects and analyses information on the location and extent of opium cultivation, potential opium production and the socio-economic situation in rural areas. Since 2005, MCN and UNODC have also been involved in the verification of opium eradication conducted by provincial governors and poppy-eradication forces. The results provide a detailed picture of the outcome of the current year's opium season and, together with data from previous years, enable the identification of medium- and long-term trends in the evolution of the illicit drug problem. This information is essential for planning, implementing and monitoring the impact of measures required for tackling a problem that has serious implications for Afghanistan and the international community.

The opium survey is implemented within the technical framework of the UNODC Illicit Crop Monitoring Programme (ICMP). The objective of ICMP is to assist the international community in monitoring the extent and evolution of illicit crops in the context of the Plan of Action adopted by the United Nations (the 53rd session of the Commission on Narcotic Drugs in March 2009). Under ICMP, monitoring activities currently supported by UNODC also exist in other countries affected by illicit crop cultivation: in Asia, Myanmar and the Lao People's Democratic Republic; in Latin America, the Plurinational State of Bolivia, Colombia, Ecuador, Mexico and Peru; in Africa, Nigeria.

The Afghanistan Opium Survey 2014 was implemented under project AFG/F98, "Monitoring of Opium Production in Afghanistan", with financial contributions from the Governments of Germany, Norway, the United Kingdom of Great Britain and Northern Ireland, and the United States of America.

…

Key Findings

The total area under opium poppy cultivation in Afghanistan was estimated at 224,000 hectares in 2014, a 7% increase from the previous year.
The vast majority (89%) of opium cultivation took place in nine provinces in Afghanistan's Southern and Western regions, which include the country's most insecure provinces.
Hilmand remained Afghanistan's major opium-cultivating province, followed by Kandahar, Farah, and Nangarhar.
Opium cultivation increased in most of the main poppy-cultivating provinces, but stabilized in Hilmand itself (+3%).
Interestingly, differing trends could be observed in Hilmand. Inside the former "Food Zone" (an alternative livelihood programme), opium cultivation increased by 13% in 2014 (to 41,089 hectares from 36,244 hectares in 2013). However, outside the former Food Zone, where the increases in poppy cultivation seen in previous years were mainly achieved through artificial irrigation, the area under poppy cultivation decreased slightly.
Total eradication of opium poppy decreased by 63% in 2014, to 2,692 hectares. Average opium yield amounted to 28.7 kilograms per hectare in 2014, which was 9% more than in 2013 (26.3 kilograms per hectare).
Opium yields in the Southern region, which drive overall production, increased by 27%, from 23.2 kilograms per hectare in 2013 to 29.5 kilograms per hectare in 2014. However, yields in the Southern region were still at relatively low levels in comparison to their levels prior to 2010.
Potential opium production was estimated at 6,400 tons in 2014, an increase of 17% from its 2013 level (5,500 tons). This increase can be mainly attributed to a strong increase in production in the Southern region, where yields increased by 27% (from 23.2 kilograms per hectare in 2013 to 29.5 kilograms per hectare in 2014).
Accounting for 69% of national production, the Southern region continued to produce the vast majority of opium in Afghanistan. With 16% of national production, the Western region was the country's second most important opium-producing region in 2014.
At US$ 0.85 billion, or the equivalent of roughly 4% of Afghanistan's estimated GDP, the farm-gate value of opium production decreased by 13% in 2014.
In 2014, opium prices decreased in all regions of Afghanistan. One probable reason for the decrease was an increase in supply due to an increase in production.
Based on recent data on the morphine content of Afghan opium, the heroin conversion ratio, which describes the amount of opium needed to produce a kilogram of heroin, has been updated. For converting opium to pure heroin base, a ratio of 18.5:1 is estimated; for heroin of export quality (impure heroin of 52% purity), a ratio of 9.6:1 is estimated. These ratios replace the former ratio of 7:1 for converting opium to heroin of unknown purity.

…

In 2014, 98% of total opium cultivation in Afghanistan took place in the Southern, Eastern and Western regions of the country: in the Southern region, 67% was concentrated in Day Kundi, Hilmand, Kandahar, Uruzgan and Zabul provinces; in the Western region, 22% was concentrated in Badghis, Farah, Hirat and Nimroz provinces; in the Eastern region, 9% was concentrated in Nangarhar, Kunar, Laghman and Kapisa provinces. These are the most insecure provinces, with a security risk classified as "high" or "extreme" by the United Nations Department of Safety and Security (UNDSS), and they are mostly inaccessible to the United Nations and NGOs. Day Kundi is the only province in the South where security is generally good, with the exception of Kejran district.

Hilmand remained the country's major opium-cultivating province (103,240 hectares), followed by Kandahar (33,713 hectares), Farah (27,513 hectares), Nangarhar (18,227 hectares), Nimroz (14,584 hectares), Uruzgan5 (9,277 hectares), Badghis (5,721 hectares), Badakhshan (4,204 hectares), Zabul (2,894 hectares), Laghman (901 hectares), Kunar (754 hectares), Hirat (738 hectares) Day Kundi6 (587 hectares), Ghor (493 hectares), Kapisa (472 hectares), Kabul (233 hectares) and Sari Pul (195 hectares).
Share this: