The following report was released by the United Nations Office of Drugs and Crime on November 13, 2013.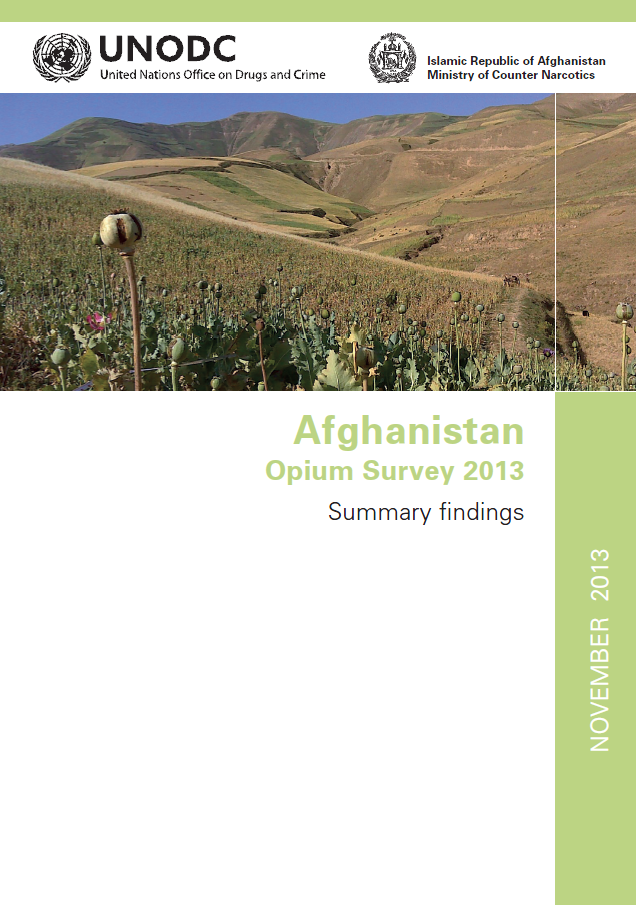 Afghanistan Opium Survey 2013 Summary Findings
26 pages
November 2013
4.62 MB

Opium poppy cultivation in Afghanistan reached a sobering record high in 2013. According to the 2013 Afghanistan Opium Survey, cultivation amounted to some 209,000 hectares, outstripping the earlier record in 2007 of 193,000 hectares, and representing a 36 per cent increase over 2012.

Moreover, two provinces that had previously been declared poppy-free, Faryab and Balkh in northern Afghanistan, lost this status. All in all, opium production in 2013 went up to some 5,500 tonnes, a 49 per cent increase over 2012.

The hazard this situation poses to health, stability and development, and not only in Afghanistan, is well documented and has been internationally recognized frequently. At the same time, Afghanistan's counter narcotic institutions, also with the support of UNODC, have taken a significant step forward in terms of capacity and effectiveness. The Ministry of Counter Narcotics has moved quickly to advance policy and guidelines, as per its mandate. The Counter Narcotics Police of Afghanistan is still far from achieving the seizure rate witnessed in other producing countries, but police have nevertheless tripled their effectiveness over recent years to capturing well over 10 per cent of domestic production.

The number of arrests, prosecutions and convictions of powerful figures remains a concern, but progress has also been witnessed with two high profile cases this year. Finally, available services in country to deal with a growing addiction problem have expanded from 30 to 90. These are tangible and hopeful signs of improvement.

In order to be successful and sustainable, counter-narcotics efforts must finally break out of their insular, silo approach. If the drug problem is not taken more seriously by aid, development and security actors, the virus of opium will further reduce the resistance of its host, already suffering from dangerously low immune levels due to fragmentation, conflict, patronage, corruption and impunity.

What is needed is an integrated, comprehensive response to the drug problem, embedded in a long-term security, development and institution-building agenda.

As we approach 2014 and the withdrawal of international forces from the country, Afghanistan, working with its many friends and allies in a spirit of shared responsibility, must make some very serious choices about the future it desires, and act accordingly. Reigning in the illicit economy, criminality and corruption is essential.

…

…

Characterized in recent years by strong year-on-year fluctuations, potential opium production in Afghanistan in 2013 was no exception to this pattern. Representing an increase of 49% in comparison to the previous year, the 2013 total of 5,500 tons probably led in turn to a decrease of 12% in the average opium price.

Considering that the total area under opium poppy cultivation in 2013 was 209,000 hectares, over a third more (36%) than in 2012 and a record high, potential opium production could, however, have been greater. Unfavourable weather conditions, particularly in the Western and Southern regions of the country, meant that the 2013 opium yield was adversely affected, but there also appears to be a recurrent pattern, possibly due to a combination of agricultural and ecological factors, in which regions with intense opium poppy cultivation are unable to sustain consistently high opium yields they had in the past.

The high level of opium prices in 2012 was one of the principal factors behind the increase in opium poppy cultivation in 2013, but it may have also been driven by speculation due to the withdrawal of international troops and the forthcoming elections in 2014, which led farmers to try to hedge against the country's uncertain political future. Whether or not that was the case, the increase in cultivation was mainly confined to the habitual main poppy-growing areas in the Southern and Western regions of the country.
Share this: