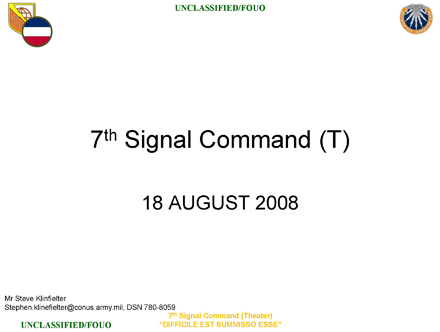 7th Signal Command (Theater)
Steve Klinfielter
18 slides
Unclassified
For Official Use Only
August 18, 2008

This slide breaks out the Army's Commands and Agencies in CONUS with connections to the LandWarNet and who require Command, Control, Communications, Computers, and Information Management (C4IM) services – note that IMCOM comprises only a portion of the support requirement. The fundamental issue we were asked to deal with was how to improve the ability of the CONUS LWN to provide assured and available battle command network capabilities – for the maneuver formations located in CONUS, and for reach back ISO of expeditionary operations regardless of type or geographic location.

The 11 Star Memo, signed in 2005 By CGs FORSCOM, AMC and TRADOC also addressed this gap with specific recommendations to "Realign CONUS DOIMS from IMA to NETCOM for a more unified support similar to OCONUS; optimize C2 for IT management; provide central oversight for IT resources and support; provide MACOMs single POC; and provide adequate investment in DOIM operations" CSA has specifically directed that " protecting the Army's networks is not just G6 or G3 business, but rather it is Cdr's business at all levels (MSG 161304Z Aug 04). Yet, there is no single commander responsible for security and quality of service ensuring CONUS LWN capabilities are prioritized and available to support warfighting, business, and intelligence domains. And, no one is responsible to represent the Information Needs of the Unit and User through all Operational Phases and ensure access to the global collaborative environment.

The 447 connections to the Army's LandWarNet were identified by the C-TNOSC during an Oct 07 data call. The connections vary from a major DISN-to-Army connection requiring significant bandwidth capability, down to a minor connection for a small single-standing Army facility. The 447 LWN connections also vary in types and quantities of C4IM services required and delivered to major Army installations compared to the smaller, and often isolated, Army Reserve and Army National Guard facilities.

The CIO/G6 currently recognizes 137 DOIMs (Feb 08 listing) in CONUS to support C4IM service requirements.
Share this: