The following study was originally published online by the website Active Response Training.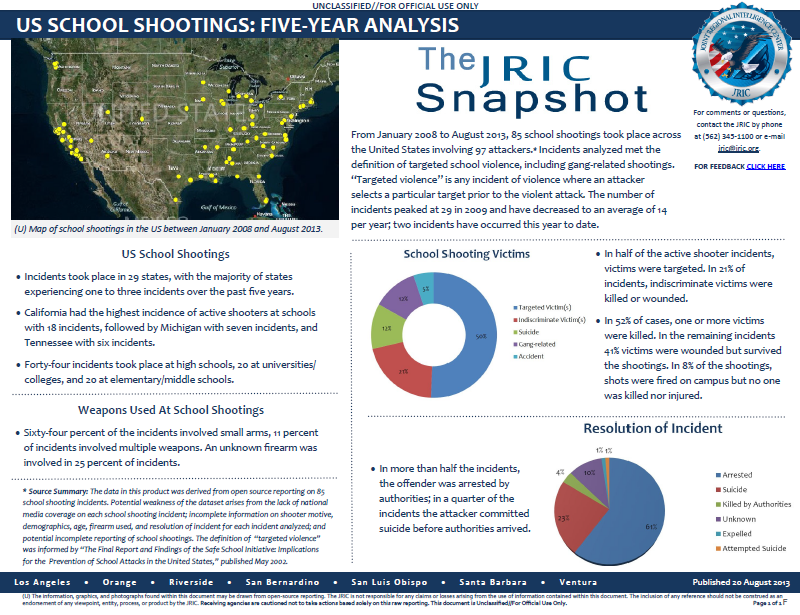 Los Angeles Joint Regional Intelligence Center U.S. School Shootings: Five Year Analysis
2 pages
For Official Use Only
August 20, 2013

From January 2008 to August 2013, 85 school shootings took place across the United States involving 97 attackers. Incidents analyzed met the definition of targeted school violence, including gang‐related shootings. "Targeted violence" is any incident of violence where an attacker selects a particular target prior to the violent attack. The number of incidents peaked at 29 in 2009 and have decreased to an average of 14 per year; two incidents have occurred this year to date.

US School Shootings

Incidents took place in 29 states, with the majority of states experiencing one to three incidents over the past five years.
California had the highest incidence of active shooters at schools with 18 incidents, followed by Michigan with seven incidents, and Tennessee with six incidents.
Forty‐four incidents took place at high schools, 20 at universities/colleges, and 20 at elementary/middle schools.

Weapons Used At School Shootings

Sixty‐four percent of the incidents involved small arms, 11 percent of incidents involved multiple weapons. An unknown firearm was involved in 25 percent of incidents.

In half of the active shooter incidents, victims were targeted. In 21% of incidents, indiscriminate victims were killed or wounded.
In 52% of cases, one or more victims were killed. In the remaining incidents 41% victims were wounded but survived the shootings. In 8% of the shootings, shots were fired on campus but no one was killed nor injured.

In more than half the incidents, the offender was arrested by authorities; in a quarter of the incidents the attacker committed suicide before authorities arrived.

There is no "profile" of attackers who become active shooters.

Shooters varied significantly in demographic and other characteristics.

There was nearly an equal percentage of attackers who were students of the school and offenders who were unaffiliated with the school. In most cases, the attack was carried out by a single individual.
The relationship type most often reported for targeted violence in schools was acquaintance; in more than 49 incidents the offender knew their victim(s).

Offenders had a wide range of motives; the majority of "known" motives involved avenge for a perceived wrong, or a way to end pain and personal suffering through suicide.
In 96% of the shootings, the attacker was male. In six incidents there were two to four male attackers. Females were only involved in three shootings.
The majority of offenders were between 16‐18 years old (31 percent), the second largest group were 13‐15 year olds (23 percent). Offenders 30 years old or older accounted for 16 percent.
Share this: